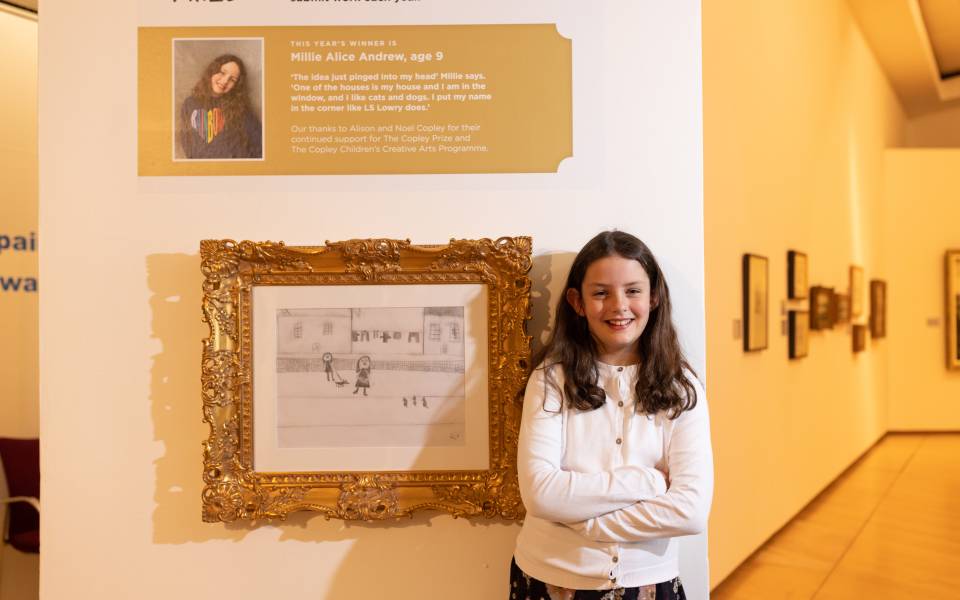 9-year-old schoolgirl from Bury sees her work hung alongside the famous LS Lowry works it's inspired by.
Selected from over 300 entries, A Walk in the Street by 9-year-old Millie Alice Andrews from St Andrew's CofE Primary School in Bury has been unveiled as the winner of The Lowry's annual Copley Prize.
Supported by Alison and Noel Copley, The Copley Prize was established in 2013, as an exciting way to encourage primary aged children to develop their creativity and artistic ability, through the work of LS Lowry.
Millie was invited to The Lowry for a tour of The Lowry Galleries with her family and to hang her work in the gallery's permanent LS Lowry exhibition. Her work will remain on display for the next year, alongside the famous works it was inspired by.
The Copley Prize invites children to recreate their own modern-day versions of LS Lowry's work, in ways that represent the world that they live in, and often capturing images of the environment around them, just as Lowry did. Coinciding with the unveiling of Millie's work in the galleries many works by this year's runners up are also on display in The Copley cases.
Jennifer Riding, Director of Learning & Engagement at The Lowry, said: "We were so excited to welcome Millie to hang her own artwork in The Lowry Galleries. It is really important for us to celebrate and support the creativity of children and young people, especially at a time when there is a lot of pressure on children to 'catch up'. The Copley Prize provides opportunities for children who may not see themselves as artists to discover and share their creative talents."
Millie said "The idea just pinged into my head. One of the houses is my house and I am in the window, and I like cats and dogs. I put my name in the corner like LS Lowry does.
"He has a unique style. I like the way he draws animals. The simplest looking pictures can sometimes take longer than detailed ones." 
Since 2013, The Copley Prize has received over 3,000 entries and showcased the work of eight talented young artists in The Lowry Galleries. In 2018 The Lowry launched The Copley Schools Outreach programme that delivers free high-quality visual arts workshops to schools across Salford.  And from 2023, thanks to the generosity of Alison and Noel Copley, The Lowry will extend its support to schools under a new umbrella of 'The Copley Children's Creative Arts Programme' that will combine performing arts as well as Visual Arts.
Ten primary schools across Salford will receive a LS Lowry workshop for their pupils, a hamper of art materials, 40 tickets to a performance at The Lowry, a Lowry themed drama workshop, a mindfulness workshop, plus all transport.
Alison Copley said: "Every year The Copley Prize gets better and better – thank you to everyone who supports it. It's magnificent to see what this year's winner Millie has achieved and I hope the visitors who see her work on display at The Lowry will get as much enjoyment from it as Noel and I do."
Any primary school aged children (Key Stage 1 & 2) can submit their work now for the 2023 Copley Prize.   Find out more at thelowry.com/get-creative/thecopleyprize/
The galleries are open six days a week. (Tues-Fri, 11am-5pm and Sat-Sun, 10am-5pm). Admittance is free but donations are welcome.
The Lowry galleries are named The Andrew and Zoe Law Galleries in recognition of the couple's £1m donation to the arts centre, which is a registered charity.