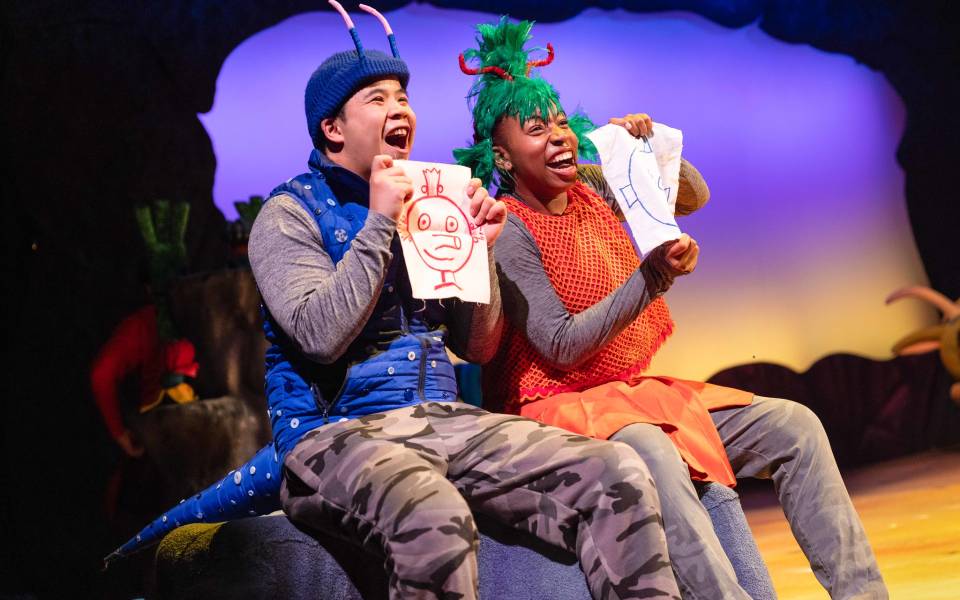 The Smeds and The Smoos soar into Salford this Autumn
DOWNLOAD IMAGES HERE
A stellar new show based on the award-winning book
by Julia Donaldson and Axel Scheffler
Soar into space this October half-term with this joyful tale of star-crossed aliens – also seen in the BBC TV animation on Christmas day!
'The Smeds and The Smoos' tells the story of two rival groups of aliens living on a far-off planet: the Smeds (who are red) and the Smoos (who are blue). The two groups mistrust each other, and the children are told to never play with one another. So, when a young Smed and Smoo fall in love and zoom off into space together, how will their families get them back?
After years in which so many people (young and old) have felt isolated and cut off, and during which society seems to have become ever more fractured, Tall Stories is proud of this production that focuses on unity and understanding.
Directed by Tall Stories' co-founder, Toby Mitchell. The cast will include, Felicia Akin-Tayo, Tom Capper, Robert Penny, Andrea Sadler and understudy Grace Liston. 
Julia Donaldson said: "I loved the show – the brilliantly alien set and lighting, the energetic acting and the wonderful puppets. My favourite was the Lurgle!"
Axel Scheffler said: "It was lovely to find out a lot more about the life of the Smeds and the Smoos and all the other life forms on their far away planets in this delightful play by the Tall Stories team. Space travel for the whole family – at its best!"
This production has music, laughs, puppetry and interplanetary adventures for everyone aged 3 and up! 'The Smeds and The Smoos' is at The Lowry, Salford from 24th – 29th October
For more information and tickets visit www.thelowry.com.
-ENDS-
NOTES TO EDITORS
'The Smeds and The Smoos' at The Lowry coincides with the major exhibition Julia and Axel – Thirty Years of Favourite Stories (22nd July 2023 -1st January 2024). The Lowry, Salford thelowry.com/whats-on/julia-and-axel-thirty-years-of-favourite-stories/