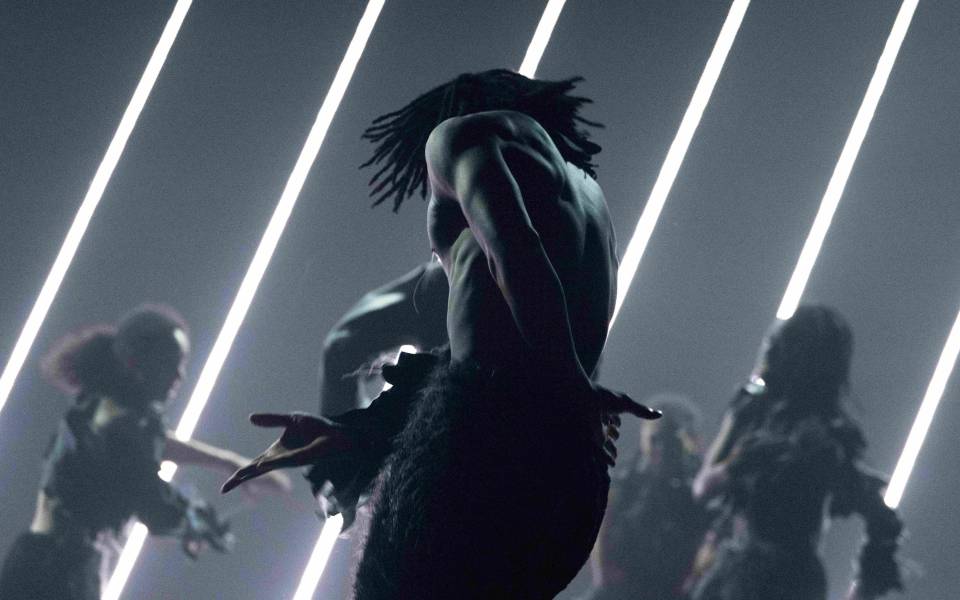 Olivier award-winning choreographer, Botis Seva brings his latest work 'Mama' to The Lowry, Salford
Mixing the beauty of chaos with the quietness of the human soul, Botis Seva's Mama explores the nebulous modern conceptions of race and culture through generational stories of colonised bodies on Thursday 1st and Friday 2nd  June at The Lowry.
Plunging audiences into an 'unforgiving world fraying at the seams', Mama features a team of renowned dancers from Seva's company, Far From The Norm, who blend street dance forms with mesmeric, undulating movements, disrupting shards of light to illuminate a 'collage of stories' which uncover the dark, destructive core of colonial secrets.
Through Torben Sylvest's broad, sweeping score which shifts between immersive soundscapes and vocal excerpts, Seva's brand-new production invites the viewer into a shadowy, captivating realm, oscillating between past and present, as Ryan Dawson-Laight's feathered, armour-like costumes represent the colonised body's 'nonsensical route to freedom'.
Eckhard Thiemann, Programming Associate: Dance at The Lowry said: "Botis Seva is a brilliant and exciting artist, and we are delighted to bring him back after the successful show BLKDOG in 2020. Indeed, we have been so impressed by his work, that we invited the company to be one of our partner companies for the next three years. MAMA is punchy and urgent – there is a palpable tension in all his works that keeps you on the edge of your seat, while also showing tender moments of companionship and deep emotion."
Mama will be at The Lowry, Salford from Thursday 1st to Friday 2nd June. For more information and tickets visit www.thelowry.com.
-ENDS- 
For more information, and images, or to arrange interviews please contact Jennifer Dean at jennifer.dean@thelowry.com. Images can also be downloaded from www.flickr.com
ADDRESS: The Lowry, Pier 8, The Quays, Salford, M50 3AZ
Web: thelowry.com
Gallery Opening Times: Tue-Fri 11am-5pm | Sat-Sun 10am-5pm | Closed Mon, except bank holidays.
Age Guidance: 12 +
Duration: 80 minutes
NOTES TO EDITORS
Botis Seva is an Olivier award winning dance artist, choreographer and director working within the realms of hip hop, physical theatre and contemporary dance. Seva is the founder of Far From The Norm. Botis' distinct language has placed him at the forefront of Hip Hop dance theatre in the UK and internationally. Whilst his foundation is in choreography, Botis' practice experiments with form, structure and theatrics to continuously reinvent his approach to creativity, whether that is in live or digital performance. Borrowing techniques from film, text, art and other dance languages, Botis's focus is on making a societal difference and using his autobiographical experiences to drive narratives. Born and raised in London, Botis was introduced to dance aged 15 at his secondary school and was regularly competing in school talent shows. After a brief performance career with Avant Garde Dance and leaving Barking Broadway college after a year, aged 17, Botis pursued his choreographic career outside of the conventional dance career paths. https://www.botisseva.com/about
 Established in May 2009 in a youth club in Dagenham, Far From The Norm was founded by artistic director Botis Seva and is a collective of artists renowned for experimenting with hip hop. Simply, it was a collective of creatives thinking about creativity and moving in a different way to what was considered the norm. Hence our name! After years of presenting work in community settings, through talent development initiatives and self-investing in our own productions, Far From The Norm are now touring their work internationally to sold out audiences. https://www.farfromthenorm.com/aboutus
On Monday 22nd May The Lowry announced the four new Partner Companies that will collaborate and work closely with the arts venue to regularly present work of the highest calibre to Salford audiences. Access All Areas, Far From The Norm, LUNG and Ockham's Razor have all been added to The Lowry's stable of Partner Companies. The four new additions join Birmingham Royal Ballet, Opera North, the National Theatre and Rambert who have been Partner Companies at The Lowry since it opened. Find out more here