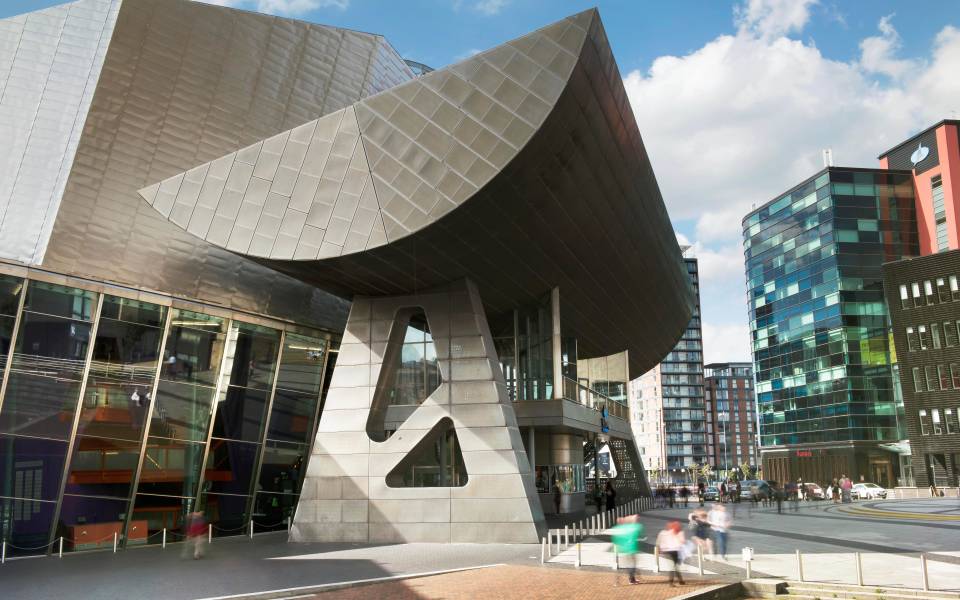 The Lowry announces four new Partner Companies: Access All Areas, Far From The Norm, LUNG and Ockham's Razor
The Lowry has announced four new Partner Companies that will collaborate and work closely with the arts venue to regularly present work of the highest calibre to Salford audiences.
Access All Areas, Far From The Norm, LUNG and Ockham's Razor have all been added to The Lowry's stable of Partner Companies.
The four new additions join Birmingham Royal Ballet, Opera North, the National Theatre and Rambert who have been Partner Companies at The Lowry since it opened.
Matthew Eames, Head of Theatres (Contemporary & Commissioning) at The Lowry, said: "We are delighted to join forces with Access All Areas, Far From the Norm, LUNG and Ockham's Razor to support each other over the coming years.
"We have built strong relationships with all of these companies and it felt right to recognise more formally the contribution their work makes to our programme and our audiences. It also gives us a platform to think about how we can work together to achieve even more. Alongside our long established and valued partners, we feel these new partnerships will help represent the entirety of our performance programme."
Access All Areas makes award-winning, disruptive performance by learning disabled and autistic artists. Their productions create intimate moments of interaction between performers and public, occupying unexpected spaces in venues, on the streets, online, and in public buildings. As well as making shows, their company of Associate Artists works to make culture more inclusive for learning disabled and autistic talent. Access All Areas engages communities, trains artists of the future, and works closely with TV, film, and theatre companies to make their work and workplaces more accessible. All their work, from productions, to consultancy, to creative workshops, is co-led by learning disabled and autistic artists, ensuring lived experience drives everything they do.
Far From The Norm was founded in a youth club in Dagenham in 2009, and is an award winning London based Hip Hop dance theatre company led by Artistic Director Botis Seva – one of the most unique and seminal voices of his generation with an aim to be the voice for those around him, and create art to transform the lives of others. Far From The Norm's work can be experienced through mid-large-scale indoor theatre productions, outdoor performance contexts and short dance films: all of which have reached national & international audiences.Their work is a genre-defying blend of physical poetry steeped in Black pop culture, incorporating faith, personal stories of Black experiences, with incomparable physicality and theatrics.
LUNG, founded in Barnsley in 2012, is a campaign led verbatim theatre company that tours work nationally. They work closely with different communities to make verbatim theatre and hidden voices heard. LUNG creates work that shines a light on political, social and economic issues in modern Britain, using people's actual words to tell their stories. LUNG are Creative Associates with National Theatre Learning on their Speak Up programme in secondary schools. We are winners of the Amnesty International Freedom Expression Award, Fringe First and Sit Up Award for Social Impact.
Ockham's Razor is a contemporary circus company who combine circus and visual theatre to make work that is arresting and entertaining. It was formed in 2004 by Charlotte Mooney and Alex Harvey, with Turtle Key Arts becoming producers in 2006. The company specialises in creating exciting and moving physical theatre on original equipment and create stories from the vulnerability, trust and reliance that exists between physical performers. Ockham's Razor has performed in theatres and festivals throughout the UK and the world and has established a reputation for innovative, emotive, accessible performances.
ENDS
Notes to editors
Partner Company Quotes:
"Access All Areas are delighted to be joining The Lowry as a new strategic partner. Our arts industry is beginning to recognise that good culture means diverse culture, and The Lowry is at the forefront of supporting great art and storytelling by different communities. We're excited to be a part of that. Learning disabled and autistic people have often been left out of country's storytelling, our stages, and our auditoriums. This partnership between Access All Areas and The Lowry will focus on changing that. We'll work together to make some great shows, welcome more disabled and neurodivergent audiences to The Lowry, and make space for some of the UK's best learning disabled and autistic creatives on one of the UK's best stages. We can't wait to get to work." Patrick Collier, Executive Director and Co-CEO, Access All Areas
"By having a home for Far From The Norm and Hip Hop dance theatre at The Lowry, we hope that this is an opportunity to inspire people, transform the lives of others and open up new access to Hip Hop as a dance form and culture. We're truly humbled to have this moment and look forward to what is to come." Lee Griffiths, Executive Producer Far From The Norm
"Starting off our Lowry journey as freshly squeezed artists, growing and learning through their artist development programme, to then becoming co-producers and project partners, we are now delighted to be saying I DO to an official partnership with our theatre home and heart, The Lowry. This building gave us our first break when nobody else would. This beautiful building has provided LUNG with a space to fail, take risks and be brave. We can't wait to make some more magic together. We're so excited for the next chapter in our journey." Helen Monks & Matt Woodhead, Co-Artistic Directors of LUNG
"Ockham's Razor are delighted to be joining the cohort of Partner Companies at the Lowry. We have had a long relationship with the organisation, they have supported and commissioned five of our productions including our upcoming new show 'Tess' and have always programmed our shows, giving us space and time to create and trial work. They have been at the forefront and proactive in the advancement of Circus touring and programming in the UK. We feel honoured and proud to be recognised as a Partner and look forward to working more closely with The Lowry team over the next three years." Charlotte Mooney – Co-Artistic Director of Ockham's Razor