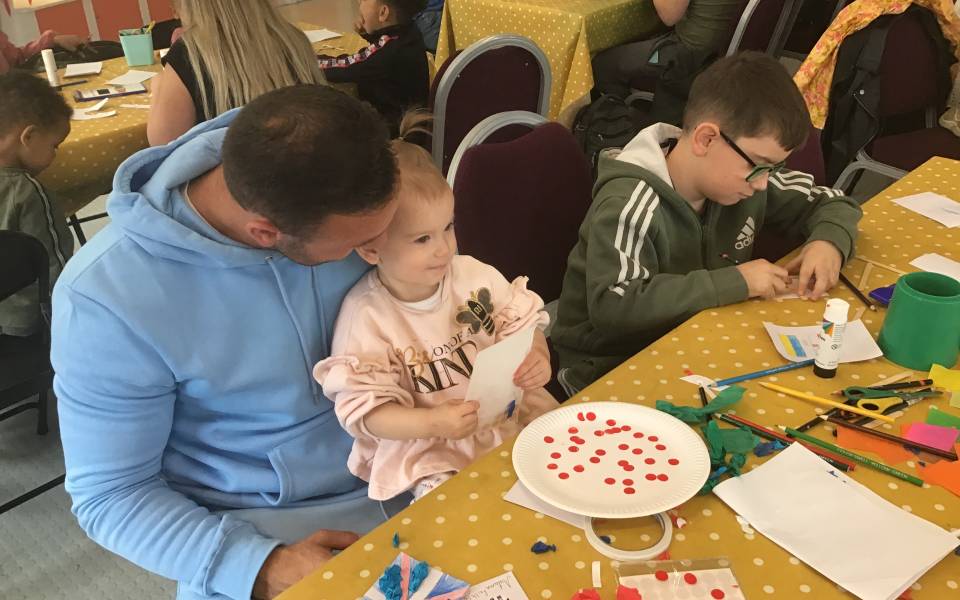 The Lowry, Salford celebrates Her Majesty The Queen, Elizabeth II's Platinum Jubilee with weekend of family fun
From free arts and crafts to swing dancing, storytelling to a new family exhibition, The Lowry in Salford is offering visitors the chance to celebrate the Platinum Jubilee weekend in right royal style with a host of activities for all ages.
The Jubilee weekend is a chance for The Lowry to celebrate and reflect on the history between the venue, its namesake and Her Majesty, which has at its heart a visit by The Queen on 12th October 2000 to officially open the building. During her visit she spoke to local schoolchildren who created an exhibition of their photographs about life in Salford, as well as greeting Lowry staff and volunteers.
LS Lowry was appointed as one of the official artists of her Majesty Queen Elizabeth II's Coronation in 1953, which resulted in his classic work The Procession passing the Queen Victoria Memorial­ – which is currently on display in the Consulate General in New York.
And most recently in 2015 Lowry volunteers were recognised with the Royal Award for voluntary service – the highest honour granted to volunteers groups in the UK. Two representatives of the Lowry's volunteers attended a garden party at Buckingham Palace hosted by The Queen.
Julia Fawcett, Chief Executive of The Lowry, said: "Everyone at The Lowry would like to extend our heartfelt congratulations to Her Majesty The Queen on the historic milestone of her Platinum Jubilee. We have wonderful memories of Her Majesty visiting in 2000, when she and the Duke of Edinburgh officially opened The Lowry. As such it was important to everyone here that we marked the occasion in style and look forward to welcoming visitors through our doors over the Bank Holiday Jubilee Weekend to enjoy the activities on offer."
See below for a round-up of what's taking place at The Lowry from Thursday 2nd to Sunday 5th June:
Learning & Engagement
Get creative at free family activity sessions in The Lookout held daily over the Jubilee Weekend. 45-minute long bookable sessions will be running at 11.30am, 12.30pm and 1.30pm with a different practitioner-led activity every day. From 2.30pm to 5pm each day there will be self-led craft activities available place including making Jubilee rosettes and designing an afternoon tea fit for a Queen. All activities require children to be accompanied by a guardian.
Details of the bookable sessions are as follows:
Thursday: Storytelling and craft activities based around the book The Queen's Knickers. Ages 5+. Join Angie as we go on a storytelling adventure to explore the children's favourite The Queen's Knickers by Nicholas Allen. These sessions will also include a craft activity where you will make your own knicker bunting inspired by the story.
Friday: Lowry Little Actors session led by a drama practitioner based around the books The Queen's Hat and Get Up Elizabeth. Ages 7+. Come along for some drama fun and games with Emma as we delve into the children's books; The Queen's Hat by Steve Anthony and Get up, Elizabeth! By Shirin Yim Bridges.
Saturday: Crafty Families making moving 'Coronation Carriages'. Ages 7+. Our very own L.S.Lowry was an official artist for the Queen's coronation back on 1953 and now in 2022, to celebrate the Platinum Jubilee you can join in  with some creative fun at The Lowry by making your own carriage fit for a Queen. Based on Lowry's painting "The Procession Passing the Queen Victoria Memorial" you can draw, cut, stick and decorate your own carriage, maybe putting you and your friends inside it and adding horses or even rocket power to it too. It'll be wheely good fun!
Sunday: Family Swing Dance Party. Ages 7+. Come along to our Family Swing Dance Party where you'll learn some Swing Dance Steps before sharing a dance with your family. These activities will be led by a professional Swing Dance teacher and will involve lots of fun.
Galleries
Exploring perceptions of family, the new free exhibition Barrowland Ballet, Family Portrait is an interactive exhibition giving visitors the opportunity to create their own Family Portrait and to add their photo to a growing collection of portraits in the gallery. On Saturday and Sunday of Jubilee weekend dance artist Joanne Pirrie will be on hand to help visitors who have been inspired by the exhibition and would like to take their own family portraits.
Food & Drink
Keep little ones entertained with free themed activity sheets and enjoy traditional tea and cake at the Tower Coffee Shop. A special Jubilee offer of a tea or coffee and slice of cake for £4.50 is available.
Shopping
The Lowry shop will be selling limited edition 'Lowry Afternoon Tea' boxes over the weekend – both online and in store. Including Lowry tea, a mug and cake, the boxes are the perfect way to celebrate in style. Also available to buy are limited edition greetings cards featuring LS Lowry's The Procession passing the Queen Victoria Memorial.
The Lowry's Jubilee programme is just one element of a packed weekend of activity at Salford Quays which also includes the Jubilee Makers Market at Quayside Media City and a Jubilee projection display at Imperial War Museum North that depicts the Queen's enduring relationship with the Armed Forces.