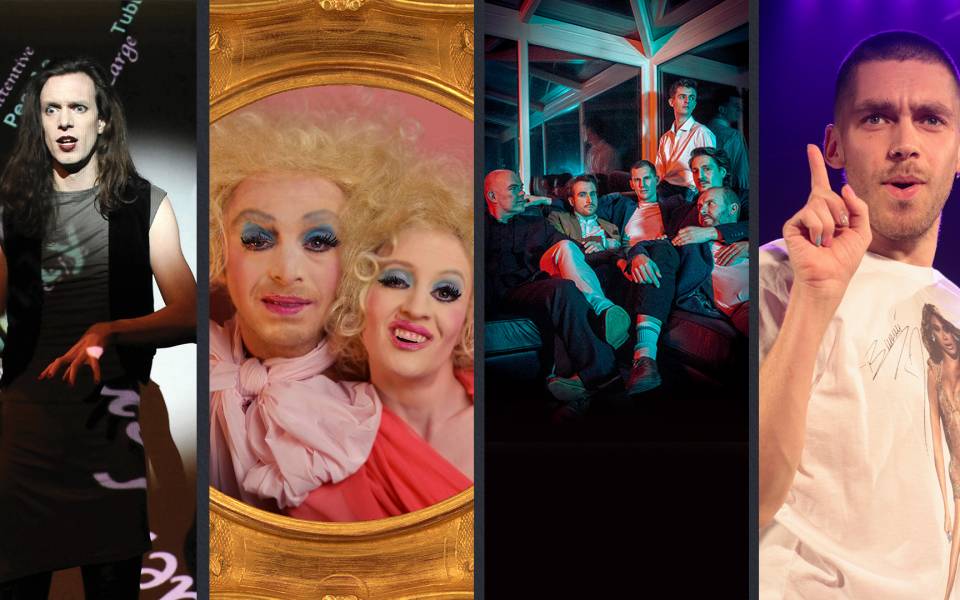 The Lowry to showcase ground-breaking LGBTQ performances
This season The Lowry stages proudly showcase a variety of  LGBTQ work.
For decades LGBTQ artists have created a queer space for themselves on stages – from the cabarets and drag performances in The Royal Vauxhall tavern to some of the most powerful plays of the 20th and 21st centuries ('Boys in the Band', 'Bent', 'Rotterdam', recent Olivier Award sensation 'The Inheritance'). On these stages they are able to subvert expectations, break boundaries and defy labels – not just against restrictive societal norms but against the notions of genre themselves.
From Kevin Elyot's dark comedy play My Night With Reg to dance-cabaret celebration Thick and Tight: Romancing the Apocalypse, the work programmed as part of The Lowry's spring season will be no exception to this.
My Night with Reg
Thu 23 – Sat 25 January
Funny, sad and sweet, Kevin Elyot's dark comedy play about the relationships of a group of gay men and their connections to the unseen yet magnetic Reg is a moving exploration of friendship, happiness and love, and their fragility in the shadow of the 1980's AIDS crisis. First opening at The Royal Court in 1994, winning the Olivier Award for best comedy, among others it has since enjoyed several revivals including a 1997 film and a second Olivier Award-winning revival at the Donmar Warehouse in 2014.
Green Carnation Company will bring Kevin Elyot's legendary razor-sharp wit to life in a stunning, visual feast that captures the decadence, celebration and uncertainty of the 1980s's London gay scene. They will work with award-winning young Leeds-based designer George Johnson-Leigh (one of the designers behind Opera North's Little Greats season at the Lowry in 2017) to recreate the 1980's aesthetic through stunning neon visual effect and an elegant, deconstructed set design.
Green Carnation Company are a Manchester based theatre company dedicated to presenting quality theatre telling queer and LGBTQ+ stories. 'My Night with Reg' explores a crucial moment in LGBTQ history in which fear of transmission of HIV was huge and it was impossible to escape its shadow. However things have changed drastically since – for the better. Green Carnation are proud to be working with and supporting George House Trust, a Manchester based charity providing services people living with, and affected by HIV today.
Thick and Tight: Romancing the Apocalypse
Mon 17 February
In their dance-cabaret celebration, duo Thick & Tight are joined by artist/designer Tim Spooner and two fabulous soloists; Harry Alexander (Michael Clark Company) and Vidya Patel (BBC Young Dancer South Asian Finalist). Together they will use a vibrant mixture of theatrical styles (including mime, ballet, drag, lip-syncing and video) to evoke infamous and remarkable historical figures including Derek Jarman, Marcel Proust, Andy Warhol and a two-head Barbara Cartland?! Their aim: To not only make the most entertaining, brazen and bizarre creations but to also create work which envelopes the breadth of human feeling.
Too Pretty To Punch
Sat 29 February
Too Pretty To Punch, written and performed by transgender/non-binary spoken word artist, animator and theatre maker Edalia Day, is a comedy about gender and not fitting the boxes. Armed with a banjo and  kick-ass video-projection, Edalia takes you on a hilarious and uplifting journey through what it means to be trans in 21st century Britain, taking on the world one troll at a time.
Bottom
Thu 5 – Sat 7 March
Bottom challenges gay society to lose the labels of sexual preference and get-over internalised homophobia as he challenges assumptions and asks, are you a top or a bottom?
Following a sell-out Edinburgh Fringe and UK tour, Willy brings Bottom to Salford. Developed with support from The Arts Council, Exeter Phoenix, Bristol Old Vic Ferment, and Bryony Kimmings.
The full programme of LGBTQ work at The Lowry can be found here: THELOWRY.COM/LGBTQ