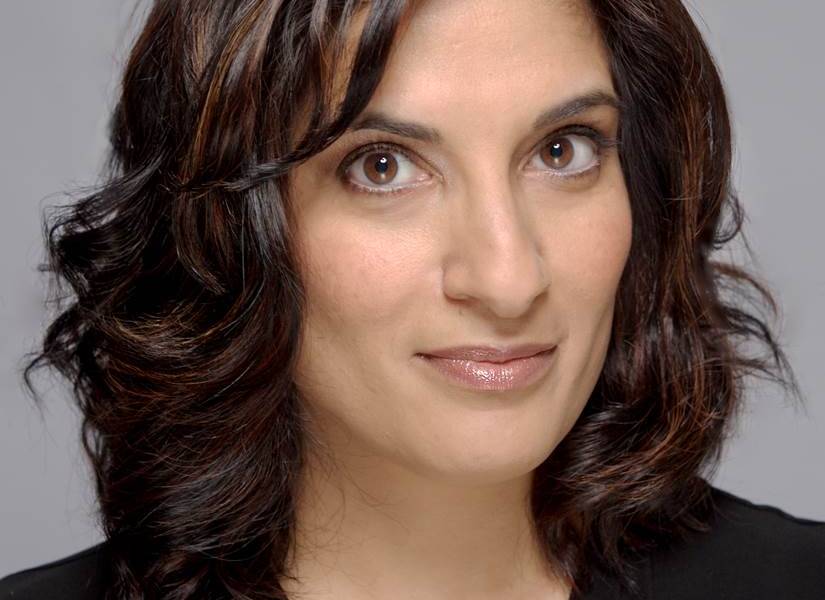 Mina Anwar announced as the second Thunder Girl
'The Thunder Girls,' is the debut play by Manchester local Melanie Blake, starring four female actors over the age of 50, and will have its will preview run at The Lowry Tue 24 – Sat 28 September.
On International Women's Day Mina Anwar is announced as the second of four actors to star in the all-female cast of 'The Thunder Girls.' West End Star Mina Anwar is best known for her roles in 'Everybody's Talking about Jamie' and 'The Thin Blue Line.' She will star alongside Coronation Street star Beverley Callard, with two more of the all-female cast still to be announced.
'The Thunder Girls' is a true celebration of women, with all four of The Thunder Girls female actors over 50, one of the most under-represented demographics in the UK entertainment industry.
Mina Anwar takes on the role of Carly, the youngest member of The Thunder Girls and the peace maker of the group. Fiercely loyal and level headed, Carly has always been the beating heart of The Thunder Girls. Now in her 50s, Carly has finally found her voice – but at the band reunion from hell will Carly be the one to bring the group together? Or will the bitter betrayal she faced at the hands of corrupt music industry, force her hand? Carly has always played it nice and paid the price, but now that a second chance is on the table, justice could be sweet.
'The Thunder Girls' follows an '80s girl group reuniting 30 years after greed, envy and egos tore their friendship and the band apart. The play focuses on what goes on during the night from hell when lead singer Chrissie tries to reunite the band she dumped. Chrissie is desperate to salvage herself from bankruptcy after being conned out of her fortune by her toy boy husband. But is there a fee which can heal the wounds? Or maybe some friendships never die, even if you want them to?
They say write about what you know, and as one of the UK's most powerful music managers, Melanie has lived and breathed The Thunder Girls. Melanie came from nothing but was inspired by Jackie Collins' books and '80s television to believe that she could become whoever she wanted to be. She started her career at Top of the Pops working with the biggest names in showbiz from Destiny's Child to The Spice Girls.
Mina Anwar said: "I met Melanie Blake, the author of the fabulous Thunder Girls stage play and novel, at a party recently. "Oh wow, Mina! I can't believe you're here!" she exclaimed excitedly "I'm just about to send you a play that I wrote with you in mind!

"She continued to tell me the story of The Thunder Girls, a successful girl group from the '80s who had split and gone their separate ways and who reunite at a dinner party many years later to discuss the chance for a sensational comeback – and, oh my word, what a dinner party it is it is! Full of stories of love, loss and betrayal, power games and passion, friendship and heartbreak. Funny, feisty, moving and intriguing. I couldn't put it down! I'm so excited to be part of this incredible project.

"I'm thrilled to be the 2nd of The Thunder Girls to be announced and especially today on International Women's Day. This show is a game changer. It's written by a woman, about four empowering, authentic, funny and truthful female characters, all over 50, that dare to embrace their middle age and yet never fall victim to clichés or stereotypes. It is such a refreshing change to be sent a script like this. I believe that anyone, men and women alike, will fall in love with these women as I have done. It's just a cracking good story!"

Angela Squire, Producer, said: "On a day which celebrates women, we are thrilled to announce Mina Anwar is joining the cast of The Thunder Girls, a brand new play written by a woman, starring women, produced and directed by women. Let's celebrate breaking through the glass ceilings."

Melanie Blake said: "To be returning to my home city 25 years since I left with my debut play premiering at The Lowry is an honour and a privilege – and proof that dreams really can come true. It's taken nearly two decades to bring The Thunder Girls play and book to the public and I can't wait to come home and see the audiences' reaction to this strong female narrative. It's time we saw more strong female leads in theatre and my play is about four incredibly powerful and empowered women and I can't wait to see it staged in Salford."
Listings Information
The Thunder Girls
Dates: Tue 24 – Sat 28 SeptemberHeadshot of Mina AnwarHeadshot of Mina Anwar
Times: 8pm. Wed & Sat 2pm.
Tickets: £20.50 – £28.50