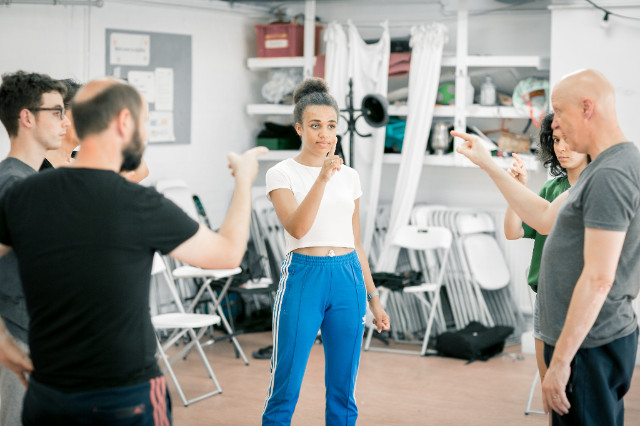 Chorley actor stars in comedy 'All You Need is LSD' at The Lowry.
Told by an Idiot and Birmingham Repertory Theatre's 'All You Need is LSD' is an exhilarating new comedy starring Chorley actor Sophie Mercell and comes to The Lowry Tue 6 – Sat 10 November.
'All You Need is LSD' is written by acclaimed playwright Leo Butler, after he accepted an invitation from former government drugs tsar Professor David Nutt to be a guinea pig in the world's first LSD trials since the 1960s.
Chorley actor Sophie Mercell will switch between influential characters in the comedy. She specialised in performing arts at Winstanley in Wigan before going on to Guildford School of Acting. Starring alongside Sophie will be Annie Fitzmaurice, Jack Hunter, and George Potts.
Part history, part wild fantasy, 'All You Need Is LSD' playfully dissects a drugs debate that won't go away and examines the freedom we have to make our own choices in life, and death. Exploring Professor Nutt's infamous claims about the therapeutic benefits and supposed risks of 'recreational' drugs, Leo questions if the world still needs a 'psychedelic revolution.'
Leo Butler, playwright: "This play takes inspiration from a lifetime of my experiences – from a misspent youth through to the responsibilities of fatherhood, and from being a guinea pig in medical trials to actually creating the play itself. I was delighted that The REP was as excited as me to find out what this play could be and, along with The REP, Told by an Idiot were the ideal fit in bringing it to life. I can't wait to see it unfold on stage – the next step in an already extraordinary journey."
Paul Hunter, Artistic Director, Told by an Idiot / co-director, All You Need Is LSD: "It is a joy to create All You Need Is LSD with such a great blend of experienced and fresh Idiots and to be working with The REP again – it feels like the perfect team to bring Leo's unpredictable, absurd and trippy play to the stage. Stephen Harper has been associated with Told by an Idiot for many years and I am delighted he is joining me to co-direct, and that fellow Associate Idiot, Annie Fitzmaurice, also forms part of the company. Jack Hunter and Sophie Mercell, who were introduced to the company in January 2018 during Let Me Play The Lion Too – our recent improvisational experiment with emerging disabled and non-disabled performers. It is great to continue a relationship with them, to welcome George Potts for the first time."
Roxana Silbert, Artistic Director, Birmingham Repertory Theatre: "The drugs debate is one that won't go away and All You Need Is LSD is a fascinating and poignant look at the issue that fits perfectly with our commitment to work that examines mental health. We're thrilled to be working with Leo to develop his latest play following our collaboration with him earlier this year on Woyzeck and I'm also particularly delighted to be partnering with Told by an Idiot in bringing Leo's exhilarating and original new comedy to life in Birmingham."
The production is designed by Sophia Clist with Lighting by Alex Boucher and Sound / Composition by Sophie Cotton. Beth Kapila is Assistant Director. Tessa Walker, Birmingham Repertory Theatre's Associate Director is Creative Consultant.