Sunday 26 March, 10.30am – 4pm
نو now – meaning "new" and روز ruz – meaning "day"
A New Year celebration marking the beginning of Spring.
Join us for a day of dancing, music, celebration and creative activity as local communities of Salford and Greater Manchester come together to celebrate Persian New Year and welcome in Spring.
The Lowry will open its doors from 10.30am – 4pm for a day of free activities for all ages, inviting visitors to connect, share and take part in a community New Year celebration.
In partnership with Doosti Salford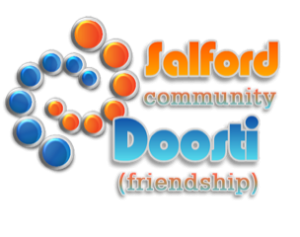 Events

World Peace Tree and Roots to Routes with Mussarat Rahman
All day activity, Pier Eight Rooms
The World Peace Tree is an image of a painted tree on a board. Surrounding the tree people are invited to add messages of Hope, Unity, Peace, Love and send messages to the World, using simple leaf shapes of other shapes. The tree represents setting roots down when you have reached a place where you can call it home.
Roots to Routes uses a generic map of the world, and with this map, we question the idea of where do you think you come from?
About The Artist
Mussarat Rahman is a Bradford Kashmiri Artist with a 10-year track record in delivering publicly funded community projects. Her work focuses on developing innovative social action projects, using Visual Arts, Photography, Multimedia and holistic tools to facilitate discussion around global issues affecting displaced people across West Yorkshire, empowering culturally excluded communities and identifying local innovators. As a woman artist of Pakistani heritage living in Bradford, director Mussarat represents a significant demographic group in the community.
Mussarat has created many artworks including a globe selected as part of 'The World Reimagined' a national installation of 103 unique globes across the UK exploring the history, legacy and future of the Transatlantic Trade in Enslaved Africans through the work of incredible artists. Mussarat is a key co-ordinator at Bradford Immigration Asylum Support Network (BIASAN), leading in partnership development with Arts Together, Opera North, Bradford Literature Festival & People & the Dales project. Mussarat is also the founder of Intercultured Festival, which runs in October during half term.

Workshop with Hip Hop dance artist Bobak Champion
12pm – 12.45pm, Pier Eight Rooms
Bobak will be ready to bring people together for a fun filled, sweaty dance workshop to unite and excite us into the New Year. Learn some fundamentals of Hip-Hop and expect a chance to develop and dance your own moves too

Performance from Bobak Champion – I'm Muslamic Don't Panik
2.30pm – 2.50pm, Pier Eight Rooms
Bobak will perform extracts from his latest show I'm Muslamic Don't Panik. Bringing live music, comedy and dance to our Nowruz festivities.
Spoken word meets dance, live music meets clowning. An intimate spectacle of identity, where being British, Iranian, and a Hip-Hop head collide.

Leave to Remain by Nikta Mohammadi and Babak Mirsalari
2.50pm – 3.10pm, Pier Eight Rooms
Leave to Remain is a collaborative project by composer and performer, Babak Mirsalari, and artist and filmmaker, Nikta Mohammadi. It incorporates live music and moving image work developed in response and dialogue with each other. Drawing on material from diverse sources such as family archives, everyday footage and improvised compositions, Leave to Remain takes the audiences on a journey through different mental landscapes, sonically and visually.
The work is currently in development and the sharing at The Lowry is a work in progress. This project has been supported by Opera North and Help Musicians.