The Lowry Creative Writing Challenge is open to all Greater Manchester children aged 7 – 11 and will continue to be open to entries until 31 March 2023.
Pupils can draw on all aspects of writing for performance. For example:
Poetry including spoken word, limericks & rap.
Story including fiction & short stories.
Stage Text including solo or group performance, plays for stage & radio.
How to Enter
Please email a digital copy of your Poetry, Story or Stage Text to getcreative@thelowry.com
In the subject header please write- FAO The Lowry Creative Writing Challenge
Include the following information in your email:
Name and age of child
Title of work
Address of child
Name of teacher, parent, carer, or guardian sending the work
Name of school or if home educated
Contact telephone number
Contact email address
Alternatively, you can post your entries to 'The Creative Writing Challenge', The Lowry, Pier 8, Salford Quays, M50 3AZ. Please enclose a note with the information required as above.
Deadline for submissions 31 March 2023
Rules of Entry
All Key Stage 2 children aged 7 – 11 from Greater Manchester (living or learning in the GM Region) are eligible to take part
We advise that entries have a 500-word limit or 3-minute script limit.
Only one entry per child, per category (Categories are 1. Poetry 2. Story or 3. Stage Text)
If the entry is from a school, Teachers are welcome to submit an entry from more than one child in their class
You will only be notified if your child is shortlisted
The Lowry will be unable to return or keep submissions so please keep your own copy on entering
By entering, you agree for the entry to be used in any associated publicity by The Lowry
The shortlisted children agree to attend the Lowry on 18 May 2023 for a celebration event where their work will be presented on stage either by themselves or on their behalf
Winners
A celebration prize giving event celebration prize giving event will be held on 18 May 2023 in The Lowry's Quays Theatre, with winning entries being performed on stage either by the children who wrote them, or by someone else on their behalf
You could win:
A chance to perform on the 18 May 2023
Feedback from professionals on shortlisted works
Up to £50 of book tokens
A professional illustration of your creative writing for you to keep
Tickets to a show at The Lowry for the winners and their families or friends
The competition has been made possible thanks to the generous support of Beryl Jones, who along with her husband Trevor is a Gold Patron of The Lowry.
Delivery Partner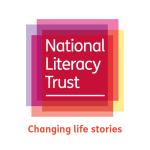 Mike Leyland – National Literacy Trust
'We are delighted to partner with the Lowry on the Creative Writing Challenge. We know from our own research that writing helps children to express themselves with 1 in 2 children saying they write to be creative. We hope this exciting competition will inspire children across Salford with their writing and reading, supporting them to develop the literacy skills they need to succeed in life.'