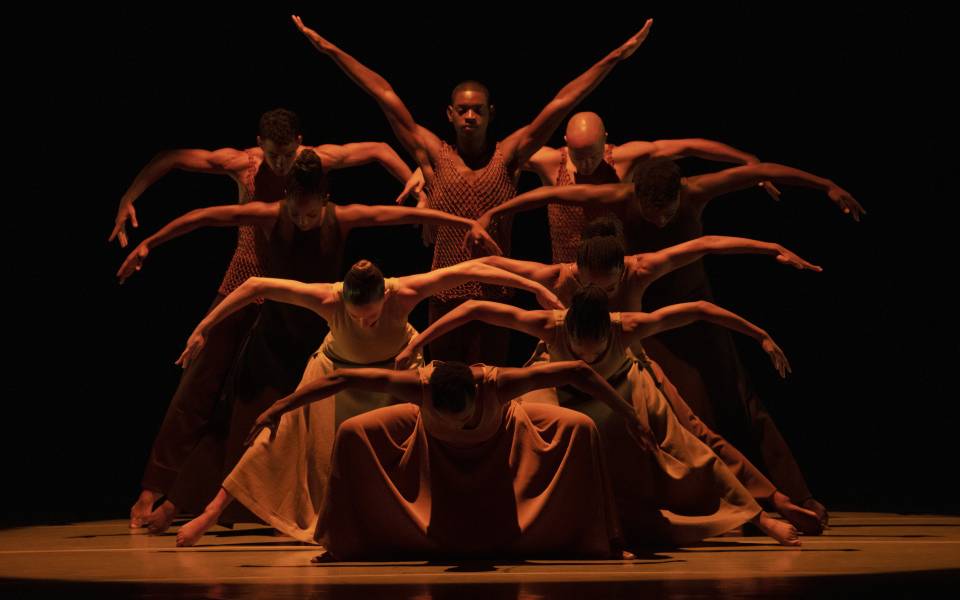 The 12 young dancers of Ailey 2 bring their New York expression and energy to the UK in their first visit since 2011  
12-venue tour from 19 September to 28 October 2023
Including The Lowry, Salford on Friday 13 & Saturday 14 October
Ailey 2 – Alvin Ailey American Dance Theater's second company – is among the most talented of its generation, pouring strength, grace and soul into emotional and powerful performances that captivate audiences around the world. Founded in 1974 as a bridge between The Ailey School and the professional dance world, Ailey 2 is recognised for merging the spirit and energy of the next generation of talented dancers with the creative vision of today's most outstanding and emerging choreographers.
This autumn they return to the UK for the first time since 2011 for a Dance Consortium tour of twelve venues around the country, eleven of which have never hosted the company before, all keen to bring some of the famous Ailey spirit to their audiences.
The company's new artistic director Francesca Harper (internationally-renowned performer and choreographer) has put together an exhilarating repertoire by a diverse range of choreographers which includes a timeless classic from Alvin Ailey himself.
Revelations, the company's signature piece, was choreographed by Ailey when he was only 29 years old in 1960. A life-changing work, it has been seen by more than 23 million people in 71 countries, more than any other modern dance work. Using African American spirituals, song-sermons, gospel songs and holy blues, Revelations explores the deepest reaches of the soul. Ailey said that one of America's richest treasures was the cultural heritage of the African American and this enduring classic is a tribute both to that heritage and Ailey's genius.
The company will perform the intensely propulsive central section of William Forsythe's 1989 work, Enemy in the Figure. The choreography is driven by Thom Willem's percussive and rhythmic electronic score which also influences the radical use of light and shadow in its design. This excerpt puts the formidable dance skills of the Ailey 2 dancers on fine display, giving their craft and vitality an invigorating framework.
Robert Battle is Artistic Director of Alvin Ailey American Dance Theater. His 2001 classic The Hunt is a primal ritual with a distinctly urban feel fuelled by a thundering percussion soundtrack by Les Tambours du Bronx. This athletic work, originally choreographed for six male dancers, explores the relationship between modern sports and the rites of the gladiators, revealing the predatory side of human nature and the primitive thrill of the hunt. Battle found inspiration for the work in his background in martial arts.
Francesca Harper created her futuristic work Freedom Series on the company in 2021. Inspired by her Ailey homecoming, she has created a landscape of memories, a hybrid world where the past strives to influence the future. Developed in collaboration with the Ailey 2 dancers, Harper's work examines identity and community. This excerpt is danced to a montage of acoustic and electronic sounds. Freedom Series' unexpected twists and turns bring tender moments to its intrinsic ferocity.
Alvin Ailey American Dance Theater and Ailey 2 are companies with a strong family ethos. New Ailey 2 artistic director Francesca Harper embodies this. She took her first dance steps at The Ailey School, the official school of Alvin Ailey American Dance Theater, where her mother Denise Jefferson was director from 1984-2010. Harper aims to bring fresh perspectives to Ailey's legacy, while nurturing new creative voices and propelling the company forward.
The company has an extensive community outreach programme. For this Dance Consortium UK tour, the programme includes masterclasses, open rehearsals and workshops alongside special projects being hosted by member venues as part of the Ailey Project UK.
Dance Consortium is a group of 18 large-scale theatres, including The Lowry, with a mission to bring the best international dance to stages across the UK and Ireland. https://danceconsortium.com/touring/ailey-2/
ends
Listings information
Programme: Freedom Series excerpt (15 mins) / pause / The Hunt (14 mins) / interval (15 mins) / Enemy in the Figure excerpt (18 mins) / interval (15 mins) / Revelations (36 mins)
Running time: 115 minutes
Friday 13 & Saturday 14 October at 7.30pm
The Lowry, SALFORD
Pier 8, The Quays, Salford, M50 3AZ
Tickets: 0161 876 2015 / www.thelowry.com
Notes to editors
Dance Consortium is a group of 18 large-scale UK venues with a shared passion for engaging people with the best contemporary dance from across the world. Since its formation in 2000, Dance Consortium has presented over 50 tours by 26 different companies (from Australia, Brazil, Canada, Cuba, France, The Netherlands, South Africa, Taiwan, Israel and the USA) to over 750,000 people. Their performances and education activities have been experienced by around 700,000 people across all parts of the UK. Dance Consortium receives investment as a national portfolio organisation of Arts Council England.
Dance Consortium members are Grand Opera House Belfast; Birmingham Hippodrome; Alhambra Theatre, Bradford; Brighton Dome; Marlowe Theatre Canterbury; Wales Millennium Centre Cardiff; Bord Gáis Energy Theatre, Dublin; Festival Theatre Edinburgh; Eden Court Inverness; Sadler's Wells Theatre and The Peacock London; Milton Keynes Theatre; Theatre Royal Newcastle; Theatre Royal and Royal Concert Hall Nottingham with Dance 4; Theatre Royal Plymouth; The Lowry Salford; Mayflower Theatre, Southampton; Hull New Theatre; Norwich Theatre Royal.
Ailey 2 is universally renowned for merging the spirit and energy of the country's best early-career dance talent with the passion and artistry of today's most outstanding choreographers. Founded in 1974, the company embodies Alvin Ailey's pioneering mission to establish an extended cultural community that provides dance performances, training, and community programs for all people. Ailey 2 blossomed into one of the most popular dance companies in the county under the leadership of Sylvia Waters, who was selected by Mr. Ailey to be its founding Artistic Director, serving in that role for the Company's first 38 seasons. With Artistic Director Francesca Harper at the helm, Ailey 2 continues to thrive as she brings a fresh dimension to this beloved company. The company's repertory has included works by dance masters Alvin Ailey, Talley Beatty, Donald Byrd, Ulysses Dove, George W. Faison, Lar Lubovitch, Judith Jamison and Ailey's Artistic Director Robert Battle as well as works by rising choreographers such as Sidra Bell, Jae Man Joo, Carlos dos Santos, and Christopher L. Huggins. Ailey 2's twelve rising stars inspire audiences in dozens of cities across the globe
Ailey Project UK was launched in 2021 following a consultation with Dance Consortium member venues and building on previous L&P activity with the Alvin Ailey American Dance Theater. The young people worked with so far have had a range of experiences, from an introduction to Horton technique workshop delivered in-person with ex-Ailey dancer, Marcus Jarell Willis, to learning repertoire directly from company dancers, Solomon Dumas and Samantha Figgins, in New York over Zoom. They have taken part in creative tasks and sharings, as well as live and pre-recorded Q&As with current and ex-company dancers, all within a professional dance environment. In 2022, the Ailey Project UK held its first in-person Summer Intensive in partnership with Milton Keynes Theatre. The director of the Ailey School, Tracy Inman, and Ailey Principal Dancer, Yannick Lebrun, led a week-long intensive with pre-professional dancers aged 14-20 from across the UK. In addition, Dance Consortium has worked to connect Black-led dance organisations, creating a growing network of partners. The Ailey Project aims to redress the balance of opportunity and raise awareness of different career pathways for those who have been historically under-represented in formal contemporary dance training. Through the Ailey Project UK and our other Learning and Participation initiatives, Dance Consortium continues to be a significant contributor to dance talent development in the UK.