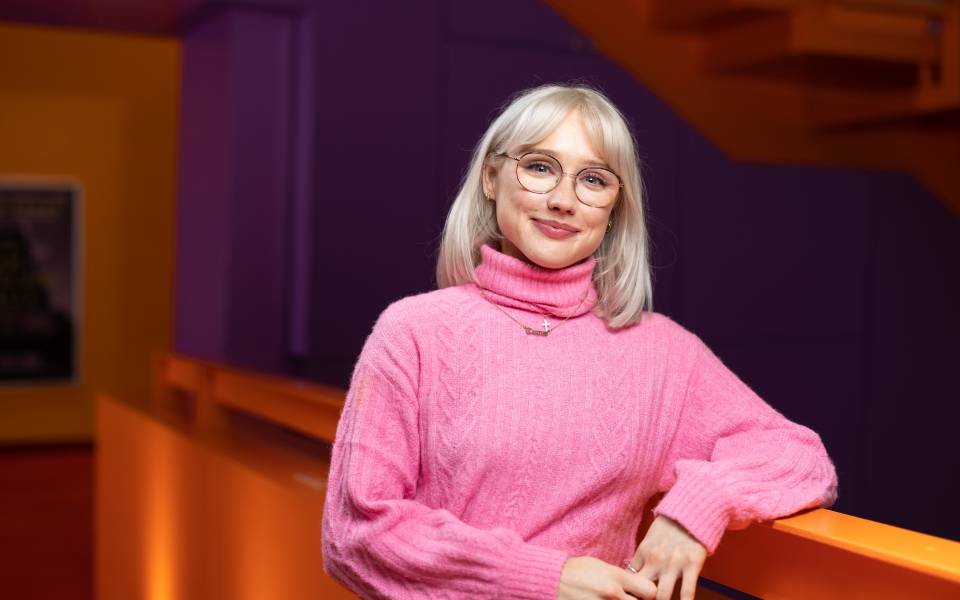 Developed With The Lowry Spotlight: Alice Christina-Corrigan
We are delighted to spotlight Alice Christina-Corrigan and share an excerpt of the speech she made at our Developed With Welcome Day a few weeks ago at The Lowry.
I am a visually impaired actor, theatre maker and all-round advocate for disability inclusion within all art forms, on and offstage.

A few years ago, I never would have seen myself here, talking so openly about my disability, working for and with this community and aiming to make big intersectional changes in the arts. And perhaps this is why I find myself with a kick in my step, a fire in my belly and an urgent need to hold space for many who share a simple narrative in regards to their disability identity. See, if I had received the exposure, access and desire from the sector earlier in my life then maybe the journey to get here would have looked entirely different.

But this journey has led me to many wonderfully creative spaces. As an artist, my practice is fundamentally questioning creatively and intuitively, the technological landscape of creative access in theatre. This journey began with my one-person show, Past Life, a show that questioned the normalisation of sexual assault in relationships. Whilst being accompanied with a dynamic sound score, creative captioning, animation and rich audio descriptive text to show how I, a working class disabled woman with literally no contacts in the arts can, if given the opportunity, pave the way for others to change the discourse surrounding creative access in theatre.

Up until now this, my practice, this world, this ethos has all sat under my own umbrella, I taught myself creative captioning and sound design due to money and ya know.. a global pandemic. I created work in a fringe-esc way to throw stuff at the wall and see what stuck and now, I am thrilled to be taking what I learnt through this show and stepping up my creative access practice through Developed With The Lowry programme, hand in hand with The Lowry as we being work on my next play Fade. A two hander that follows Cassie and Rubin as they come to terms with their mother's sudden death. I will continue to push the technological framework of creative access focusing now, on a more mainstream theatregoer, for a more mid-scale production, for audiences who are used to a traditional theatre format. To stand and be heard, to utilise what I have learnt, and push that onto new technological devices to me, like Q lab and projection mapping- things I have never been able to afford to look into before.

This program allows me to break down the myths, technological barriers, excuses and ignorance as I provide a clear, concise and creative way mainstream theatre can adapt their work to be creatively accessible. Through mentorship and shadowing, learning different practices and pushing my work further I will leave having created a spell bounding, harrowing and creatively accessible show in a new, dynamic and unapologetic form.