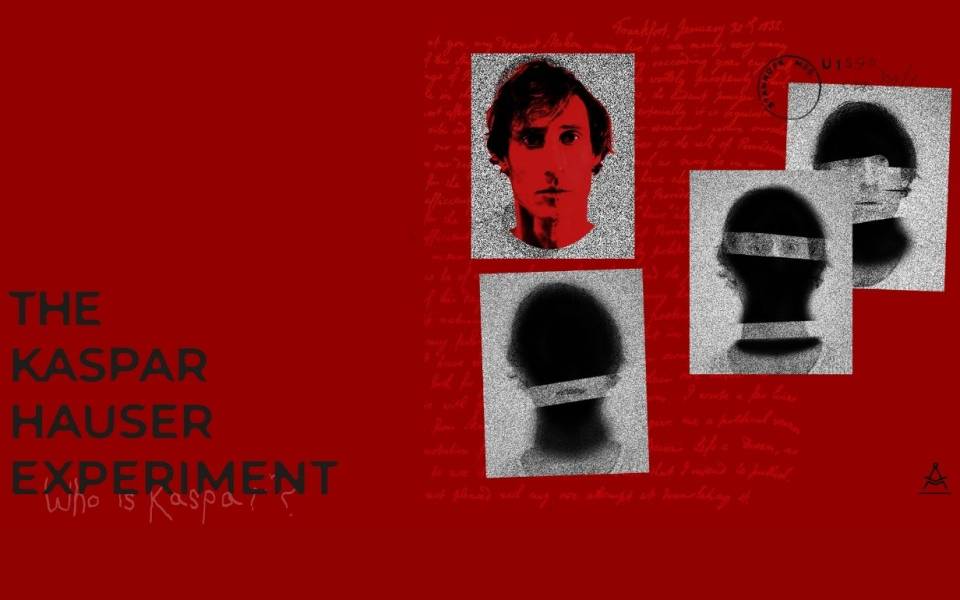 The enigma of Kaspar Hauser brought to life on stage at The Lowry
Animikii Theatre's brand new production, The Kaspar Hauser Experiment, weaves a story of conspiracy and intrigue and sheds a new light on this incredible true story. The show tours to The Lowry on Friday 20 & Saturday 21 May.
In 1828, a semi-feral youth appears in the town square of Nuremberg claiming to have been held prisoner in a darkened cell for 17 years. He is barely able to speak or walk, and can only write his name: Kaspar Hauser. The mystery made him a celebrity across Europe at the time, and the riddle of his short life has fascinated and intrigued people for centuries, inspiring books, films and music. But who was he really? Conman? Orphan? Or an abducted prince caught in the middle of a political game?
In this fresh new look at this legendary figure, Animikii Theatre invite the audience to witness key testimonies from those who know him best, hear the conspiracies and rumours that surround him and watch Kaspar try to uncover the facts. The story will come to life with the company's visually inventive storytelling and ensemble based song and physicality.
Adam Davies, Artistic Director of Animikii Theatre explained:
"The story is as relevant today as it was 200 years ago. It's clear from our extensive research that Kaspar may have lived with learning difficulties, so in our telling of the story we wanted to confront how as a society and as individuals we care for those most vulnerable. As a neurodiverse-led theatre company, we're always searching for new and imaginative ways to articulate the struggle of the 'outsider' and to explore their place in society."
Animikii Theatre are partnering on the show with Interplay Theatre, who specialise in sensory theatre for learning/non-learning disabled audiences. The ensemble cast includes a learning disabled actor, Paul Bates from Bradford-based Mind The Gap, who plays the judge, Feuerbach, in the show. Adam Davies said
"Working with an artist with the experience that Paul has is hugely exciting for a company like Animikii Theatre. He has fit right into our ensemble and become a valuable member of the team. Including the voice and artistic observations of a learning disabled artist, such as Paul, has made this adaptation more exciting, sensitive and personal. We can't wait for people to see Paul help bring Kaspar's story to life."
Animikii Theatre have also been working with specialist Access Consultant, Vicky Ackroyd to embed sensory aspects in the production, and build audio description directly into the text of the play. Closed Captioning is also available at each performance for those who need it.
Animikii Theatre will also bring learning disabled and non-learning disabled participants together in a safe space through 'Play Days' workshops at The Lowry. Here artists will be free to play and create, using fun and imaginative ways to explore theatre making practices used in the making of the play. They are available to book through The Lowry's and Animikii Theatre's websites.