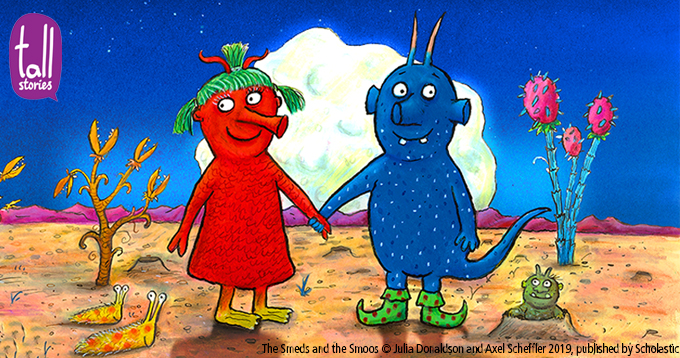 A stellar new show based on the award-winning book, The Smeds and The Smoos, by Julia Donaldson and Axel Scheffler
A joyful tale of star-crossed aliens.
Soar into space this April half term with this exciting adaptation of the award-winning book by Julia Donaldson and Axel Scheffler. The Smeds and The Smoos tours to The Lowry from Tuesday 12 until Saturday 16 April.
The book tells the story of two rival groups of aliens living on a far-off planet: the Smeds (who are red) and the Smoos (who are blue). The two groups mistrust each other and the children are told to never play with one another. So, when a young Smed and Smoo fall in love and zoom off into space together, how will their families get them back?
Tall Stories is proud to be presenting a production that focuses on unity and understanding.
Music, laughs, puppetry and interplanetary adventures for everyone aged 3 and up, from Tall Stories – the company that brought you 'The Gruffalo' and 'Room on the Broom' live on stage.
Expect joy, jam and jumping!
"One of the most entertaining Julia Donaldson adaptations – a magical journey to a colourful and imaginative array of weird and wonderful planets" whatsworthseeing.com ★★★★

"Tall Stories sets the benchmark for children's theatre." Sunday Times