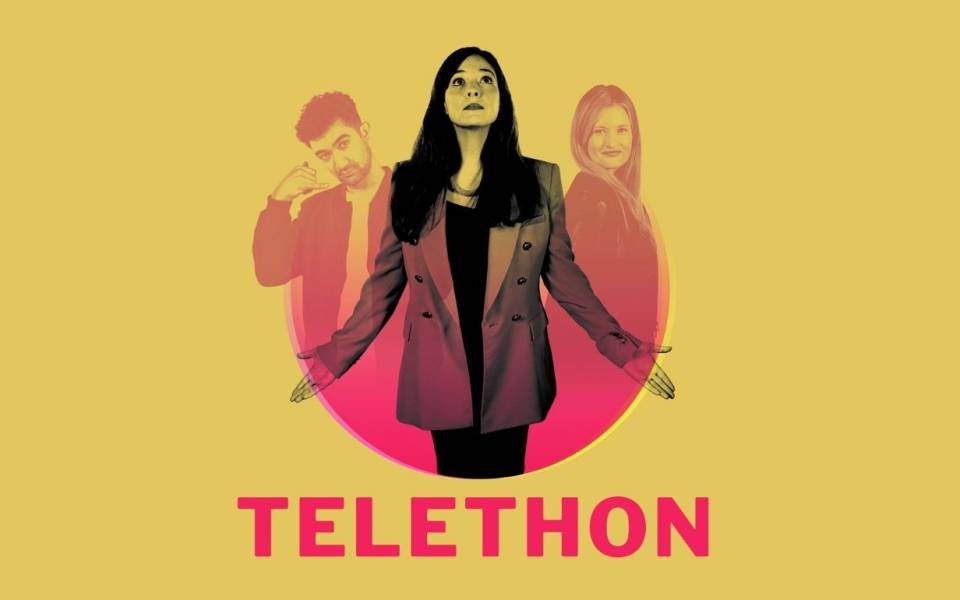 A charity special that questions morals. Telethon- a satirical interactive experience- previews at The Lowry
We live in an increasingly divided world, but if there is one thing that can connect us all, it's a televised charity special.
Telethon is a fresh, playful and clever spin on the marathon phone-in tv trope. Inspired by contemporary moral psychology, Telethon explores groupism, publicphilanthropy, moral certainty and anger. Created by the ever-inventive TalkShow, (previously known as Toot), Telethon will run at Shoreditch Town Hall following previews at South Street Reading and The Lowry.
Viewed through the prism of a live studio broadcast in which the charismatic hosts invite the audience to a make their voices heard, connect with their neighbours and support the various bizarre fund-raising activities happening around the country. Good-will and group singing prevail, but behind the scenes tensions are rising and cracks are beginning to emerge. The aim is to unite the nation but is it even possible to unite the room?
Telethon offers a unique interactive experience for live audiences, alongside bold video design and features integrated captioning and moments of integrated BSL interpretation/translation. The show will be livestreamed by theatrical. solutions from Shoreditch Town Hall for two nights and be available on demand for 48 hours.
The show is co-created and performed by Archie Backhouse, Erin Hutching and Katie Lovell.
Talkshow is Stu Barter, Clare Dunn and Faith Dodkins, who started making work as Toot (along with Terry O'Donovan), in 2012. They create live performance, participatory projects and work for digital platforms, where the audience has a role to play. Their work flips modern fears and anxieties into collective experiences, often taking a familiar setting and transforming it to reveal something new. Their previous work includes Ten Out of Ten (Ovalhouse, Edinburgh and Tour), Be Here Now (Shoreditch Town Hall/Tour) and Focus Group (Ovalhouse/Tour).
Telethon is commissioned by Shoreditch Town Hall and developed with The Lowry.
NOTES TO EDITORS
TalkShow is Clare Dunn, Stu Barter and Faith Dodkins; they started working together as TOOT (along with Terry O'Donovan) in 2012.
2022 sees the company present the first production in their new iteration as TalkShow. Like many organisations, the pandemic represented a serendipitous coming together of many factors, which allowed the company to re-group and re-think, and given Terry O'Donovan's choice to take a different direction, the opportunity to re-brand. The name TalkShow reflects the company's new organisational development, direction and vision to explore new ideas but continuing to make work that centres around the interaction and connection between the performers and their audience, the creation of communal transformative experiences and the exploration of differing perspectives and voices in relation to society, politics, religion or other important contemporary weighty themes.
TalkShow is small but bold. They are quirky, satirical and silly, but are not afraid to explore heavy themes or social or political frustrations within their shows. They are renowned for flipping modern fears and anxieties into collective experiences, often taking a familiar setting (a classroom, a focus group, a TV studio) and transforming it to reveal something new, creating the space for audiences to leave the performance reflecting, thinking and questioning.
The audience is always at the heart of what they do, and they create and deliver live performance, participatory projects and work for digital platforms where they have a role to play. They create a collective communal experience which builds connections, provokes cerebral and emotional responses and leaves the audiences feeling hopeful.
Their live theatrical experience is typically combined with an original soundtrack and digital artistic work, creating exciting, inventive, transformative, highly visual and not always naturalistic shows. They are respectful of people's differences and diversity and aim to provide an accessible platform for diverse voices to be heard and shared. They work with a wide array of collaborators and expect everyone, audiences and performers alike, to dive in; but don't worry, they promise to take good care of you!