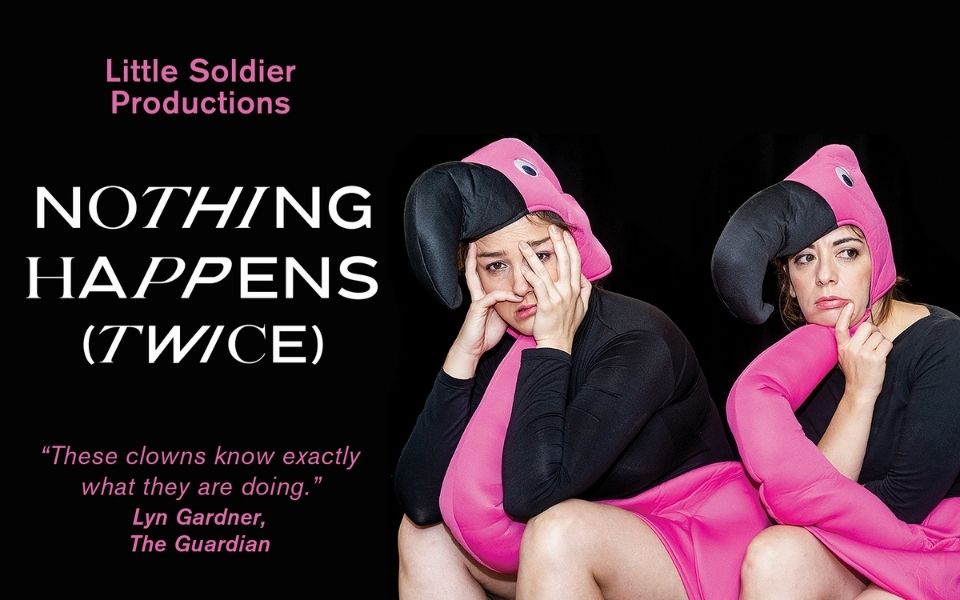 Slapstick humour meets Beckett head on in Nothing Happens (Twice)
After a COVID induced hiatus, Spanish performance company Little Soldier are finally able to tour their new show, Nothing Happens (Twice) in 2022, with performances at The Lowry from Thursday 31 March – Saturday 2 April. Sparked by a long harboured ambition, begun in 2019 and originally planned for 2020, the show has accidentally become an embodiment of its subject matter, Waiting For Godot, developed in the midst of lockdowns and PCR testing regimes during the strangest of times. The extended process has allowed the team to unlock details and richness in the source material to create a finely crafted and laugh out loud expression of triumph in the face of adversity.
Nothing Happens (Twice) tells how after an exciting few years making and touring shows all over the world, Mercè and Patricia somehow lost momentum and hit rock bottom. They always knew that making theatre would be difficult, but when they ended up dressed as flamingos in a shopping centre to make ends meet, they seriously considered giving up.
Will their shared dream of staging Beckett's classic get them back on track or will their long held ambition be strangled by red tape? Little Soldier bring their trademark physical comedy to this hilarious and sometimes moving exploration of companionship, co-dependency and what motivates us, even in the face of bureaucratic obstacles.
Little Soldier Artistic Directors Mercè Ribot and Patricia Rodríguez said:
"We are so pleased to be finally able to tour our new show after so many delays and lockdowns. We're really looking forward to being on stage and in front of audiences again – we've really missed them"
The show has been created in collaboration with a fantastic creative team that includes director Ursula Martínez, dramaturg Adam Brace, designer Verity Quinn, videographer Mark Morreau and composer John Biddle.