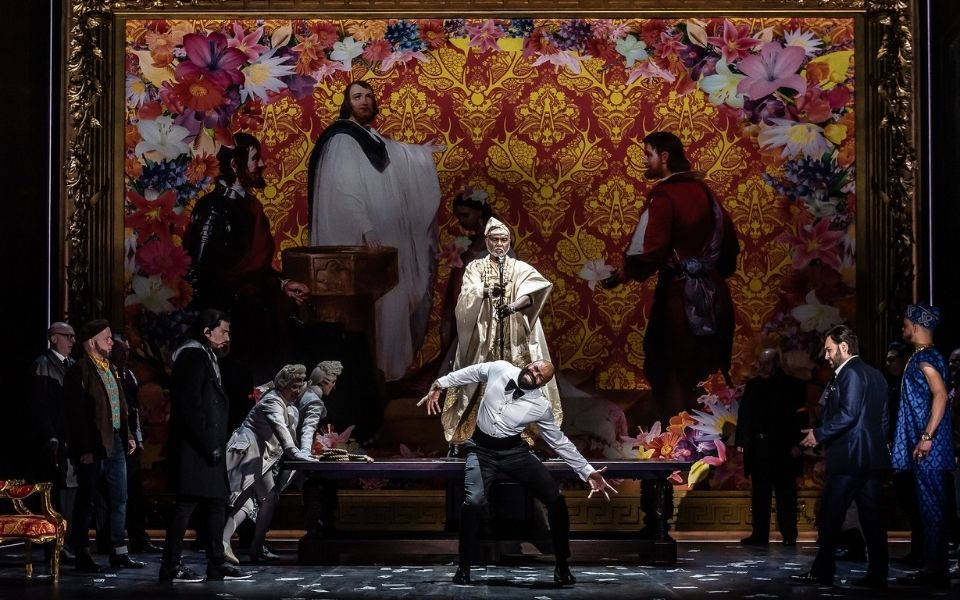 Deception, Discrimination and Destiny: Opera North returns to The Lowry with Rigoletto, Carmen and Alcina
Race, power and identity, the contradictions of love, and the pain of loss will all be explored next month at The Lowry when Opera North returns with two exciting new productions and another chance to see their acclaimed Carmen which premiered in Leeds in September.
Wednesday 9 March and Saturday 12 March sees a new production of Verdi's ground-breaking opera, Rigoletto, in which a father's quest for vengeance leads inexorably to tragedy. British-Nigerian theatre artist Femi Elufowoju jr makes his opera directing debut with a contemporary production which explores privilege, the power of the curse in African culture, and an individual's response to being a Black man living in a predominantly white society. Rather than the more traditional physical deformity, it is the paranoia of difference which becomes Rigoletto's disability and leads to his ultimate downfall.
Rigoletto marks the welcome return to Opera North of American baritone Eric Greene, who takes on the title role, with American soprano Jasmine Habersham making her Company debut as his daughter Gilda. They are joined by Russian tenor Roman Arndt who also appears with Opera North for the first time to sing the predatory Count of Mantua. Opera North Music Director Garry Walker conducts.
The company's first ever production of Handel's opera Alcina takes to the stage on Friday 11 March, directed by Tim Albery. A tale of deception and seduction, the opera tells the story of an enchantress who routinely casts spells over her lovers to hold them captive on her island before turning them into rocks, animals and trees once her interest wanes. When she meets the young knight Ruggiero however, she finds herself falling in love for the first time. Will her magical powers be enough to keep him when his fiancée appears on the island looking for her lost beau?
Baroque specialist Laurence Cummings returns to conduct a cast which includes Irish soprano Máire Flavin in the role of Alcina. Ruggiero is sung by American countertenor Patrick Terry, who will be making his Opera North debut alongside Norwegian mezzo-soprano Mari Askvik as Bradamante and British soprano Fflur Wyn as Morgana.
Alcina is notable for being Opera North's first sustainable mainstage production, following successful trials in utilising reused and recycled sets. Designer Hannah Clark has created the set and costumes using elements from previous productions, as well as sourcing vintage or second-hand costumes and props. Nothing that appears on stage will be newly purchased, and the environmental impact of making and transporting the scenic elements and the wider impacts of the supply chain have all been considered.
Completing the season is Edward Dick's production of Carmen which opened the Company's autumn season and will return to The Lowry on Thursday 10 March. American mezzo-soprano Chrystal E. Williams returns in the title role with French tenor Sébastien Guèze as Don José. British-Irish soprano Alison Langer sings Don José's discarded love Micaëla, with Hungarian baritone Gyula Nagy appearing as Escamillo. Antony Hermus, Opera North's Principal Guest Conductor, takes up the baton.