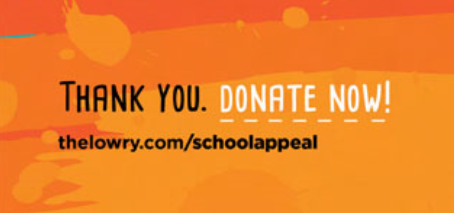 The Lowry sets crowdfunding target of £5k to help it deliver creative workshops for 700 children in Salford
The Lowry has today launched a flash crowdfunding appeal to raise £5,000 during July to help it deliver creative arts workshops to primary school children in Salford this September.
The Lowry Schools Appeal will run from 1-31 July, with all funds used to support visits to ten schools in deprived areas of Salford that research shows have had limited or no previous engagement with the arts.
Long-standing Lowry supporters, Noel and Alison Copley, have pledged to match all monies raised pound-for-pound – amplifying the project budget as high as £10,000.
Commenting on the launch of the appeal, Julia Fawcett OBE, chief executive of The Lowry, said: "This year more than ever, children need to benefit from creativity to develop their imagination, spark creativity and bring the school curriculum to life.
"Through this activity we hope to reach over 700 pupils and – by providing schools with hampers of free art materials – leave teachers better resourced to roll out similar workshops across the school."
To make a donation to The Lowry Schools Appeal, click here.
Workshops funded by The Lowry Schools Appeal will take place in September 2021. The Lowry is working closely with Salford City Council to identify which schools will most-benefit from the scheme.