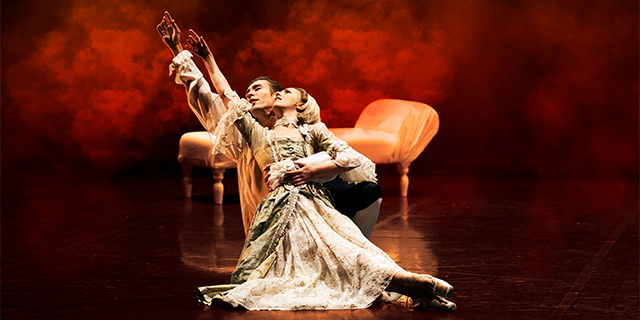 Dangerous Liaisons - Northern Ballet returns to The Lowry in Salford
Northern Ballet is commencing its first national tour in over a year with performances of Dangerous Liaisons at The Lowry, Salford. Choreographed by David Nixon OBE and performed to music by Antonio Vivaldi, this scandalous tale of love and betrayal will be performed in Salford from 1 – 5 June 2021.
Northern Ballet last toured in winter 2019 after which Covid-19 restrictions forced the Company to cancel its touring plans throughout 2020 and early 2021. The Company last performed in Salford with The Great Gatsby in May 2019.
David Nixon OBE's adaptation of Dangerous Liaisons is a bodice-ripping tale of two bored aristocrats as they spin a web of heartbreak and ruin. Inspired by the original novel this dramatic ballet is performed to Vivaldi's rousing composition of The Four Seasons played live by Northern Ballet Sinfonia.
David Nixon OBE said: 'Our performances in Salford will be the first time our company has toured since the end of 2019. Touring and performing live is at the heart of why we do what we do and so we are delighted that it is finally possible to do so. As the characters become caught deeper and deeper in a web of betrayal, manipulation and lies, our adaptation of Dangerous Liaisons packs a lot of drama into one performance and shows our dancers at their storytelling best.'
Tickets for Dangerous Liaisons at The Lowry, Salford are on sale now.