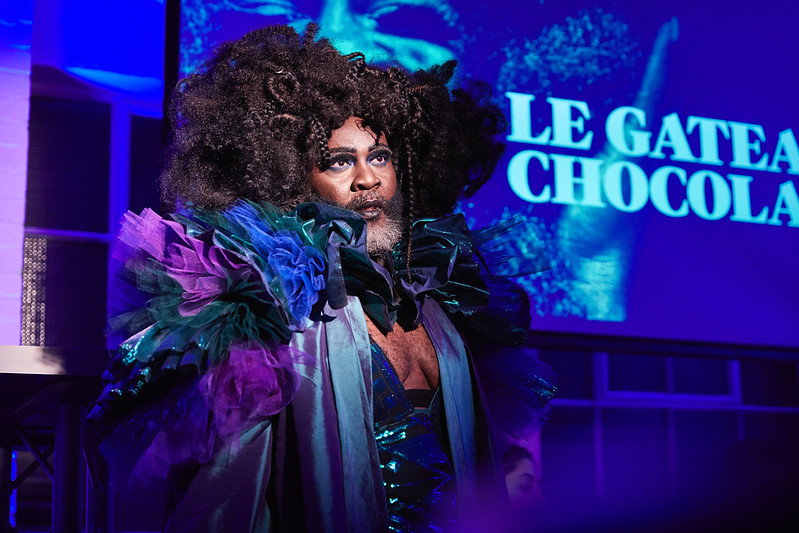 WEEK 53 - Full 2020 programme line-up announced
The full 2020 programme for The Lowry's innovative cross-art festival, WEEK 53 has been announced.
The festival for the compulsively curious, running from Friday 24 April to Sunday 3 May, will bring together new commissions and existing work in performance and visual art from world-class artistic talent.
The programme will explore the theme of 'Power' and will challenge, question and interrogate structures and hierarchies in our current social and political landscape, across prescribed gender roles, and in media and culture. Who has power? Can power be distributed differently? How do historic power dynamics still influence today's realities?
Now in its third edition, WEEK 53 takes over The Lowry for one special week every two years, bringing art and performance into surprising spaces, celebrating innovative artistic work and challenging convention.
This year, The Lowry turns 20 and as it celebrates this landmark birthday, it is expanding its role as producer and commissioner of new works. This is reflected in the nine new commissions that feature in the WEEK 53 programme.
New commissions and world premieres:
The Faction, a multi-award winning, critically acclaimed, international ensemble of artists will present Pericles in Libya, part of a transnational and multilingual production of Shakespeare's Pericles. Intended for performance across Greece, Lebanon, Libya, Syria, Turkey and the UK, this innovative production will mirror the characters' journey through the Mediterranean. The Libyan scenes were originally due to rehearse in Tripoli, but when the armed conflict escalated in April 2019, The Faction was prevented from joining their colleagues at the National Theater of Tripoli and continuing rehearsals for the Libyan scenes became impossible.
At WEEK 53, The Faction will stage a rehearsal room in exile. Mixing documentary, live performance and sound installation the production will explore what the power of art means in the middle of a real world conflict, as the explosions from the front line become audible. Director Khalifa Abo Khraisse explains: "You don't know what's happening outside. But they don't know what we're doing in here either. That's power."
Theatre star, opera singer and drag queen Le Gateau Chocolat will debut a new solo show entitled Pandora. Throughout the show, Le Gateau Chocolat will use the Greek legend of Pandora as a metaphor for lost innocence and the perceived contamination of our identities. A 15-piece orchestra from Manchester Camerata will accompany this mythological exploration, performing the soundtrack of opera classics and modern power ballads.
Sculptor and contemporary visual artist Hew Locke will exhibit new and existing work inspired by the languages of colonial and post-colonial power and the symbols through which cultures assume and assert their identities. The new commissions, a series of horsemen and busts collectively titled The Man Who Would Be King, will borrow symbols like coats of arms, trophies and traditional weaponry and upend these instruments of colonial and political power in introspective, visual critiques.
Michael Barnes-Wynters, radio broadcaster and creative producer, will set up a public access TV station for the duration of WEEK 53, which will transmit 72 hours of content contributed and inspired by festival artists. Collectively, this work will be called, Take Back Control.
Contemporary circus company Scarabeus will present an aerial theatre piece, Powerflex, a vertical journey physically performed on the exterior of The Lowry. Powerflex will explore our ability to control our lives, positive change, the abuse of power and hiding truth. Scarabeus will work with professional artists and existing dancers from The Lowry's Centre for Advance Training in Dance (CAT) programme, training them in aerial dance for the first time.
Multimedia artist Nye Thompson uses data and software alongside sculptural elements to create her work. /artefact will explore data and digital mediation as instruments of power and ownership. Inspired by Donald Trump's ambition to 'build a wall' Nye has laid claim to an area of Mars and erected a border wall around her territory with Google Earth mapping data. Viewers of /artefact will go on a filmic journey circling the borders, a strange, extra-terrestrial tour.
Charmaine Childs is an Australian-born, UK-based circus artist and regular performer in contemporary circus shows. She is also a regular 'strong lady' on the festival circuit. Power will be her first solo show for touring and will explore women's possession of physical power and having a voice. Power is semi-autobiographical and will also draw on Childs's interviews with individuals who hold 'power' and how this relates to their personal experiences of strength.
To round out the new commissions that will premiere at WEEK 53, The Lowry's Engagement Team is coordinating The Twenty, a project that will distribute and devolve The Lowry's power and control in curating the festival programme. The Twenty will be 20 micro-commissions to artists, facilitators, makers, movers-and-shakers across Salford to present work during the festival. Each participant will receive £500 to support a cultural project inspired by 'everyday creativity' with the aim that the results will not be constrained by traditional ideas of what 'art' or 'culture' is.
Further programme and additional performances:
Brazilian choreographer Alice Ripoll's sensuous creation Cria is inspired by two dance styles that originated in the favelas of Rio de Janeiro: the passinho (short step) and dancinha (little dance). Ripoll's choreography is characterised by a certain eroticism; relationships create movement and a new dance is born of the performers' affections.
Crxss Platfxrm is an arts platform dedicated to showcasing under-the-radar Street Culture and devoted to supporting innovative artists who work to cross-pollinate their ideas, perspectives and mediums. Crxss Platfxrm will stage a series of events in surprising spaces throughout The Lowry for WEEK 53. Poly-Nation will feature music, performance and artwork from artists of multiple faith backgrounds and gender identities, D.I.Why? Fashion will be a radical playground mixing fashion street culture and art, where what you wear is a political statement, Language, Power and Art will explore how language is used within street culture to shape our ideas of gender, race and privilege, and Fashion, Street Culture and Art will delve into the power dynamics of UK Street Culture.
As the UK's leading, professional integrated circus company, Extraordinary Bodies increases national awareness of D/deaf, disabled and non-disabled artists working together. What Am I Worth explores a world where there is not enough to go around and survival hangs in the balance. People are made to prove their worth and against all odds, dance, fly and sing on a set where the ground becomes the sky. Extraordinary Bodies will work with Rochdale-based Skylight Circus Arts to recruit and train participants for WEEK 53 performances.
Martin Messier has been creating work in which sound meets images and objects for more than 15 years. In Field, residual electrical signals, imperceptible to the eyes and ears, but detectible by electromagnetic transducer microphones, become the basis of the performance. Messier will use two aluminium panels to produce a sound and light composition – the possibilities of what will happen are endless.
Belgian theatre company, Ontroerend Goed, will bring their hit show, £¥€$, to WEEK 53. You can read the title as 'lies' or 'eyes' or see pounds, yens, euros and dollars – regardless, it is all about money. In £¥€$, the audience is invited to get under the skin of the super-rich 1% and play the system from within.
Pietro Marullo, founder of the Insieme Irreali Company will stage Wreck, an interdisciplinary performance mixing movement, dance, sound and visual art at WEEK 53. A huge black, plastic inflatable, pillow like object moves across the stage like a predator hunting prey. Dancers move around it, swallowed and spat back out by the mysterious object. Six local dancers will also perform with the company.
One of the first artists to use the internet as an art medium, Stanza, will bring his custom-produced social and performative art project Binary Graffiti Club to WEEK 53. Binary Graffiti Club begins with a workshop and becomes a participatory public event that aims to inspire us to see the city as a performative canvas to create change.
WEEK 53 will also welcome comedian Stewart Lee for a double bill of two, back-to-back nightly 60-minute sets, Tornado and Snowflake. Tornado questions Lee's position in the comedy marketplace, while Snowflake explores his worth in a society demolishing the liberal values he has been keen to espouse in fairy-tale landscape of winter wonder.
Julia Fawcett OBE, chief executive of The Lowry, said: "What better way to mark our twentieth birthday than with our bold, brilliant and boundary-pushing cross-art festival, WEEK 53. As we approach this milestone anniversary, we are thinking about exciting plans for the future and our ambition to be a key cultural arbiter and commissioning force, not only in the North West, but also for the entire UK and international market. Our WEEK 53 programme is ambitious, relevant, and, we hope, appealing, a testament to our hard work since we opened our doors twenty years ago and sign of great things to come."
WEEK 53 runs Friday 24 April – Sunday 3 May.