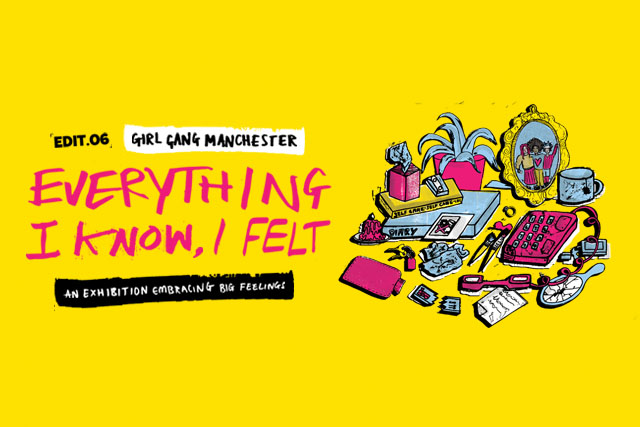 Girl Gang to produce The Lowry Galleries next Edit.
Edit. 06: Girl Gang Manchester – Everything I Know I Felt. 14 March – 5 April 2020
The Lowry is proud to announce that Girl Gang Manchester will lead the sixth Edit in The Lowry Galleries.
The Edits series gives artists and performers a space to develop previously unexplored ideas in a gallery setting. Girl Gang Manchester is a collective of artists, activists, academics and party instigators. The group produce accessible, fun and meaningful events including creative club nights, exhibitions and online projects. Their work strives to encourage creativity, collaboration, confidence and community.
Edit.06 will see Girl Gang, create a collaborative and interactive space, celebrating the diverse emotional experiences of womxn. The exhibition will showcase a range of work that will encourage visitors to reflect on and debate the perception of womxn's emotions within society. It includes new and existing artworks and installations created by Girl Gang alongside work from collaborators including local artist, Lowri Evans, Jacki Hagan, who recently closed Manchester's Pride Festival, Keisha Thompson, Eliyana Evans, Seleena Laverne Daye and Hanaa Cara.
Megan Marie Griffith, Artistic Director and Executive Producer at Girl Gang Manchester said:
"The exhibition reflects our events- it is aesthetic yet interactive, putting the audiences' experience at the heart and encouraging both personal reflection and connection between viewers.
We are so excited to be making a series of ambitious new works with hugely talented collaborators and to be sharing this opportunity with our wider creative community to provide 23 artists with their Lowry debut. The works and artists we will display are diverse in art form and life experience. We want audiences to engage fully with this exhibition and in the series of events that will run alongside.

She continues "Girl Gang events are designed to bring people offline and into the real world. To connect and learn over debates, discussions and dancefloors. We invite you to come and feel."
Girl Gang have previously collaborated with The Lowry's Week 53 Festival during which they hosted a sell-out immersive screening of 'Romy and Michele's High School Reunion'. Edit. 06 will be the first exhibition produced and created entirely by the Manchester collective for The Lowry Gallery.
Director of Visual Arts at The Lowry, Michael Simpson said "The Lowry's Edit programme is a wonderful initiative that enables us to invite creative people to test themselves, and to test us and our audiences with something previously unexplored and provocative.
Working alongside Girl Gang has already forced us to question ways in which we work and present work to our audiences. We're extremely excited to see where this exhibition evolves. They are a unique creative force."
Girl Gang are the sixth artist in the Edit series at The Lowry Galleries. Previous Edits have featured dancers and choreographers Igor + Moreno and Joe Moran. Manchester legend DJ – Paulette, Thread Collective of digital textile makers and artist Paddy Hartley.
Edit.06: Girl Gang Manchester – Everything I know I Felt will open on Saturday 14 March, with an opening event in the true Girl Gang style on Friday 13 March. The Edit will run until Sunday 5 April 2020.