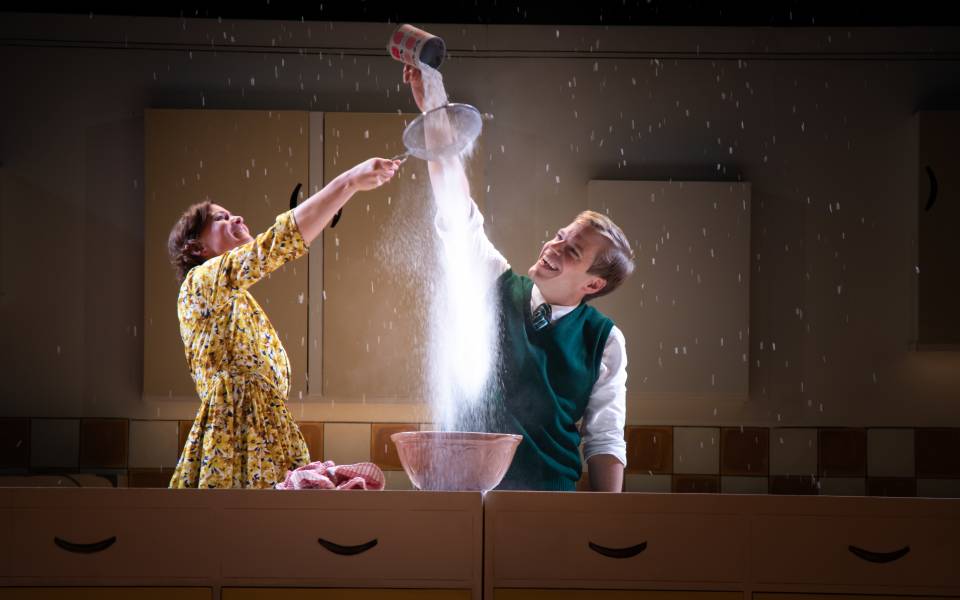 Nigel Slater's Toast, a Lowry commission, returns to Salford
Following its world premiere at The Lowry in May 2018, a sold-out run at as part of Traverse Festival 2018 at the Edinburgh Festival Fringe, and a London transfer to Andrew Lloyd Webber's The Other Palace, Nigel Slater's Toast returns home to The Lowry from 11th to 16th November.
Based on the British Book Awards Biography of the Year, Toast is a new play based on Nigel Slater's award-winning autobiography. Vividly recreating suburban England in the 1960s, Nigel's childhood is told through the tastes and smells he grew up with and the audience with be enveloped by the evocative sights and sounds of cookery that defined the definitive moments of his youth.
From making the perfect sherry trifle, waging war over cakes through to the playground politics of sweets and the rigid rules of restaurant dining, this is a moving and evocative tale of love, loss and…toast.
The Lowry's stylish restaurant, Pier Eight have added a special dessert to their pre-theatre menu in honour of Nigel Slater's family Christmas tradition. As shown in the original script: "Dad's sherry trifle is a pillar of the Slater Christmas experience". As a take on the Slater sherry trifle, Pier Eight's Head Chef, Oliver Thomas has created a Lemon & Bramble Sherry Trifle, available only for the week of the show.
A bespoke cocktail has also been launched for one week only to co-inside with Toast returning to The Lowry. Audiences can enjoy a Lemon Meringue Cocktail for £6 or two for £10 at the Pier Eight bar before the show.
Originally produced by The Lowry for Week 53 festival, Toast is written by Henry Filloux-Bennett and stars Giles Cooper as Nigel Slater, Giles continues the role fresh from the West end run.
Henry Filloux-Bennett said: "Having written 'Toast' whilst working at The Lowry, the fact that the production is coming back to there after its run at The Other Palace is so exciting. I can't wait to show audiences how far 'Toast' has come."
Writer Henry Filloux-Bennett was the recent recipient of the award for Best Screen to Stage adaptation at the CAMEO Awards (Creativity Across Media: Entertainment and Originality) at White City House. The London Book and Screen Week Awards celebrate outstanding adaptations in the fields of Book to Audio, Film, TV and Stage.