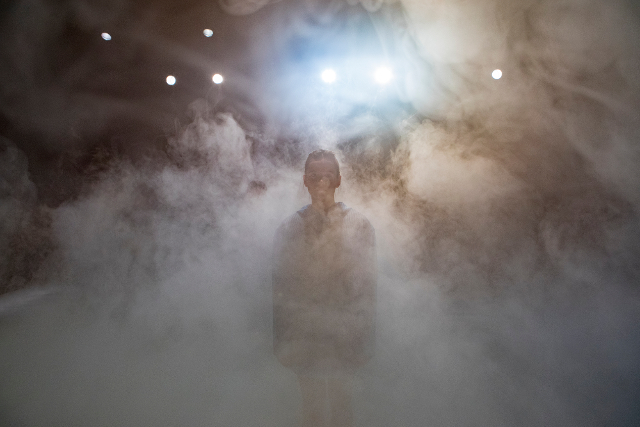 Igor + Moreno take over The Lowry with performances and installation.
Contemporary dance company Igor + Moreno bring the premiere of their brand-new dance show BEAT, their first ever gallery installation as The Lowry's EDIT.05 Limited Celestial Space, and three of their internationally renowned earlier works Andante to The Lowry, Salford.
This Autumn, London-based artists, performers and contemporary dance company Igor + Moreno will premiere their brand-new work BEAT at The Lowry, Salford. Created in collaboration with Italian dancer Margherita Elliott and celebrated London DJ Martha, BEAT is a solo, psychedelic show made for theatre and non-theatre spaces.
Celebrating their return to Salford, the duo will also present their first art-gallery installation commissioned by The Lowry, Limited Celestial Space, inspired by their earlier work Andante, which will also be performed at the venue. Celebrating the 50th Anniversary of The Place, BEAT will have its London premiere there in November, where Igor Urzelai and Moreno Solinas are Associates, and originally trained together and started collaborating over 10 years ago.
Igor Urzelai and Moreno Solinas said: "We are excited to be returning to The Lowry with two brand new artworks, and to be celebrating some of our earlier shows in venues where we have received so much nurturing and support throughout our careers. It's a special thing to be invited to create our first gallery installation this year at The Lowry, and to be collaborating with so many talented artists, designers, performers, musicians and DJs across our works during this very exciting time for our company."
Continuing their long-standing relationship with The Lowry, who commissioned and are re-staging their previous work Andante, Igor + Moreno have been invited to develop a piece for EDIT, their series of Gallery residencies, installations and interruptions. Limited Celestial Space takes Andante as a starting point, adapting and developing it for a gallery space. Andante features four dancers, and is a contemplative piece, inviting the audience to pause and connect with their senses in a room filled with smoke and scent.
Similarly, the installation engages with ideas of disorientation and our connection to our senses. This is a place for contemplation where movements and stillness are framed, shaped and formed by light, sound, smoke and smells, specially created by perfumer Alessandro Gualtieri and activated by the public as they walk through the gallery.
Claire Symonds, Senior Producer Artist Development at The Lowry said: "We've been working with Igor + Moreno since they brought their first show to The Lowry in 2014. Since then we've collaborated with them to build their northern audience and we welcomed them onto our Developed With scheme in 2016 to create Andante. They've been fascinating to work with and have really pushed our boundaries as a building and as producers. Now we're delighted to be supporting Igor + Moreno's growth into visual arts as they create this extraordinary installation for our audiences. We're so excited to see this piece develop and to see them grow even more as artists."