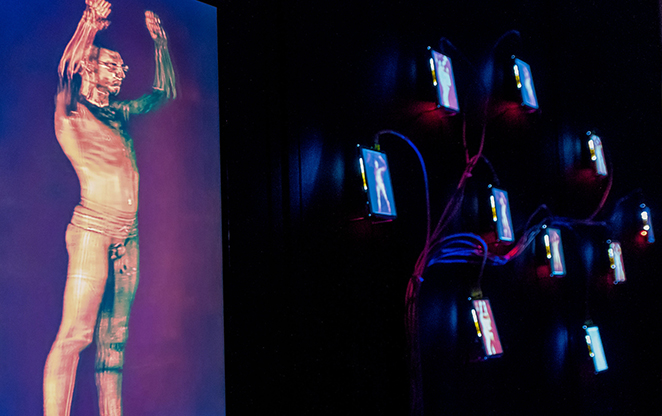 Artist's response to Trump administration security challenge to go on display at The Lowry
*Artwork that fabricates threats fuelled by the public psyche to go on display next month*
An artwork on display at The Lowry next month will highlight how easy it is for the public psyche to blur the line between fantasy and reality in relation to security threats.
The work, called 'A Generative Adversarial Network' is by the Canadian artist, Matthew Biederman, and was created in response to a Department of Homeland Security call-out to help improve the accuracy of threat recognition algorithms at US airports.
Biederman's work introduces 'random noise' to the algorithm to represent the changing threat landscape thereby creating wholly imagined 'threatening' results to body scans of entirely innocent people.
It forms part of The State of Us exhibition at The Lowry, which opens on Sat 9 November and runs until Sun 23 February (2020). The exhibition will question if technological intervention has out-paced natural order and examines how artists are imagining 'engineered evolution'.
Matthew Biederman said: "The parameters of who constitutes a security theatre is constantly shifting depending on the context and perspective. What this work seeks to highlight is how easy it is for anyone – let alone a computer algorithm – to have their judgement of the facts in front of them corrupted by outside influences of which they have no control."
Lucy Dusgate, curator of the exhibition at The Lowry, said: "Matthew's work is a thought-provoking and creative response to the very real-world problem of technological intervention and we look forward to displaying it at The Lowry."
The State of Us is the latest contemporary art exhibition at The Lowry and forms part of their commitment to presenting the best experimental art to audiences.
The Lowry galleries are named The Andrew and Zoe Law Galleries in recognition of the couple's £1m donation to the arts centre, which is a registered charity.