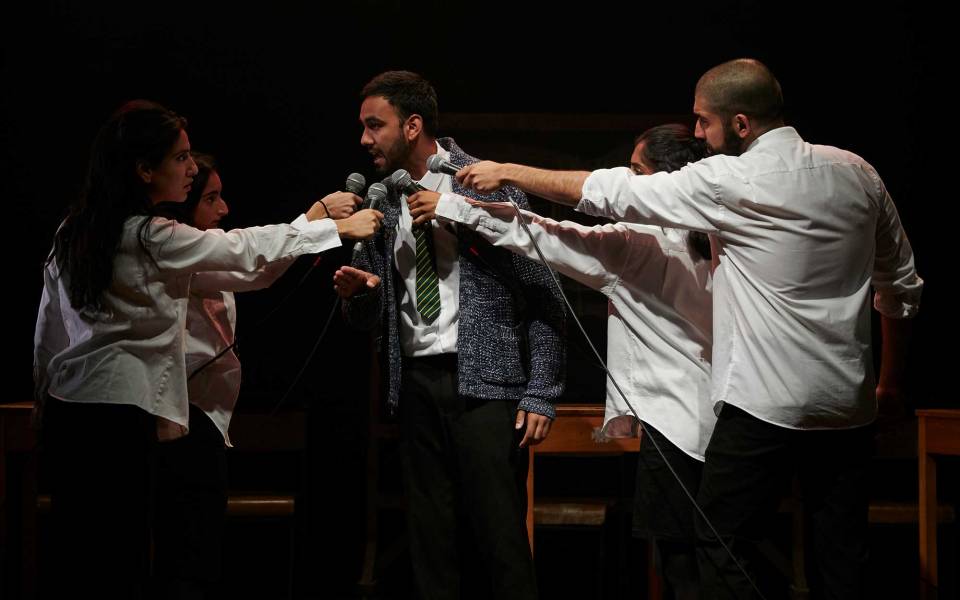 The Lowry associate artists LUNG return to Salford with their award winning production Trojan Horse
Political documentary theatre company, LUNG, return to Salford following their very successful run at The Edinburgh Fringe Festival 2019. Trojan Horse will be at the Lowry from Tuesday 8 to Saturday 12 October.
Founded in Barnsley the company develop innovative and politically driven work, collaborating with local communities. LUNG specialises in verbatim theatre, using real life quotes to form a true representation of events.
In 2014, documents alleging a conspiracy to Islamise Birmingham schools were leaked to the media, sparking a national scandal. Four years on the Trojan Horse enquiry is still described as "the best known and most polarising story about Britain's relationship with its Muslim citizens".  Adapted from the real-life testimonies of those at the heart of the UK Government's inquiry, critically acclaimed theatre company LUNG investigate what really happened.
In 2018 LUNG won the Amnesty International Freedom of Expression Award and Fringe First Award for Trojan Horse and more recently had massive success with their tour of Who Cares, which they created with The Lowry, Goddum and young carers from Salford. Who Cares won The Sit Up Award for 2019 and has launched a political campaign which calls upon parliament to improve services to young carers.
Claire Symonds, Senior Producer: Artist Development at The Lowry said "It's great to see all the success LUNG have had in the past couple of years. As Associate Artists of The Lowry we have seen them take these powerful stories with important social issues out into the world and change the way their audiences think and feel about these important subjects. Their verbatim work is compelling, and Trojan Horse is such an interesting story to tell, and still so relevant today."
LUNG also pursues an extensive education programme in the North of England which specializes in bringing theatre into new communities.
Helen Monks and Matt Woodhead, the co-artistic directors of LUNG says "If you look at every single play, the issues are really relatable," Monks insists. "We want to tell British stories that aren't being spoken about enough."