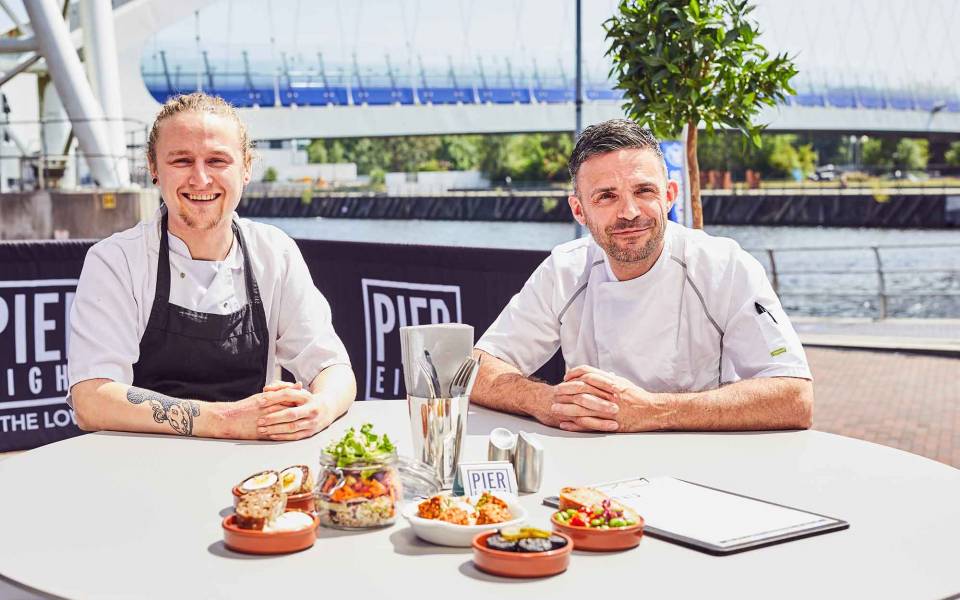 Pier Eight's Waterside Terrace, the perfect summer lunchtime spot
Pier Eight, The Lowry's stylish restaurant and bar, launched their Waterside Terrace alongside an all new bar menu on Monday 1 July 2019, creating the perfect summer lunchtime spot overlooking Manchester Ship Canal.
The stylish décor of the restaurant extends out on to the Waterside Terrace, its south facing position making it the perfect place to soak up the sun. The new bar menu includes a variety of small plates, burgers, salad jars and bar snacks.
Pier Eight aims to showcase the wonderful producers on its door stop by including a variety of local suppliers across its menus such as Beehive Food, 4 Sisters, Seven Brothers and Lowry Ale.
Mike Lee, Pier Eight's manager said "We're excited to be showcasing great local suppliers, it really is a celebration of the region's best. I can't wait to welcome residents and visitors of Salford Quays to our new terrace, summer is the perfect time to pop over for a G&T on our little sun trap."

Oliver Thomas, executive head chef, added, "The new menu really is perfect for a lunchtime treat or a business meeting. There's something for everyone, from small plates perfect for sharing to burgers and summery salads for when you need something a little more substantial. And when eaten in the sun on our terrace overlooking the Ship Canal, well, I couldn't think of a better combination."
The new menu will be available Monday to Friday 12pm – 3pm and Saturday to Sunday 12pm – 7.30pm. On show nights the menu will also be available between 5pm  and 7.30pm.