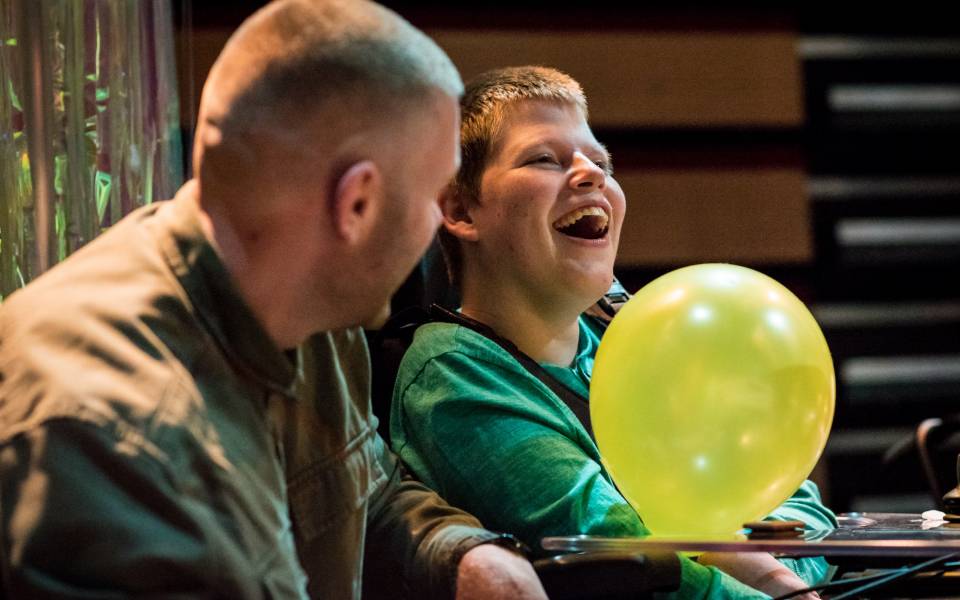 Theatre tailored for audiences with profound multiple learning disabilities comes to The Lowry
'The Isle of Brimsker' is the latest bold and exciting production devised specifically for audiences with profound and multiple learning disabilities (PMLD) from Frozen Light Theatre Company.
Seeking to engage with new audiences and enable more people with PMLD the chance to experience the theatre, 'The Isle of Brimsker' will come to The Lowry Tue 23 – Sat 27 April.
Exploring friendship, isolation and how we react to change, 'The Isle of Brimsker' immerses audiences with PMLD in a multi-sensory story of discovery. People with PMLD are among the most excluded in society with over 16,000 people in England living with PMLD (Lancaster Centre of Disability Research).
'The Isle of Brimsker' has been developed specifically for these audiences and this performance has been structured to provide an accessible and theatrical environment which responds to the needs of this group by being performed at a close proximity, to small groups and with strong sensory and participation elements.
The play follows a lighthouse keeper who lives on a desolate outcrop surrounded by stormy seas. Duty bound to maintain the light that guides boats away from danger, she lives a solitary existence. One day a runaway lands on the shore, together they face the inevitable. Change is on the horizon but not in the form she expects. How do you survive when faced with the biggest decisions of your life? Would you change the world or change yourself?
There are only a small number of theatre companies worldwide who make work designed for people with PMLD, so for many in the audience seeing Frozen Light's work will be their first time in a mainstream theatre venue. Performing to an intimately sized audience, the three-strong cast accompanies the audience from the foyer into the performance space, ensuring a smooth transition into the theatre environment.
Frozen Light co-artistic director Amber Onat Gregory says, "The theatre should be for everybody, and more and more venues are starting to look at their programme to see how they can be more accessible, how they can reach all sections of society. With this tour we will be reaching more people with PMLD than ever which we are really excited about."
Lucy Garland, Frozen Light's other co-artistic director added, "We are really thrilled about our new show The Isle of Brimsker. With this production we have pushed the sensory exploration further than ever before and can't wait to see what reactions our audience have to the show. The show explores themes of transition and friendship and we hope this resonates with our audience. We have worked with some exciting commissioning partners on this project and, now we have premiered the show, are excited to take it to audiences throughout the country."
Listings Information
The Isle of Brimsker
Dates: Tue 23 – Sat 27 April
Times: 11am & 1.30pm
Tickets: £8
Running Time: 1 hour
Notes: 13+ with PMLD. Suitable for Adults and young adults.