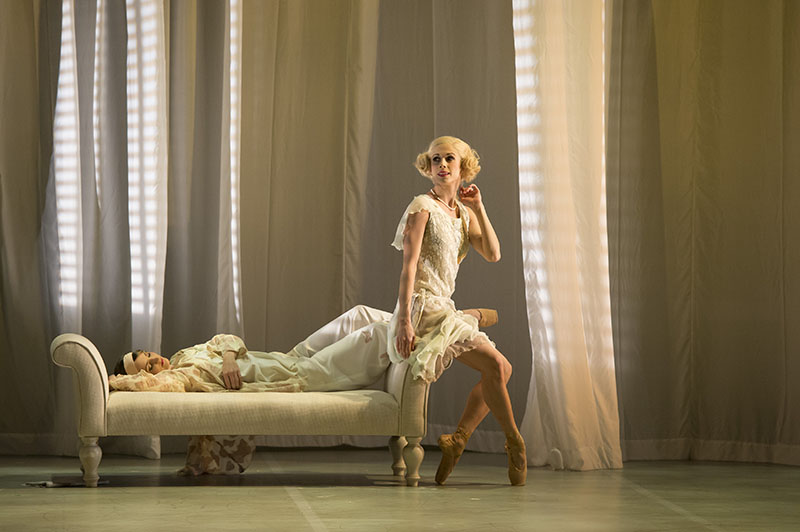 1920s blockbuster ballet The Great Gatsby swings into Salford
Northern Ballet is returning to Salford with its smash hit production of The Great Gatsby. Bringing the glamour and seduction of the roaring twenties to the stage, The Great Gatsby arrives at The Lowry for the first time with performances from 8 – 11 May 2019.
Based on the novel by F. Scott Fitzgerald, The Great Gatsby premiered in 2013 and has since enjoyed two sell-out UK tours. Set on New York's Long Island, in the heady, indulgent days of the 1920s, Nick Carraway comes to know his infamous neighbour Jay Gatsby – a mysterious millionaire with a secret past and a penchant for lavish parties. As the sparkling façade of Gatsby's world begins to slip Carraway comes to see the loneliness, obsession and tragedy that lie beneath.
Nominated for a UK Theatre Award for Achievement in Dance, The Great Gatsby is choreographed by David Nixon OBE and earned him a nomination for Best Classical Choreography in the 2014 National Dance Awards. Performed to the unforgettable music of Sir Richard Rodney Bennett CBE, played live by Northern Ballet Sinfonia, The Great Gatsby also features a lavish set designed by Jérôme Kaplan, complemented by the dazzling colourful costumes designed by David Nixon OBE.
David Nixon said: 'The Great Gatsby is an American classic from an iconic era. The 1920s were a time of exuberance, extravagance and style in pre-depression America and The Great Gatsby incorporates these themes within what is essentially a wonderful love story. The costumes replicate the fashions from the 1920s which are still heavily influencing the trends of today and the music by Sir Richard Rodney Bennett CBE is instantly recognisable, transporting the audience straight back to the jazz age. Reimagining popular classic stories is Northern Ballet's specialty and The Great Gatsby has everything for a great ballet: a love triangle, decadence, desperation and heartbreak.'
Join Northern Ballet for the most glamorous party in town.
Northern Ballet is holding a post-show talk on Friday 10 May 2019 offering the audience a chance to hear from those who work behind the scenes on how the ballet is brought to the stage. In addition, there is an audio-described performance and touch tour for visually-impaired patrons on Saturday 11 May 2019.
Production Credits
Choreography, Direction, Scenario & Costume Design David Nixon OBE
Co-Direction & Scenario Patricia Doyle
Music Sir Richard Rodney Bennett CBE
Set Design Jérôme Kaplan
Lighting Design Tim Mitchell
Orchestrations John Longstaff & Gavin Sutherland
Music Advisor Anthony Meredith
Costume Design Assistant Julie Anderson