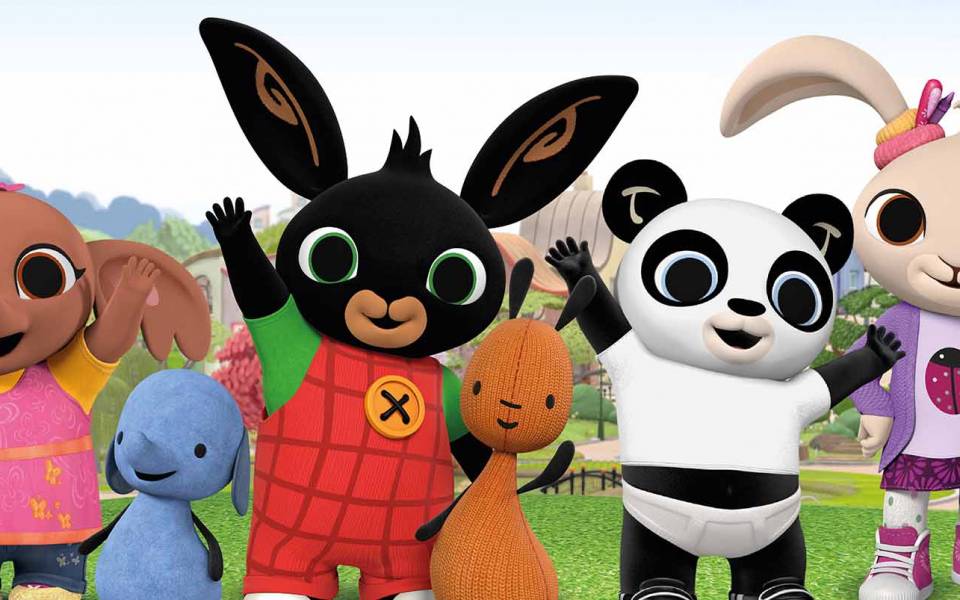 Bing Live is coming to The Lowry
Calling all "Bingsters"! Bing and his friends are thrilled to announce that they'll be extending their first ever UK stage show tour of Bing Live into 2019 and will visit The Lowry on Sat 12 – Sun 13 January 2019.
Join Bing, Sula, Coco and Pando as they learn how to tell stories in the theatre by pretending, dressing-up and singing songs. Flop and Amma are there to help, but in this magical world of make-believe things don't always go according to plan…
The CBeebies favourites are brought to life through the use of magical puppetry in a brand-new stage production full of fun, laughter and music.
Bing Live is the perfect first theatre trip for pre-schoolers and their families. Going to the theatre… it's a Bing thing!
Bing Live is produced by Minor Entertainment (In the Night Garden Live) and directed by Will Tuckett, guest principal character artist of the Royal Ballet, whose production of Wind in the Willows won an Olivier Award for Best Entertainment in 2014.
The show brings together a first-class creative team. Bing Live is adapted for the stage by Helen Eastman with costumes and puppet design by Tahra Zafar. As Head of Costume, Hair and Make-up for the Olympic and Paralympic Opening and Closing Ceremonies staged in London, 2012, Tahra managed the production of 23,000 costumes for all four Ceremonies. Her film projects include: Star Wars VII The Force Awakens, X Men-First Class, Harry Potter and the Philosopher's Stone and The Fifth Element and for television: In the Night Garden, Zingzillas and The Adventures of Abney and Teal.
The show has music by Alex Silverman, sound by Rich Walsh and set design by Samuel Wyer. The cast of Bing Live are Mia Jerome, Michael Magennis, Hayley Murray, Will Palmer, Alice De Warrenne and Nia Walsh.
Since its launch on CBeebies, Bing has been a huge ratings hit and is the number one pre-school show on the BBC iPlayer. Celebrating the joyful, messy, reality of preschool life, Bing finds the big stories in the smallest moments that little ones and the grown-ups in their lives will recognise…whether it's dropping your ice-cream or losing your favourite toy.
The series has won an International Emmy Award in the Kids' Pre-School category in 2016, a Writer's Guild Award and a BAFTA nomination for Best Pre-School Series.
The animated series, which saw Mark Rylance make his children's television debut voicing Flop, is produced by Acamar Films.