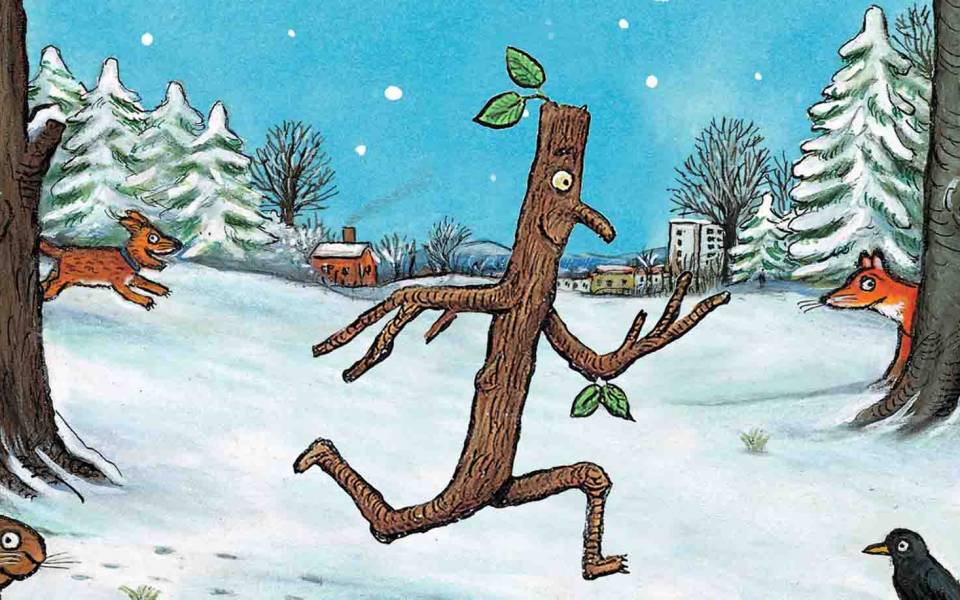 Stick Man opens for month long run at The Lowry
Scamp Theatre open Julia Donaldson and Axel Scheffler's 'Stick Man' live on stage at The Lowry for a month long Christmas run Sat 1 December – Sun 6 January.
The children's play is at The Lowry and follows the Stick Man on a series of unfortunate adventures which lead him far from home. Expect live music, funky moves and a flurry of snow.
Lara Cowin who plays 'Stick Lady Love' said; "The children usually love the moments with audience interaction such as the dog chase and the beach ball scene. Sometimes their enthusiasm and sheer joy is totally infectious and makes our job onstage incredibly rewarding. The children often know all the words and are bold enough to speak along with us. I particularly love it when they shout words of reassurance to Stick Man; 'don't worry, you'll make it back to the Family Tree!'. That's very cute."
Scamp Theatre bring a range of theatrical live performance to audiences of all ages, focusing on the imaginative adaptation of children's literature. They've previously presented THE SCARECROWS' WEDDING, PRIVATE PEACEFUL & TIDDLER at The Lowry and are passionate about engaging new audiences and inspiring the next generation of theatre-goers.
Listings Information
Stick Man
Dates: Sat 1 December – Sun 6 January
Times: Sat & Sun; 10.30am, 12.30pm & 2.30pm. Mon – Fri; 11am & 1.30pm. No shows on Tuesdays and Wed 26 December.
Tickets: £18. Family ticket (for 4) £54. Babes in arms go free.
Runtime: 60 minutes.
Access Listings
BSL performance: Sat 29 December 2018, 2.30pm. Interpreted by Emma Jane Heap.
Relaxed performance: Wed 12 December, 1.30pm.
Captioned performance: Sat 15 December 2018, 2.30pm. By Stagetext.
Audio described performance: Sat 22 December 2018, 2.30pm. By Anne Hornsby, Mindseye.
To book accessible tickets please call 0161 876 2183 or email.