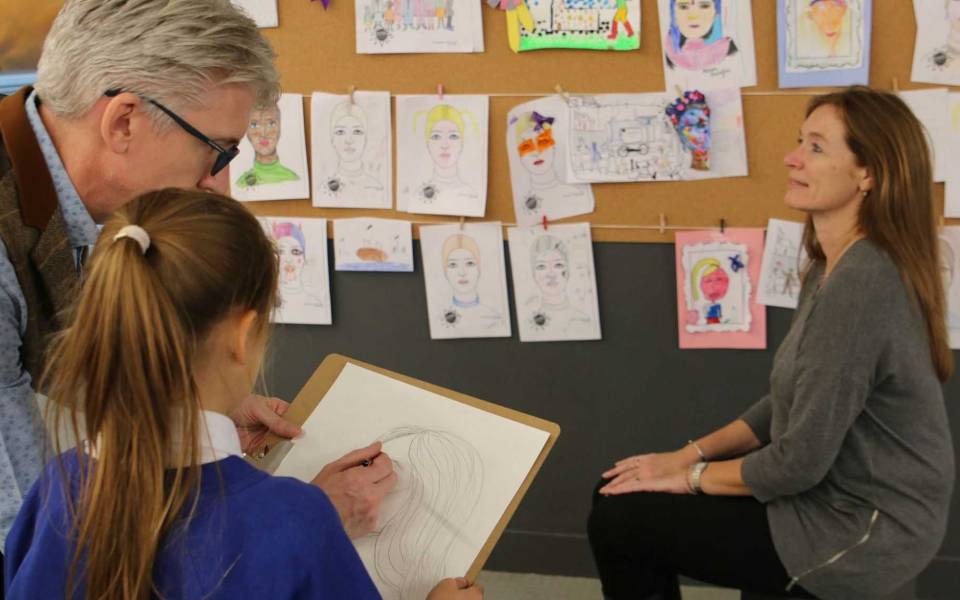 Kids to transform parents into Pre-Raphaelite portraits this December
Kids visiting The Lowry this December will have the chance to paint their parent or guardian in the style of a Pre-Raphaelite portrait as part of a new series of free art workshops.
Taking place in The Carole Nash Lookout – The Lowry's creative space for children and families – the artist-led sessions will teach kids how to draw with maximum realism and use pens and inks just like the famous Pre-Raphaelite artists Dante Gabriel Rossetti and Ford Madox Brown.
The workshops, which are led by artist Paul Pickford, are open to all and will run on Friday 21 and Monday 31 December between 11am and 4pm.
Ahead of the launch, 10-year-olds Tilly and Phoebe from Oldfield Brow Primary School in Altrincham took the opportunity to trial the technique on their teacher, Lynn Thornton, during a school trip to the Salford arts venue.
The Pre-Raphaelite workshops form part of a wider programme of activities that run from Wednesday 19 December to Friday 4 January (2019) that will also teach kids how to paint with watercolours, how to depict stories within artwork as well as exploring the popular Pre-Raphaelite theme of heaven.
The programme of workshops coincides with Lowry & the Pre-Raphaelites, a major new exhibition at The Lowry that celebrates LS Lowry's love of 19th century artist movement. Sponsored by Sotheby's, the exhibition runs until Sunday 24 February 2019.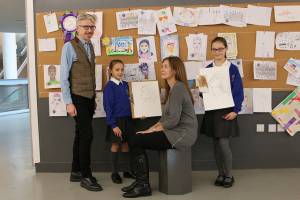 Image: Paul Pickford, Phoebe, Lynn Thornton & Tilly
Michael Simpson, director of visual arts at The Lowry, said: "The Pre-Raphaelites were very choosy about who they painted – just as a lot of children can be. And so while Rossetti and Madox Brown drew their inspiration from a small selection of models and muses, children visiting The Lowry can use their parent or guardian as inspiration for their own masterpiece."
The Lookout was renamed in honour of Salford businesswoman and philanthropist, Carol Nash, earlier this year in tribute to her decade-long support for The Lowry.
For dates and times of all the workshops taking place in The Carol Nash Lookout this autumn, search for The Lookout on The Lowry website.
In July 2014, The Lowry galleries were reamed The Andrew and Zoe Law Galleries in recognition of the couple's £1m donation to the arts centre, which is a registered charity.