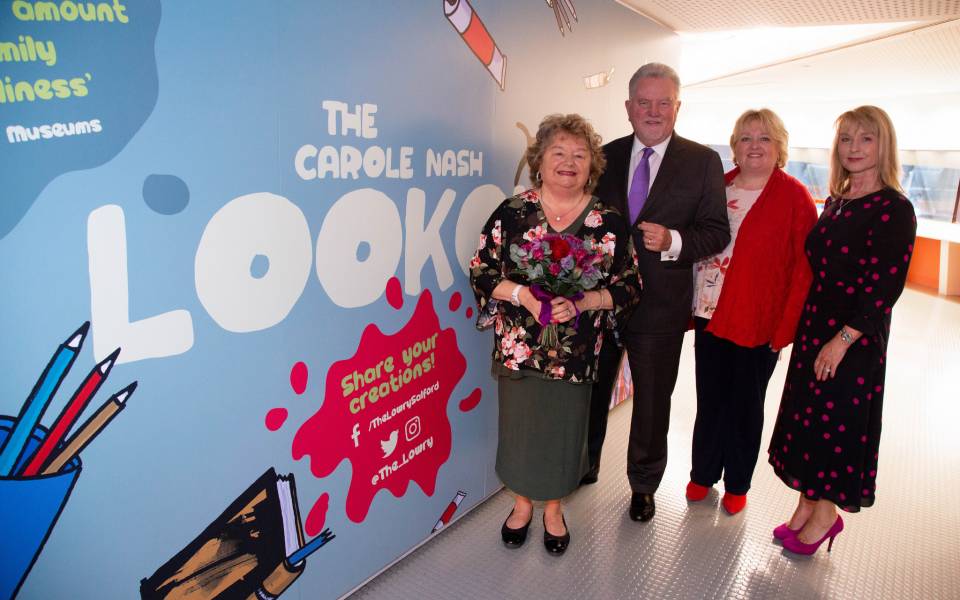 The Lowry renames creative space 'The Lookout' after local businesswoman and philanthropist, Carole Nash
The Lowry's popular creative space for children and families, The Lookout, has been renamed after local businesswoman and philanthropist, Carole Nash.
Located alongside The Lowry Galleries, which welcome more than 100,000 people every year, The Lookout plays a central role in The Lowry's engagement work with some of the hardest to reach young people and their families in Salford.
In 2019, The Carole Nash Lookout is set to host:
Lowry non-stop – six weeks of daily free craft workshops with visual artists over the summer
Relaxed Playhouse – where families with children with autism spectrum conditions can come and enjoy creative sessions together every month
Focus projects – where young carers, 'looked after children' and young people experiencing homelessness use the space to do workshops and activities
Our First Lowry – a scheme for teenage parents and first-time theatre goers to come to The Lowry and see shows for free then enjoy craft activities here in this space
Snowmen Saturdays – seven Saturdays in November and December with free artist-led activities responding to the Snowman Trail
A Pre-Raphaelite Christmas – free family workshops with lots of ideas of things to make, inspired by the Lowry & the Pre-Raphaelites exhibition – from wreaths to wombats!
Commenting on the renaming, Julia Fawcett OBE, chief executive of The Lowry, said: "The Lookout is an amazing resource for The Lowry and is popular with families, children and school groups. It also forms part of our offer to community groups that we work with throughout the year – be they using the space to get creative, be inspired or simply relax.
"I want to thank Carole for her continued support of The Lowry and I'm pleased we're able to pay tribute to that support in one of the most popular facilities in the building."
Carole Nash has been a long-term supporter of The Lowry, specifically the art centre's classroom facility, for over a decade. Her philanthropy was recognised with an OBE in 2012.