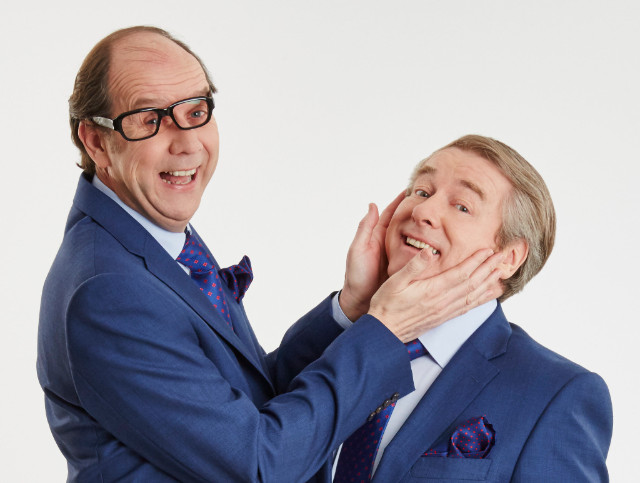 'An Evening of Eric & Ern at Christmas' comes to The Lowry.
Jonty Stephens and Ian Ashpitel, the Olivier-nominated duo behind the hugely celebrated, and critically acclaimed West End hit – Eric & Little Ern – now bring a Christmas show for all the family to The Lowry in Salford Tue 18 December 2018 – Sun 6 January 2019.
An Evening of Eric & Ern at Christmas is a brilliant homage crammed full of Morecambe and Wise's most-loved routines, songs and sketches, and of course, a musical guest. This wonderful show evokes memories of times when whole families would huddle around the telly to watch those fantastically festive Christmas specials.
Ian Ashpitel and Jonty Stephens have been performing and writing as Eric and Ern for almost five years. The research into their subjects is there for all to see in their staggeringly accurate portrayal of the most successful and much-loved British comedy duo of all time. The performers themselves have a wonderful relationship with the families and estates of Morecambe & Wise – with all scripts vetted and authorised before being performed.
As seen on BBC One's The One Show and BBC One's Breakfast, as well as ITV1's The Alan Titchmarsh Show, the pair began their double act journey after meeting at drama school over thirty years ago. When Jonty was asked to play Eric at a charity show he knew with his short, fat, hairy legs that Ian would be the perfect partner. Having brought the house down the two then wrote some 'bespoke' material for their friends and haven't looked back since!
Jonty explains, "It's more than just watching a comedy show – there's a real emotional connection – because we all remember watching it together. The audience reaction has been amazing."
Ian adds, "We do treasure the relationship we have with each other – as did Eric and Ernie and I think it's obvious that we love performing the comedy of Morecambe and Wise."