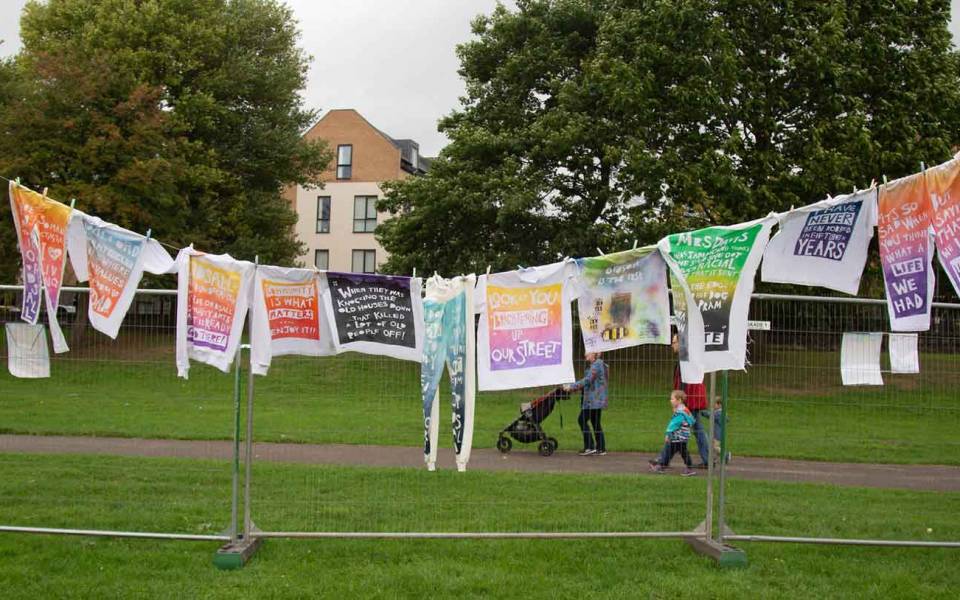 Full line up announced for pop up theatre in Ordsall Park
A whole host of community events will go back to back with three world premier plays this September in ROUNDABOUT pop up theatre at Ordsall Park.
The confirmed line up includes performances from young Ordsall actors, church services and the annual 'Lighting the Legend' parade.
Award-winning portable theatre ROUNDABOUT will also showcase three world premieres in Ordsall Park from Thu 6 – Sun 9 September.
ISLAND TOWN by Simon Longman is bittersweet story about friendship, hope and dreams of an escape. STICKS AND STONES by Vinay Patel is a razor sharp satire about what happens when the wrong word just slips out. HOW TO SPOT AN ALIEN by Georgia Christou is about one confused alien, two brave kids and a busted spaceship.
Katherine Pearce actor who plays eight characters across the three plays from Paines Plough received a highly acclaimed 'The Stage Edinburgh Award' for her performance in ISLAND TOWN this week.
The Lowry has joined forces with a local community steering group in Ordsall – who have contributed to the programme of community events included in the ROUNDABOUT line-up. They include 'Ordsall Lost' starring young actors from Ordsall Community Arts, St Clement's Music Night, and Ordsall's Got Talent.
Organisers of Ordsall festival have also taken the decision to move the event, which usually takes place in July, to Sun 9 September to coincide with ROUNDABOUT 2018.
ROUNDABOUT in Ordsall Park has been developed in partnership with; !Audacious Church, Friends of, Ordsall Park, Ordsall Community Arts, Ordsall Community Café, Ordsall Festival, Ordsall Hall, Primrose Hill Primary School, St Clement's Church, Salford City Council, Salford Community Theatre and Salix Homes.
Previously ROUNDABOUT has popped up at Little Hulton Goes Large festival (2017), Love Eccles Festival (2016) and The Lowry Plaza (2015). This year it is presented by Paines Plough and Theatr Clwyd in association with The Lowry.