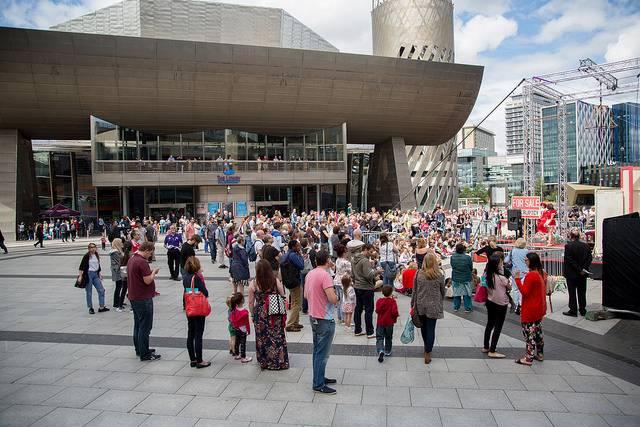 The Lowry announces return of its hugely popular Open Day
The Lowry announces the return of its Open Day following the huge success of the event in 2017.  Once again the venue will open its doors from 10am until 6pm on Saturday 11 August for a day of free activities that enable visitors of all ages to explore the venue in a completely new way.
In 2017 The Lowry saw more than 7,000 people attend their Open Day. Throughout the day visitors were able to attend a range of workshops, drop-in activities, back-stage tours and performances. With feedback from the event extremely positive. One customer said, "The Open Day is very well organised, varied, interesting, enthusiastic, friendly and even though we loved The Lowry before, we love it even more now! The behind the scenes tour was fantastic!"
Due to overwhelming demand last year, visitors will be pleased to see the return of backstage tours and workshops in lighting and sound.
This year there will also be the opportunity to get involved in a variety of performance related workshops hosted by renowned companies Matthew Bourne's New Adventures and Rambert, with further companies with further companies to be announced. Other workshops available on the day will include drop in drawing sessions, cupcake decoration, creating your own comic book and acting improvisation classes. Pier Eight restaurant & bar will also host a DJ playing music through the decades.
The range of activities will also spill out of the building and onto the plaza as visitors will be able to watch live open air performances from elite street circus performers D & F Bros. Grand Indian Circus, play large outdoor games, join in dance activities and enjoy a colourful street piano.
All activities and events are free. Visitors can book places online for some of the workshops in advance. There will also be a limited number of places available for each ticketed event on the day, these will be allocated on a first come first served basis.