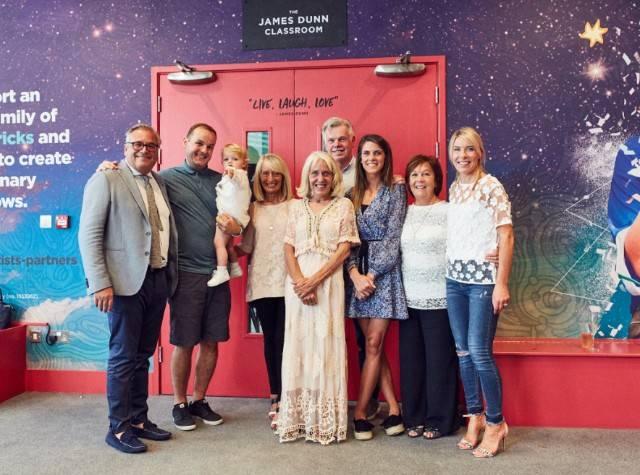 Classroom for budding artists renamed in honour of #FightEB campaigner & photographer James Dunn
A creative space for budding artists at The Lowry in Salford has been renamed in honour of James Dunn, a 24-year-old man from Liverpool who campaigned tirelessly to raise awareness of Epidermolysis Bullosa (EB).
James sadly passed away in April, just weeks after the #FightEB campaign he launched raised over £250,000 for those suffering with EB – a condition that causes constant pain due to unstoppable internal and external blistering of the skin and for which there is currently no known cure.
'The James Dunn Classroom' was the idea of local businessman, Ged Mason, chief executive of Morson Group, a recruitment and design consultancy who has known James and his family for a number of years.
In 2016, James appeared on Big Life Fix, a BBC 2 programme that saw leading inventors create ingenious solutions to everyday problems for people in desperate need.
In James' case, that was a custom-built camera by award-winning design engineer, Jude Pullen, which made it possible for him to operate the camera by himself via a specially-designed app, thereby allowing him to pursue his passion for photography.
Speaking at the unveiling, Ged Mason said: "James was an inspirational young man who not only campaigned to raise awareness of EB but who also followed his creative passion for photography.

"It was a privilege to know James and it seemed a fitting tribute to name a creative space in his honour. I hope the 9,000 young people who use the classroom each year are inspired by James' story and follow their dreams regardless of the obstacles they may have to overcome."
The classroom will be named in his honour until July 2021.
For more information about the FightEB campaign, click here.
Photo caption: Members of James Dunn's family join Ged Mason at the renaming of the classroom at The Lowry, Salford.