The Lowry Schools Appeal
This July we are running 'The Lowry Schools Appeal'. We want to raise £5,000 that will be matched up to a further £5,000 by Alison and Noel Copley, founders of The Copley Prize.
Hear from Jenny - our director of Learning and Engagement
Help us to raise £5000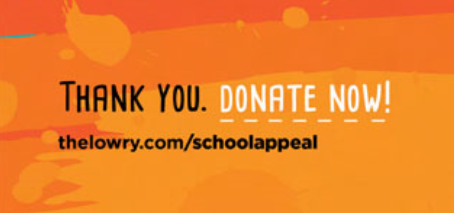 This year more than ever, primary school children need to benefit from creativity to develop their imagination, spark creativity and bring curriculum subjects to life.
Funds will support The Lowry's schools outreach programme to visit 10 schools in areas of Salford that have had limited or no previous engagement with the arts and The Lowry. Our experienced artists will go in and deliver workshops for over 700 pupils, leave the school with a hamper of free art materials, and resource packs to enable teachers to roll out similar workshops throughout the school. This activity will run from September 2021.
or send a cheque made payable to 'The Lowry Centre Trust' to FAO Kate Rice, Lowry Schools Appeal, The Lowry, Pier 8, Salford M50 3AZ.
All participating pupils can also submit an entry to The Copley Prize, our prestigious art competition for children aged 4-11, with the winner seeing their work professionally exhibited for a year in The Lowry Galleries next to LS Lowry's most celebrated works of art.
"Did you know you can use dirty rubbers to draw like LS Lowry? Did you know you can draw with the side of your pencil? We worked with a real artist. Michelle asked us questions and they were easy because we were learning about Lowry in class. Next, we made a looking log and a cross for the street. I didn't believe my eyes! After that we drew a cat and a dog and factories."
– Ania (Year 2 pupil)