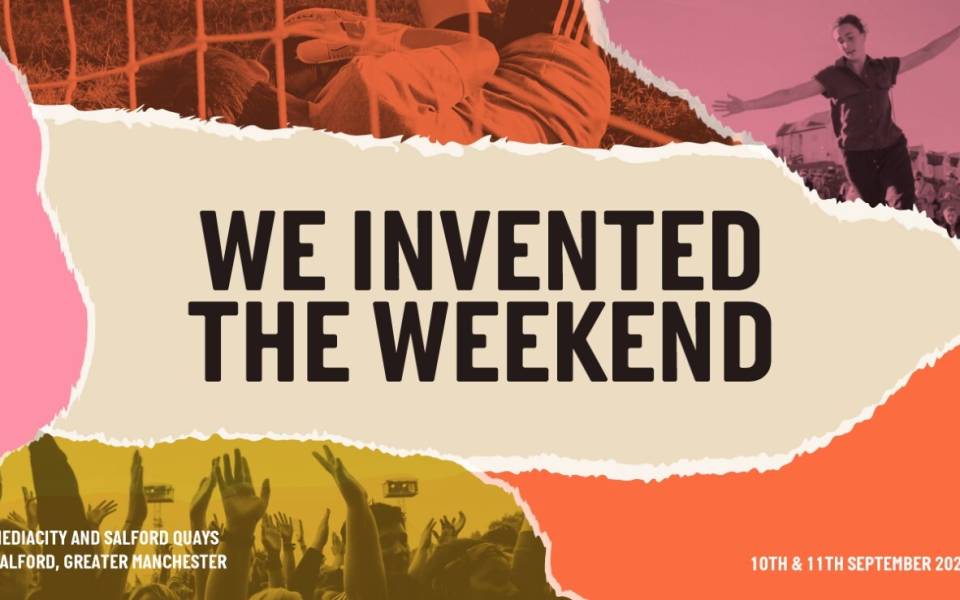 We Invented the Weekend : The Festival of Free Time - Listings Highlights
250 activities, 25+ venues/stages, 30+ music acts, 20+ food traders, 8x boat parties and a 200 seat communal Sunday dinner
Plus 1000+ members of the Weekend Orchestra
10th and 11th September, 2022, taking over places and spaces across MediaCity and Salford Quays including The Lowry
We Invented the Weekend is a bold and imaginative, free, family friendly festival taking place in Salford, Greater Manchester, celebrating the invention of the weekend, a world changing moment that took place in Greater Manchester in 1843.
Taking place on 10th and 11th September, the brand new event will throw open all of MediaCity and Salford Quays' spaces and places, inviting tens of thousands of people to celebrate the joy of free time with a glorious mix of creative activities for all.
On offer will be screen-printing, painting and poetry, a communal Sunday Roast, boat parties, bands, DJs, music shows and a community orchestra, voguing, circus acts and Indian dance, fashion styling and sustainable shopping, sports and games, gardening and greening, plus shows for your fashion, your veg and even your dog.
Festival Highlights:
The Weekend Orchestra with the BBC Philharmonic
MediaCity Weekend Stage on the MediaCity Piazza
Saturday 10th and Sunday 11th September 
12.30pm
Hundreds of local musicians and singers of all levels and backgrounds will join the BBC Philharmonic for a huge and joyful musical celebration which will open the main stage on both days of the festival. Michael Betteridge (Artistic Director of The Sunday Boys – Manchester's LBTQ+ low voice choir) will conduct the piece and has also written 'Docks Unlocked', a special song based on an original poem by Salfordian Poet, Lynn Walton which celebrates the history of Salford Docks.
Hankies at the ready for what is set to be a heartening performance which will end in a rousing rendition of 'Docks Unlocked' led by BBC Folk Singer of the Year and Honeyfeet vocalist, Rioghnach Connolly. Find out more and download the song here 
Lowry by the Lowry with local Salford artist and Goggleboxer Helena Worthington
Pier 8 Terrace at The Lowry 
Saturday 10th and Sunday 11th September 
10am – 5pm
Bookable and walk-in sessions available
Now it's your time to draw like Lowry! Join Gogglebox star and Salfordian artist, Helena Worthington who will guide you through three different workshops centered around creating a self-portrait, painting your pet, and finally capturing the local landscape in exactly the style of L.S Lowry. Think thick paints, earthy colour schemes and a whole lot of fun! 
As well as being an expert telly watcher, Helena Worthington is a multidisciplinary artist backed at Islington Mill who has a creative practice specialising in sculpture and painting, she has also been facilitating creative school and community projects for the last seven years. 
The Lowry Plaza 
Saturday 10th Sept: 11am – 12.30pm
Sunday 11th Sept: 12.30 – 1.30pm
Free booking required to enter
No booking required to watch
Does your dog have the waggiest tail? From pups to old dogs with new tricks, get stuck in with our weekend Dog Show. Brought to you by Animal Direction, the UK's Pet Modelling Experts, there's plenty of opportunities for your four legged friend to win a prize over the festival weekend. 
The Hey Duggee Story trail with The National Literacy Trust, Salford Community Leisure Pop-Up Library The Lowry, CBeebies and Imperial War Museum North
The Reading Lawn
Saturday 10th and Sunday 11th Sept
11am – 5pm
No booking required (collect your trail map from the Reading Lawn at MediaCity)
Follow the trail and create your own story adventure around the festival! Start on the Reading Lawn where you can grab a book from the Salford mobile library and take a seat on one of the colourful BookBenches from the Salford Literacy Trail. From there, visit the Picture This exhibition at The Lowry to take part in one of many activities themed around the nation's favourite children's book illustrators. 
Cross the canal to IWMN for their Story Seekers workshops. Finish at the Reading Lawn to collect your very own Hey Duggee Reading Badge (and keep your eyes peeled for Duggee, Elmer the Elephant  and some CBeebies' favourites appearing across the weekend). 
Get Your Docks Off – Musical boat rides and more 
Manchester Ship Canal
Saturday 10th and Sunday 11th Sept
Various times throughout the afternoon
£3 per person, book in advance: Disco 2000, House Music All Night Long, Disco, Disco, Disco, Northern Soul, Lovers Rock & Reggae, 90s R&B and Hip Hop, Country Cruising, 1980s Love Boat 
Jump on board and celebrate the most iconic artists from the legendary Manchester music scene and beyond! We Invented The Weekend are set to present Get Your Docks Off, a series of fabulous, genre-themed canal cruises, sailing you through all the best musical decades. 
Saturday 10th September: 
Disco 2000 invites you to take a trip on the Britpop boat, the House Music All Night Long canal cruise will transport you back to the Hacienda for non-stop house classics, it's time to get dressed up to get down, don your sparkliest attire and get ready to bust a move on the shimmering Disco, Disco, Disco boat, or perhaps you'd prefer to take to the waters on the Northern Soul canal cruise and hit the dance floor – it's time to shuffle and stomp.
Sunday 11th September: 
Slide onto the love boat and get ready to celebrate lovers rock on the Lovers Rock & Reggae boat, party like it's 1995 and sing-along to all the classics on the 90s R&B & Hip Hop cruise, don your cowboy hat and join the Country Cruising canal cruise courtesy of Chorlton Country Club, and what better way to end the weekend than bobbing around listening to your favourite guilty pleasures on The 1980s Love Boat.
The Lowry Bar, Dockyard, Seven Brothers Stretch Tent and North Bay stage
Sunday 11th Sept
Celebrated Salford festival, Sounds From The Other City, will bring its true DIY ethos out of Chapel Street and onto the Quays for the first time, treating audiences to a Sunday filled with brilliant acts across four stages.
Collaborating with partners such as legendary live music venue Band on the Wall, who will be joining forces with family-friendly gig organisers Baby Rock Sampler, Salford's annual LGBTQ+ celebration Salford Pride, and local music festival Langworthy Live, SFTOQuays will host an array of artists across four venues, the Lowry Bar, Dockyard, Seven Brothers Stretch Tent and North Bay stage. 
Included in the list of incredible artists announced so far are musician, producer and DJ Werkha, Yemi Bolatiwa, Ellen Beth Abdi, At Home With Lilac, David Gorman, Emma Connor and Good Afternoon DJs.  
Jham! Indian dance and music performance 
The Lowry Plaza
Saturday 10th and Sunday 11th Sept
From beatboxers and classical Indian percussion, to a Karnatik vocalist and classical Indian dancers, enjoy an innovative classical Indian dance and music performance from Jham! Conceptualised and created by award-winning choreographer Nina Rajarani MBE, and much sought-after music composer Y Yadavan, this upbeat, energetic musical dance display is sure to have you 'jamming' along.
The weekend will be brimming with performances, see breathtaking dance and acrobatics, and join interactive circus skills workshops with multi-award-winning contemporary circus, Upswing. Keep your eyes peeled for Walk the Plank's majestic 'Emperor's New Tent' as it roams the festival with a range of performances and workshops including Voguing to Hula Hooping. 
The Big Sunday Roast with Eat Well MCR
Upstairs at The Open (dock10 Studios)
Sunday 11th September 
12pm and 3pm
£30 per adult/£10 for under 14s (ticket prices fund 50 meals back to the community).
Create your perfect Sunday at We Invented the Weekend. Join 100 diners at what will be (temporarily) the longest table in Salford as chef Mary-Ellen McTague cooks one of the nation's favourite dishes – the classic Sunday Roast complemented by piles of Sunday papers, Bloody Marys, a soothing vinyl soundtrack courtesy of Be With Records and your favourite Sunday telly. So bring your family, friends and an empty stomach and leave full of delicious food, knowing you've supported a fantastic cause. Is there a better way to spend a Sunday?  
Wicked Wicketz, football skills and a whole kit bag full of sport
Saturday 10th Sept: 10am – 6pm  
Sunday 11th Sept: 10am – 5pm
Bookable sessions and walk-up sessions available 
Feeling inspired by Freddie Flintoff and friends? Come along and see if you can hit the Wicketz with The Lancashire Cricket Foundation Inflatable Bowling Cage.
The festival sees the revival of Quay Culture's Colour Swim – a unique fusion of open water swimming, live Samba music and dancing.. If you want to get out on the water without getting (too) wet, try out a katakanu courtesy of Salford Watersports Centre. 
If staying on dry land is more your thing, join in with Manchester United Foundations Street Reds hugely successful football sessions or learn some skateboarding skills with Northern Rolling. There'll be taster sessions for all the family, from parachute games to kettlebells, and whether you stroll, squat, jump, run or just fancying giving something new a go, the team will  get you moving. 
Show us your veg! (and fruit and flowers too) with RHS Bridgewater
Get Green tent, Waterfront Terrace at MediaCity
Saturday 10th Sept: 10am – 6pm 
Sunday 11th Sept: 10am – 5pm
No booking required
Calling all home growers and allotment holders! Show us veg with va-va-voom in a friendly competition in partnership with RHS Garden Bridgewater. Bring your prize produce to the RHS tent for your chance to be a winner! Can't make it in person? You can still get involved by sending in your photos for a social competition.
There will be workshops for all the family and talks from experts including 'The Cloud Gardener' Jason Williams who transformed his 18th floor balcony during lockdown and ended up at RHS Chelsea this year, and award-winning designer 'Garden Ninja' and star of BBC Garden Rescue, Lee Burkhill. 
Free Time Parade – the festival finale
Sunday 11th Sept
From 3pm
Plus placard workshops all weekend at The Open Centre
Design Art Studio Mikesian will be setting up shop for you to  make a placard proclaiming what the weekend means to you now, or what you wish it to be in the future – celebrate free time, reclaim work-life balance or take time to campaign for positive change. Placards will be displayed in the shop over the festival weekend.
Placards can be collected on Sunday afternoon and creators are invited to take part in an exciting one-off mass participation Free Time Parade, directed by local movement director Ruth Jones. A chance to hold your placard up with pride and in unison with others to celebrate free time.
The parade will end at the main stage for a powerful finale written and performed by Salfordian artist, actor and director Rueben Johnson.