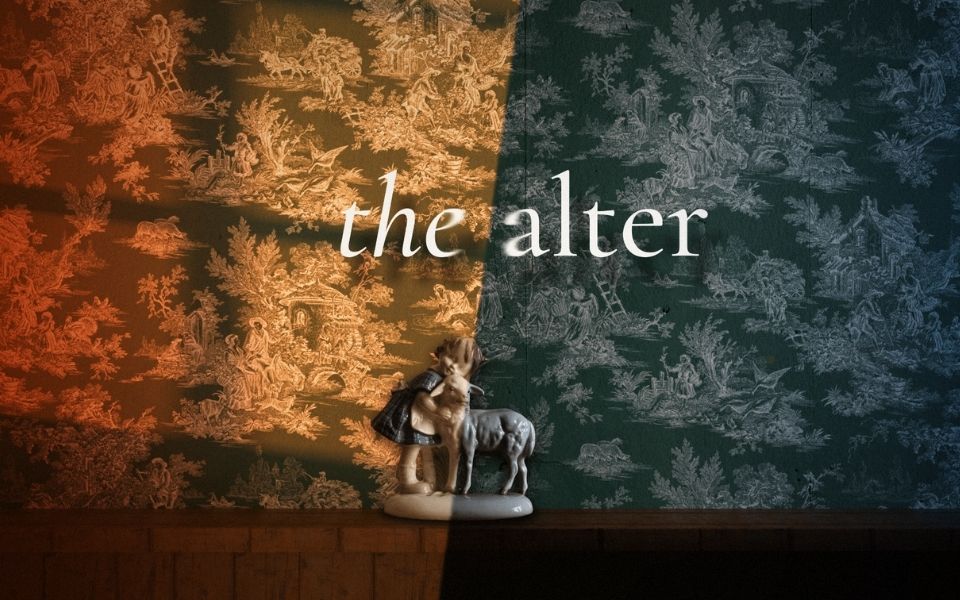 Swamp Motel in partnership with The Lowry present The Alter
From the makers of smash hit the Isklander trilogy and The Drop comes a brand new interactive short film this Spring, where two timelines intersect.
Immersive entertainment company Swamp Motel today announce The Alter. This brand-new, interactive short film will be unleashed globally and for free as part of The Lowry's LIVE NOW digital commissioning programme for a limited time only from Thursday 10 March – Thursday 5 May.
The Alter is an exciting new digital venture which follows Swamp Motel's thrilling live experience The Drop, which just ended its debut season in London, and the Isklander trilogy, their hugely successful online game series, which demonstrated new digital possibilities in immersive entertainment, first developed as a creative response to the pandemic. Swamp Motel continue to develop and evolve these digital possibilities, leading them to create their first short film, The Alter, part of The Lowry's LIVE NOW digital commissioning programme.
One story, two timelines. It's up to you to discover the narrative as you click to switch between the night before and the morning after. A group of city-dwelling friends in need of a break from London unite at a remote country house for a weekend away, ready to recharge and reconnect with nature.
When they find an old map of the grounds and hear the story of an old family mystery of hidden wonders to discover somewhere in the land, a nocturnal hunt for buried treasure begins. What they unearth will alter them forever.
The Alter asks questions many of us have asked before – would we be happier somewhere else? Is the grass really greener? At a crossroads in life, four friends must decide where they really want to be in life.
Swamp Motel are once again employing interactive technologies to share this story, as dual narratives run concurrently – the night before and the morning after. Matched exactly, shot for shot, audiences will click to switch between morning and night, discovering the mystery as they go along. At night, you find yourself watching four friends drinking in a dining room, click to morning and see only the detritus of the party. Spend too long in one story, and you might miss a crucial moment. It's up to you to choose the timeline you want to follow and piece together the narrative of a weekend where everything changes.
Hosted on Swamp Motel's website, audiences will be able to watch and interact with this short film whenever – and as many times as – they choose, until Thursday 5 May.
Interactive short film is a new medium for Swamp Motel, who constantly look to innovate and evolve in their creative process, finding new ways to experiment with audience agency and role within a narrative. Isklander first put audiences into the centre of an online mystery to be solved collaboratively, The Drop transported them physically to London's criminal underworld and now The Alter asks you to sit outside the mystery and act as detective, piecing it together as it unfolds in front of you.
Swamp Motel's company founders and creative directors Clem Garritty and Ollie Jones commented:
'Over the past two years we have pushed our creative output in a bid to give audiences further agency and explore interactivity within our stories. In creating The Alter, we knew that we wanted to challenge ourselves to work creatively in a limited timeframe. We filmed The Alter in only three days, filming two timelines shot-for-shot, and finding space for creativity and playfulness within the challenge we had set for ourselves. We are delighted with the final film and can't wait to share it with our audiences for free online.'
The Alter has been developed as part of The Lowry's LIVE NOW digital commissioning programme for mid-career artists and companies to create new work for audiences to experience online and through digital platforms.
Antonia Beck, Senior Producer: Artist Development at The Lowry said:
"Swamp Motel are pioneers in their field, creating thrilling in-person and online experiences that blur the boundaries between theatre, film and gaming, and placing audiences at the heart of the action. We are delighted to have supported the company to develop their latest work, The Alter, as part of our Live Now digital commissioning programme. An interactive short film in Swamp Motel's celebrated style of storytelling, using an exciting new digital form. We can't wait for audiences to experience it."
Creators Ollie Jones and Clem Garritty formed Swamp Motel in 2017. Both co-founders of the critically acclaimed comedy theatre company Kill the Beast, they have been weaving immersive storytelling webs for the stage and screen around the world together for over ten years. The Drop gave UK audiences their first opportunity to experience a Swamp Motel full-scale live production, in their home city of London. With The Alter, Swamp Motel continue to experiment with new form as they delve more into the film and tv world. They have worked alongside Amazon Prime Video to produce Panic, The Experience, which launched alongside  the release of Amazon drama series Panic. In July 2021, Swamp Motel secured a deal with Gaumont UK – the British arm of the French company behind Lupin and Narcos – to option the film and tv rights for the Isklander trilogy, which is now set for TV adaptation.
The company will be visiting SXSW this March, presenting a panel discussion alongside Punchdrunk Enrichment and Secret Cinema, asking To IP or not to IP in immersive storytelling. SXSW visitors will be able to watch The Alter online as part of the festival's special events.