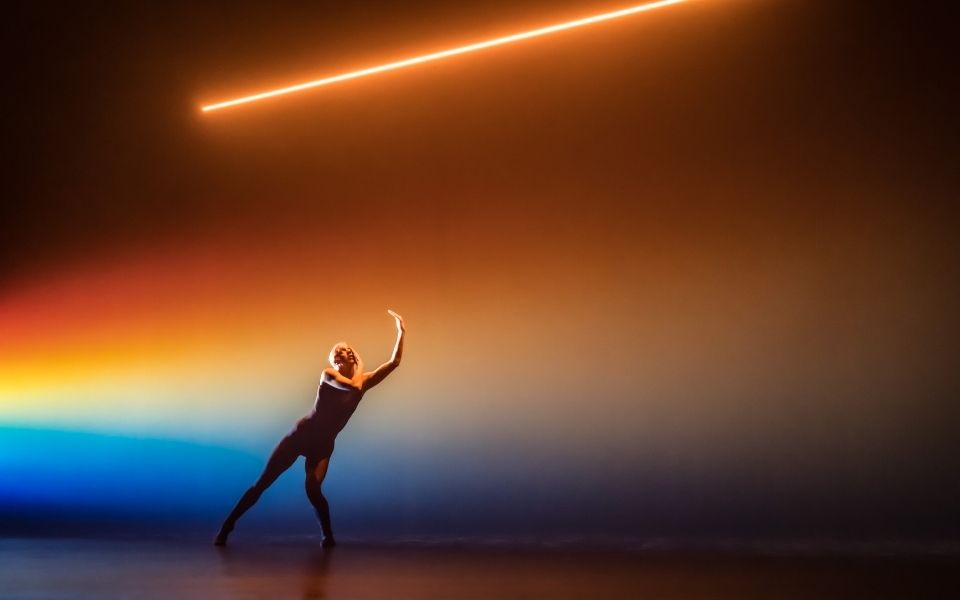 Choreographer Alexander Whitley announces tour dates for visually arresting work Overflow
Following its London premiere at Sadler's Wells Theatre in May 2021, choreographer Alexander Whitley announces first UK and European tour dates for visually arresting work Overflow, performing at The Lowry on Tuesday 22 & Wednesday 23 March. This mesmerising production seeks to connect with the increasing strangeness of life in a world overflowing with information.
With digital technology now a seemingly indispensable part of modern life, Overflow probes what it means to be human in the era of 'big data'. As unseen algorithms, surveillance technologies and feedback loops radically transform how we experience and act in the world, Overflow switches restlessly between intimate solos and expansive group sequences, holding a space of tension and hope as it explores how our desires and vulnerabilities are powerfully influenced by social platforms, and what lurks beneath our compulsions to check, share and like.
"Dancers become cogs in the machine of Whitley's visually dazzling take on technology" (The Observer)
Commissioned by Sadler's Wells, Overflow sees Whitley build on his reputation for creating socially engaged and technologically ground-breaking dance experiences for stage, installation, and VR with a diverse range of world class collaborators. Overflow boasts a dazzling five-metre-long kinetic light sculpture by Children of the Light programmed by creative technologist Luca Biada, which moves cloudlike over the dancers' heads, seeming to track their movements across the stage. Costumes and biometric 3D printed face masks, inspired by facial recognition technology, were created by award-winning designer Ana Rajcevic with light design by Guy Hoare and an exhilarating original score by electronic music producer Rival Consoles recently released as a full soundtrack album, which includes samples from digital platforms and devices.
"Riveting…typically entrancing, it seems to encourage a form of internal dialogue, between our inner and outer selves." (Clash Magazine)
Alexander Whitley, Artistic Director of Alexander Whitley Dance Company said:
"We are delighted to be finally bringing Overflow to live audiences across the UK. The work was created in 2019, well before the Covid pandemic struck, but its themes seem even more pertinent to the world we now live in. National lockdowns have resulted in a dramatic and irreversible paradigm shift, with the use of digital technology by citizens, organisations and businesses soaring globally."

"At the same time, we have been witnessing moral panic and extremist politics surge amongst an overabundance of information and disinformation circulating through these platforms, with a growing awareness of the impacts they are having on our thoughts, behaviour and actions in the world. Poised between an overexcited human emotionality and the all-seeing eye of big data, Overflow probes this newly defined human condition, holding a space of tension between hope and tragedy and leaving us to consider where our future lies as our relationship with technology becomes ever more enmeshed."
The profound impact of technology on human behaviour and expression has long been a recurring theme in Whitley's choreography, which is at the cutting edge of British contemporary dance. As artistic director of Alexander Whitley Dance Company, a Sadler's Wells New Wave Associate, he has developed a reputation for technologically innovative and thought-provoking stage productions as well as exploring the creative possibilities opened up by new digital platforms. He has created work for several of the UK's leading companies including The Royal Ballet, Rambert, Balletboyz, Candoco, Birmingham Royal Ballet and Gandini Juggling. Whitley is also an Artist Fellow at Queen Mary University of London and a tutor at The Bartlett School of Architecture, UCL.
Overflow is commissioned by Sadler's Wells, and supported by Arts Council England, Cockayne – Grants for the Arts, the London Community Foundation, MA Scène Nationale-Pays de Montbéliard, PRS Foundation's The Open Fund for Organisations, Bonnie Bird New Choreography Fund and DanceEast, DanceXchange, Gerald Fox and The Edwin Fox Foundation, Charles Glanville and individual supporters.