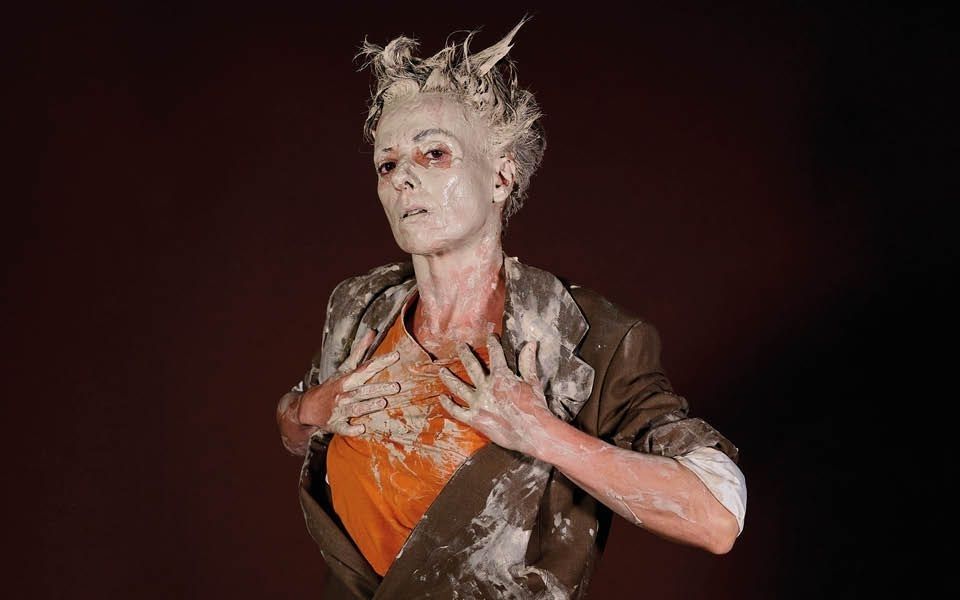 Part dance, part theatre, part fictionalised documentary, no-part costume drama - Lost Dog's inspired reimagining of A Tale Of Two Cities comes to The Lowry in March 2022
The multi-award winning dance/theatre company Lost Dog present an inspired re-imagining of Charles Dickens' classic novel, A Tale Of Two Cities, at Salford, The Lowry on Tuesday 15 March and Wednesday 16 March 2022.
Charles Dickens' best-known work of historical fiction was published in 1859 and set in London and Paris before and during the French Revolution of 1789.  It's a novel of revolution, love and adventure; even if audiences haven't read the book this is the show for them.  And if they have read the book…this is still the show for them.
Says Lost Dog Artistic Director Ben Duke: "I first read Dickens' novel when I was 18 and loved it and I've been thinking about it as a basis for a piece for years. While it's a well-known story it's not so familiar that I can assume people will know what is happening so the problem is how much of the story do we need to tell. In our production we imagine an alternative future for Dickens' characters and they are looking back and trying to make sense of it. Dickens left a lot out of his novel, particularly when it comes to Lucie Manette, the central female character.  Our show aims to rediscover the real story of this complex, funny, and, ultimately, 21st century woman.
"After all the complications and cancellations of the last 18 months, I can't wait for us to perform at The Lowry; the venue has been tremendously supportive of Lost Dog for many years and I really enjoyed performing there a couple of years ago with Juliet & Romeo. I hope our show will draw another big crowd to this terrific venue."
From the creators of Paradise Lost (lies unopened beside me) and Juliet & Romeo, A Tale Of Two Cities is part dance, part theatre, part fictionalised documentary, no-part costume drama.
Lost Dog Artistic Director Ben Duke employs the use of live cameras onstage which are operated by the cast to explore the ways in which documentary filmmaking can impact the art of storytelling.
Cast:
Valentina Formenti has worked as a performer, co-creator, and rehearsal director with many dance companies and directors in theatre, dance, opera and film. Among many more she has worked with New Adventures, The Cholmondeleys, H2 Dance, Fevered Sleep, Lost Dog, Fabulous Beast, Vincent Dance Theatre, Sasha Milavic Davies, Andy Field, and Paramount Pictures. She has developed a parallel career as a freelance camera operator, specialising in the capture of live performance and has been an in-house camera operator and director at The Place Theatre since 2006.
Nina-Morgane Madelaine trained in Rennes, France and Leeds, UK and joined Lost Dog in 2013 as an apprentice in Home for Broken Turns.  Nina also works with La Parenthèse/Christophe Garcia, a dance company based in Angers, France; she performs in several dance/theatre shows such as Lettre pour Elena, and Le Problème avec le Rose, writeen in collaboration with Erika Tremblay-Roy, which performed in Québec, Canada and internationally.
Temitope Ajose-Cutting received the 2005 Bonnie Bird Choreography Award winner and has since created and staged works for many companies and venues including the Royal Opera House, DanceXchange, RichMix, Dancebase in Edinburgh, Swindon Dance and the Soho Joyce in New York City. She has performed with Punchdrunk, Protein Dance Company, Theo Clinkard, Lea Anderson, Sue Maclaine and Seke Chimutengwende and is involved with movement direction at the Old Vic, and National Theatre. She was part of the performance team restaging Joan Jonas retrospective at the Tate Modern and recently collaborated with Megan Rooney for her solo shows at Kunsthalle Germany and the Lyon Biennale. She created her own solo work, Lady M (at home with Lady Macbeth), for the Southbank's Choreodrome 2021.
Hannes Langolf has worked with William Forsythe, Angelin Preljocaj, Wayne McGregor, Akram Khan, Fabulous Beast and Punchdrunk and more. His extensive career with DV8 Physical Theatre includes the award-winning productions of To Be Straight With You (2007-9) and Can We Talk About This (2012-14). In 2014 Hannes was appointed DV8's first Creative Associate and played the title role in John (National Theatre and touring). He was Creative Associate and Tour Director for the re-creation of DV8's Enter Achilles with Rambert. Hannes's own artistic work comprises two full-length productions: Dandelion (Onassis Cultural Center in Athens), and Unruhe (Susanne Linke Dance Company) and numerous shorter works for stage and screen.
John Kendall started breakdancing at 12 to the sounds of Sharon Jones and the Dap Kings and graduated from the Scottish School of Contemporary Dance in 2010. He made his professional debut with balletLORENT and has been working with the company ever since. John has danced for Joan Cleville Dance, Silke Zimmerman, Ray Roa, Robby Graham, Andrew Gardiner, Peter Groom, Douglas Thorpe, Anthony Lo – Giudice. Most recently John has been working in Austria with theatre ensemble Cafe Fuerte.
Production credits:
Devised by: Ben Duke and the Company
Director: Ben Duke
Associate Director: Pippa Duke
Dramaturg: Raquel Meseguer
Designer: Amber Vandenhoeck
Lighting Designer: Katy Morison
Sound Designer: Hjorvar Rognvaldsson
Video Designer: Will Duke
Videographer: Idris Ellis
Production Manager: Dave Sherman