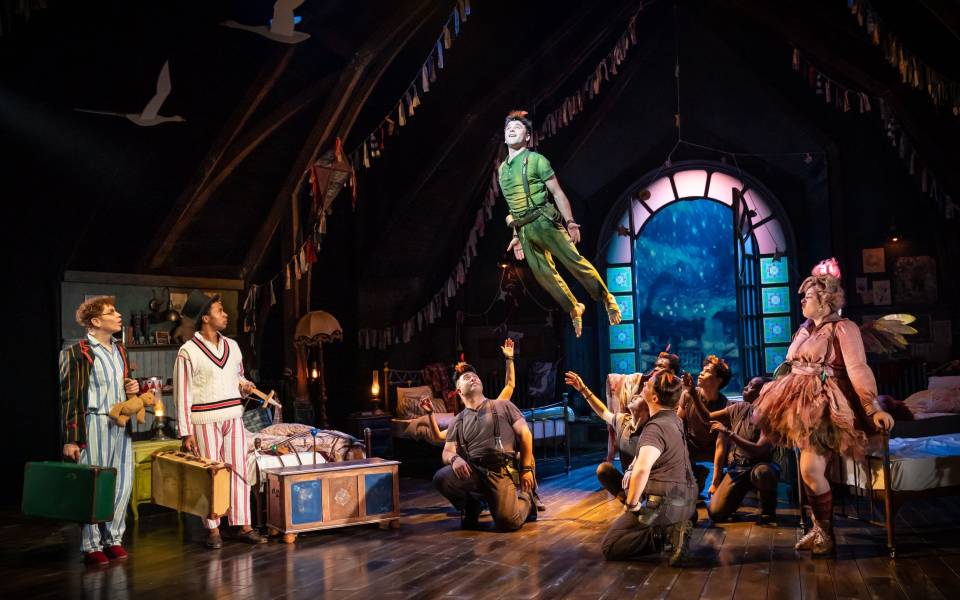 Ella Hickson's Wendy and Peter Pan to fly into The Lowry for Christmas 2022
Jonathan Munby's acclaimed production of Ella Hickson's Wendy & Peter Pan is an international co-production between Bunkamura in Tokyo and Leeds Playhouse, co-directed by Jonathan Munby and Rupert Hands at Leeds Playhouse. The production, which was a hit in Tokyo this summer and has been wowing audiences at Leeds Playhouse where it runs until 22 January 2022, will now head to The Lowry next Christmas from 3 December 2022– 8 January 2023. Tickets for The Lowry will be on sale from 8 December 2021.
Come to Neverland in a magical, spectacular retelling of the JM Barrie classic Peter Pan. With Peter Pan, fairy Tink and Tiger Lily as her unlikely allies, Wendy gives the Lost Boys a run for their money, takes on the dastardly Captain Hook and ultimately learns what a great adventure life can be.
Packed with theatrical magic, flying and sword fighting, a real pirate ship, and plenty of laughs, Wendy and Peter Pan is an unforgettable journey for all the family.
So it's second star on the right and straight on to The Lowry next Christmas.
Writer Ella Hickson said:
"The arrival of Wendy and her excellent gang into The Lowry next year is hugely exciting. I have so much love for little Wendy Darling, who – with her big heart, and wild courage – takes her brothers to Neverland, to try and bring happiness back to her family. I'm delighted that she will get to meet Salford and Salford will get to meet her.
Wendy's adventures with the unstoppably loveable (but enduringly tricky) Peter Pan – remind us all of the joys of never having to grow up. This production, masterfully assembled by Jonathan Munby and Rupert Hands, is a riot. With laughter, tears, a battle to knock your socks off and a jig to send you home grinning, it's got something for everyone. It's such a joy to know we'll get to see it again next year."
Director Jonathan Munby said:
"I'm overjoyed that we are bringing Wendy & Peter Pan to the Lowry. It's a thrilling new telling of this classic story that appeals boys and girls, old and young and anyone that has felt that they don't quite fit! This new production marks the next step on our amazing journey with this beautiful play. It's the culmination of a number of years work and an extraordinary international collaboration that started life in Tokyo this summer and is now playing to packed houses at Leeds Playhouse. I can't wait to see Wendy and Peter fly again next year".