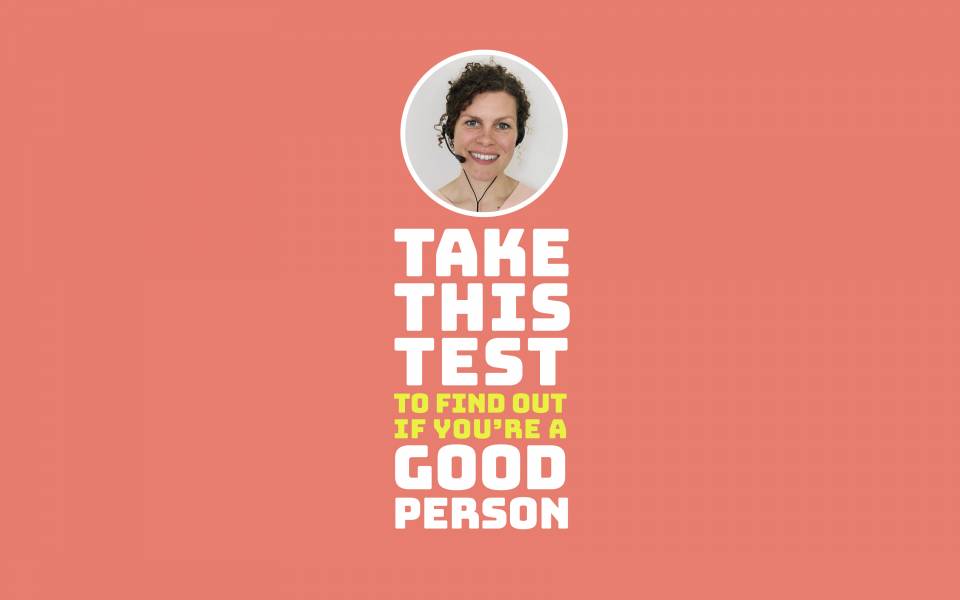 New digital work takes online personality tests to the next level, asking who can be defined as a good person.
Take This Test (to find out if you're a good person) Beta Edition will premier online at 8pm on Monday 4 October as part of Shoreditch Town Hall's Autumn programme and will then be available exclusively via The Lowry before being available to download from the TalkShow website from 17 October. The experience will be captioned and all tickets available on a Pay What You Decide basis.
Take this test… is an interactive experience that parodies clickbait personality tests. It begins with moderator, Clare, guiding the participants through a series of multiple-choice questions, but the 'test' soon becomes a rich aesthetic experience featuring filmed performances, soundscapes and images, as audiences realise that Clare is not entirely 'good' herself. The show engages audiences in the idea of morality, and the absurdity of the concept of a 'good' person.
Commissioned by The Lowry, developed with support from The Marlowe Theatre and The Mercury as a part of Catalyst For Culture Programme and supported using public funding by the National Lottery through Arts Council England, Take This Test… is the first new performance work from TalkShow since 2017's Focus Group.
TalkShow is Stu Barter, Clare Dunn and Faith Dodkins; they started making work together as TOOT (along with Terry O'Donovan) in 2012. Their first show Ten Out of Ten was commissioned by Ovalhouse, had a successful run at the Edinburgh Fringe in 2013 and toured the UK the following year. Since then, the company has produced and toured two acclaimed theatre shows (Be Here Now, 2014 and Focus Group, 2017), developed a playable digital instrument (Twitter Choir, 2020) and delivered numerous participatory projects (including 2017's Sixteen).
Stu Barter says "We're very excited to be back with a brand new piece of work, and a new identity for the company. Over our years working together, we've always loved exploring how the audience has a clear role to play in our pieces, and Take This Test is a playful, digital work that continues that journey. We can't wait for audiences to experience it."
Following Take This Test… TalkShow will present a new work for the stage, Telethon, which is commissioned by Shoreditch Town Hall and supported by Developed With The Lowry. It will premiere in Spring 2022. Telethon is a show where the theatre audience becomes the studio audience of a live televised charity special that skids off the rails. The piece explores moral certainty, groupishness and the power of all wearing the t -shirt.