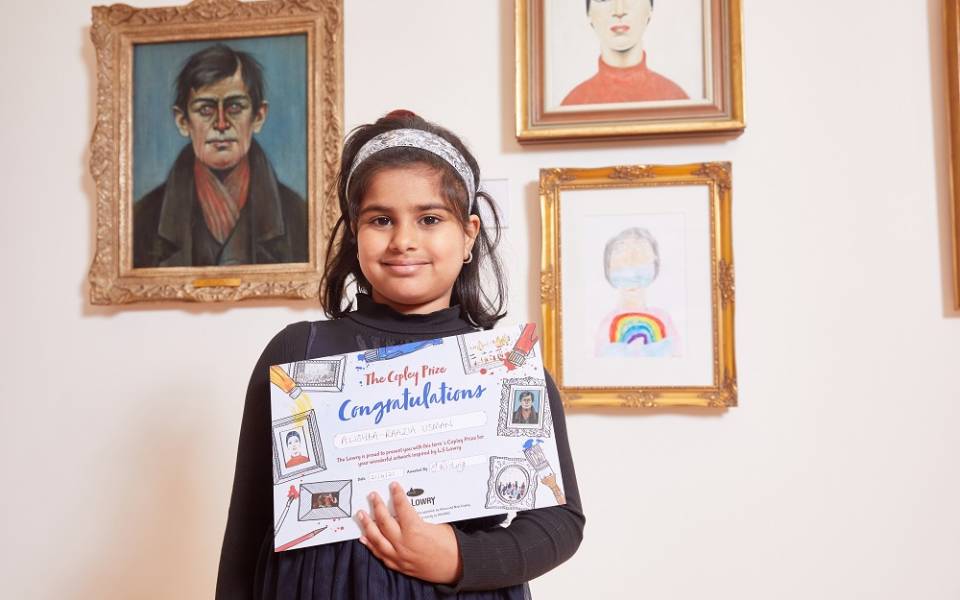 LS Lowry's Portrait of Ann gets 'masked' in COVID-response to work by 7-year-old artist from Salford
One of LS Lowry's most famous portraits has been reimagined for the COVID-age by a seven-year-old artist from Salford.
Alishba-Raazia Usman was inspired to update the famous painting following an art workshop at school. (Seymour Park Community Primary School)
Her work was selected as the winner of The Copley Prize, an annual competition for work by children inspired by LS Lowry.
Alishba was finally able to make a special visit to the gallery this week now that it has re-opened after lockdown for a private viewing of her work, which will hang alongside the original painting that inspired her for the next 12 months.
The award is named after long-term Lowry donors Noel & Alison Copley.
Commenting on the artwork, Michael Simpson, director of visual arts at The Lowry, said: "Alishba's interpretation of Ann caught the judges' eyes straight away. The addition of a face mask and the rainbow so closely associated with the NHS places this work very much in the COVID-era.
"Ann is an elusive figure that features in many of Lowry's work. Whether she was a real person or just a figment of Lowry's imagination, I think it's pretty remarkable that she's still inspiring artists like Alishba and making headlines years after Lowry's death."
The Lowry galleries are named The Andrew and Zoe Law Galleries in recognition of the couple's £1m donation to the arts centre, which is a registered charity.