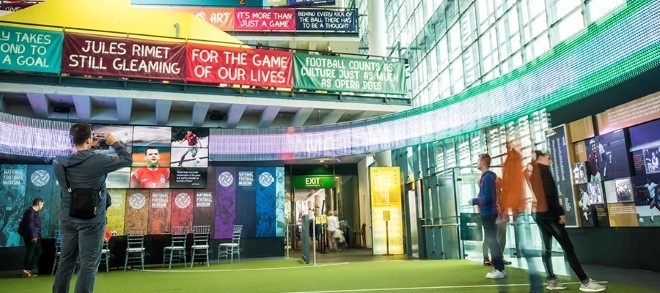 National Football Museum signs The Lowry's Quaytickets ahead of re-opening this week
National Football Museum signs Quaytickets ahead of re-opening this week
The National Football Museum (NFM) has signed a deal with Salford-based ticket agency, Quaytickets, to help facilitate its re-opening on 23 July.
The deal will help the NFM manage social distancing and control the flow of visitors to the flagship attraction using bespoke timed-entry schedules.
Rachel Miller, director of Quaytickets, said: "Timed-entry is the key to socially-distant re-opening of attractions like the NFM. Using the new Quaytickets model, we've been able to help them set ticket allocations to match the reduced venue capacity and staffing restraints – as well as enabling them to plan staffing patterns to match demand. The all-e-ticket service also gives customers visibility of sold-out time-slots and makes communication of venue-specific social distancing rules and guidance seamless."
Anthony Willder, the chief operating officer of the NFM said: "We're delighted to be working with Quaytickets. Offering timed ticketing will enable us to safely monitor our visitor flow and volume, which in turn will give our visitors more confidence when booking."
Quaytickets is a division of The Lowry arts centre at Salford Quays. For more information about their timed-entry ticketing services, please visit: www.quayclient.com.
The NFM will initially open four days a week, from Thursdays to Sundays (11am – 4pm). For more information: www.nationalfootballmuseum.com