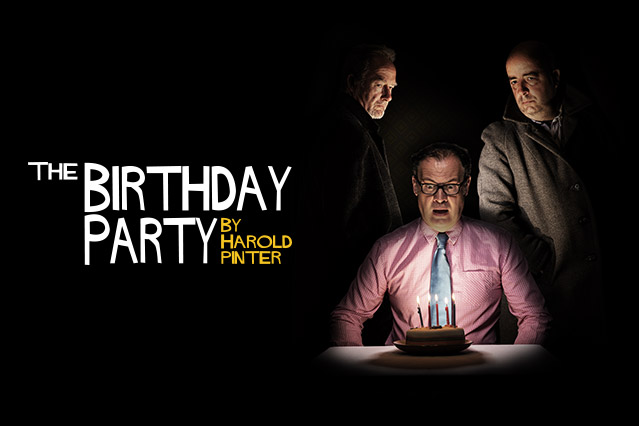 Star cast announced for Harold Pinter's The Birthday Party at The Lowry.
Michelle Collins, Tristan Gemmill and Paul Hickey star in Harold Pinter's The Birthday Party at The Lowry Tuesday 14 – Saturday 18 April.
Michelle Collins will play Meg Boles, Tristan Gemmill will play Goldberg and Paul Hickey will play McCann in a national UK tour of Harold Pinter's comedy of menace which will receive a dramatic new re-imagining from the team behind Waiting for Godot. Opening at Everyman Theatre, Cheltenham and following a two-year celebration of the works of Harold Pinter in the West End, this is Pinter's most popular and widely performed play. Further casting to be announced in due course.
Set in a dilapidated seaside boarding house the mysterious Stanley Webber receives a visit from two sinister strangers, Goldberg and McCann. They arrive on Stanley's birthday – or is it? What do they want and why do they want to turn Stanley's quite world upside down?
The Everyman Theatre's Creative Director, Paul Milton, brings together this fine cast to present Pinter's classic darkly comic masterpiece with design by Dawn Allsopp, Lighting design by Michael Hall and Sound design by Steve Anderson.
Michelle Collins has worked extensively in television and theatre over the last 30 years. She has appeared in two of Britain's best-loved soaps EastEnders and Coronation Street, the hugely popular Two Thousand Acres of Skye and The Illustrated Mum for which she received an international Emmy.
Tristan Gemmill is best known for his long running role as Dr Adam Trueman in much loved British medical drama Casualty and most recently as lead regular Robert Preston in Coronation Street. As well as his Casualty and Coronation Street roles, Tristan has starred in other TV shows including Atlantis, Cape Wrath, Where The Heart Is, Grass, Death in Paradise, and Call the Midwife.
Tristan has starred alongside Adrian Brody and Keira Knightley in the critically acclaimed film, The Jacket. Other film credits include, Flying Blind opposite Helen McCrory and The Adventurer: The Curse of The Midas Box with Michael Sheen and Sam Neill.