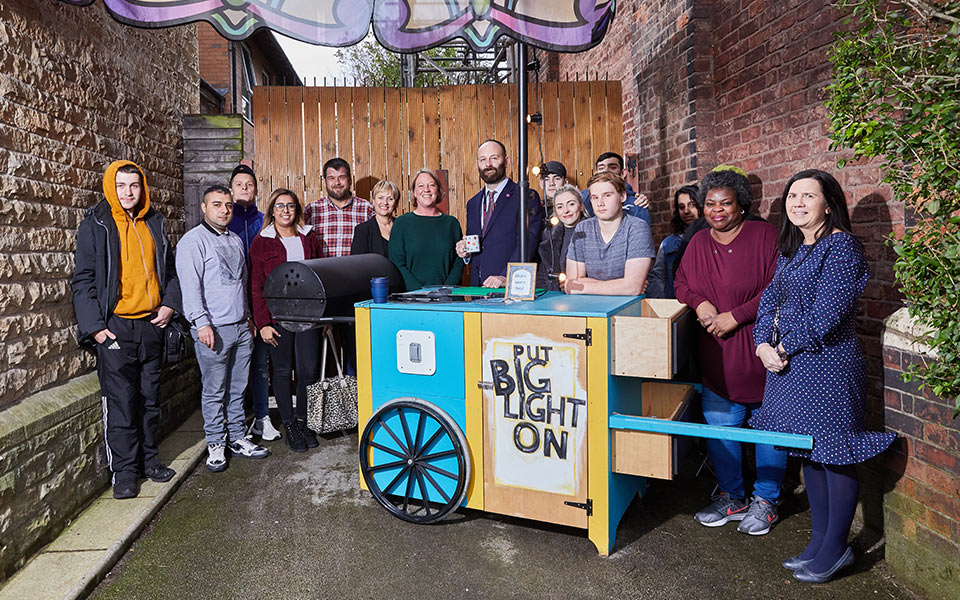 The Lowry joins forces with Salford City Council to help young people experiencing homelessness
The Lowry has joined forces with Salford City Council to help young people in the city experiencing homelessness following a year-long programme.
Over the past 12 months, The Lowry has worked with young people living in two supported houses for young people experiencing homelessness to design and make a pop-up installation called 'Put Big Light On' which aimed to reach young people who are homeless or at risk of homeless across the city.
Young people from Liberty House and Salford Foyer worked with professional artists, builders and joiners from The Lowry at Walk the Plank in Salford to fabricate the structure before sending it out on tour to reach young people wherever they are, to offer them the chance to get involved and meet new people.
Put Big Light On includes a BBQ, food and cooking facilities, hygiene resources as well as offering creative activities such as music making, art, sculpture and film making. The project aims to engage young people who may be isolated or struggling with their wellbeing, to involve them in gentle group activities where they can learn new skills, build their confidence and meet new people.
Put Big Light On, then popped up in public spaces, foyer accommodation, shelters and youth centres throughout Autumn 2019 to reach over 200 people in partnership with The Mustard Tree, Salford Youth service, Liberty House, Salford Foyer, With One Voice, Walk the Plank and Salford City Council and is now set to become a long term strand of the city's provision following its success.
Julia Fawcett OBE, chief executive of The Lowry, said: "We care passionately about young people in our city and we always aim to work in partnership with local services to support the needs of our community.
"Unfortunately, we know that children and young people are vulnerable to issues of homelessness for a range of reasons – all of which require a unique support structure and expertise from specialist services- depending on that person's individual circumstances.
"Organisations like Liberty House, Salford Foyer and Route29 in Salford are doing crucial work and we're proud to join the team to help in the best way that we can – we believe arts and culture is a brilliant way to help build confidence, positive wellbeing and to give opportunities for further life chances around education and employment'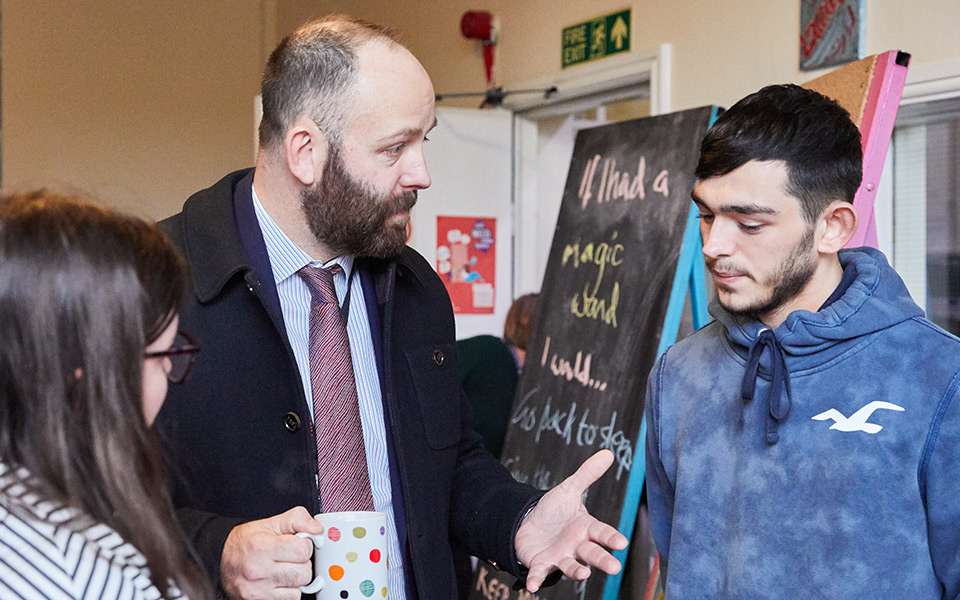 Paul Dennett with Liberty House's Ethan Paul
Liberty House & Salford Foyer, an Adullam Homes facility provides accommodation for young homeless people in Salford on behalf of Salford City Council.
Janelle Brindle, manager of Liberty House, said: "It's been fantastic to work with the Lowry on this project, which has given our young people the opportunity to engage in something so intricate and creative. Over the past year, they've worked with The Lowry to help design the structure and its contents. After all the hard work, it's amazing to see them interacting with the completed installation which allows them to open up and express themselves as they choose. It's a great project and I'm so pleased we're a part of it."
Ethan Paul, a resident of Liberty House, said: "I think it is a really good opportunity for people to get involved in activities that are not usually available to young people in our situation. I enjoyed being involved in the design of the project and felt more confident after I had been a part of this process. I am looking forward to the project and taking part in coming up with new ideas in the future."
The project was funded from donations to The Lowry's annual Christmas Appeal and The Esmée Fairbairn Foundation and will continue for the next 3 years with their support.
Put Big Light On was given its name by the young people who made it- as it represents a lampshade-structure which aims to represent 'home' and shine a light on the issue of youth homelessness. This project is led by The Lowry in partnership with Salford City Council.
ENDS
For more information:
Trevor Evers
Head of Communications, The Lowry
Tel: 0161 876 2024 Email: trevor.evers@thelowry.com