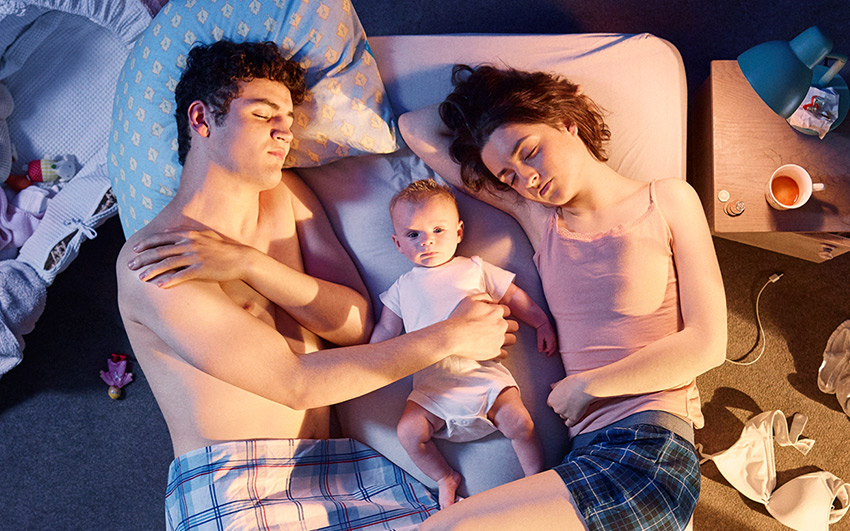 The National Theatre to open UK tour of ROMEO AND JULIE- a new play by Gary Owen - at The Lowry in Salford
Inspired by Shakespeare's romantic tragedy, writer Gary Owen and director Rachel O'Riordan reunite for ROMEO AND JULIE– a powerful, funny and poignant new play about the hope and heartbreak of two young people in Britain today.
A co-production with Sherman Theatre, the production opens at The Lowry on Friday, 5 June and runs until Saturday, 13 June. It is part of the Theatre Nation Partnership programme.
Romeo is a teenage single dad hanging on tight. Julie is fighting to follow her dream of studying at Cambridge. The two working-class eighteen year-olds, raised a few streets apart, but from entirely different worlds, crash into first love and are knocked off their feet.  But at this crossroads to the rest of their lives, both families fear the worst in a world of unequal opportunity.
Set and costume design by Hayley Grindle, lighting design by Jack Knowles, sound design by Gregory Clarke and puppetry design and direction by Finn Caldwell.
Writer Gary Owen said, 'I've wanted for ages to write a story about a man who became a dad in far more difficult circumstances than me, but who would succeed, be a good parent, and be transformed for the better by what he'd been through.'
'Shakespeare's Romeo and Juliet is a story about young love. It becomes a tragedy because of pressures the lovers face from outside their relationship. Well, raising a baby puts pressure on any relationship, no matter how stable. And so I had my play about a young man, Romeo, dad to four-month-old Niamh, who meets Julie, a girl from three streets away and an entirely different world.'
'This will be the fourth play I've made with Rachel. It's fantastic to be working with her again. There's a genuine trust.'
Director Rachel O'Riordan said, 'I am very connected to Gary's work; I feel that the way he writes, and what he writes about, resonate with me very strongly. I will always be interested in directing anything he writes; but this idea also foregrounds another real interest of mine, which is how classic plays can be radically reinvented. I am keen to see how far the interpretation can go, and how a great play can be reframed by a great contemporary playwright.'
Rufus Norris, Director of the National Theatre said, 'Rachel O'Riordan directs Gary Owen's new play Romeo and Julie, which takes inspiration from Shakespeare's play to create a funny and poignant look at the hope and heartbreak of two working class teenagers. A co-production with Sherman Theatre, we're delighted to be able to tour this production to four of the brilliant Theatre Nation Partnership venues that we have been working closely with to build audiences over the last three years.'
The Lowry is one of the National Theatre's 'Theatre Nation Partners'. Theatre Nation Partnerships is a multi-year collaboration between the National Theatre and partner organisations in six areas around the country. It aims to broaden and grow local audiences for drama through touring, working with schools, and creating theatre with local communities. Drawing on combined expertise, resources and each partner's deep community links, the project has engaged with over 100,000 people since 2017.
The National Theatre has been working in Salford and the Greater Manchester area with The Lowry on the Theatre Nation Partnerships for some time. Highlights of the programme have included
Tours of Macbeth, War Horse and A Taste of Honey to Theatre Nation Partnerships venues, where Macbeth attracted an unprecedented 55% first-time bookers.
A specially adapted production of The Curious Incident of the Dog in the Night-Time toured into schools in each area, reaching over 20,000 young people in more than 100 schools.
The schools tour has allowed partner theatres to forge strong relationships with high priority local schools. This quickly delivered results on our touring production of Macbeth, which saw a huge uplift in schools' attendance at these theatres – school groups made up 43% of audiences in Theatre Nation Partnership areas against a 29% tour average.
Public Acts, which creates ambitious participatory theatre with venues and community organisations: Pericles in the Olivier theatre was followed by As You Like It at Queen's Theatre Hornchurch this year. In 2020, the NT will partner with Cast to stage The Caucasian Chalk Circle, working with community partners from Doncaster.
Through reaching out to local communities, audiences from historically disengaged areas have been invited to attend People's Nights, encouraging them to return to see drama at their local venue.
Theatre Nation Partnerships is generously supported by Arts Council England's Strategic Touring Fund and Garfield Weston Foundation.
National Theatre UK Touring is supported by The Thompson Family Charitable Trust, The Royal National Theatre Foundation and Jacqueline and Richard Worswick.