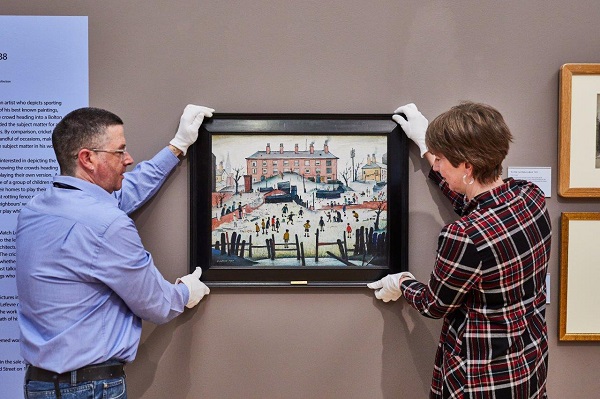 CATCH IT WHILE YOU CAN: Rare LS Lowry painting of backstreet cricket match goes on display for FIVE DAYS ONLY
A rare painting by LS Lowry has gone on display in Salford ahead of its auction next month at Sotheby's.
The privately owned work, which Lowry called A Cricket Match, is available to view at The Lowry arts centre until 5pm on Monday (27 May) in their free LS Lowry: The Art & The Artist exhibition.
It has only been on public display twice before, once in 1939 when Lowry chose to include it in an exhibition in London – and again briefly in 1996 at Sotheby's as part of a pre-auction display when it set the then world record for a Lowry painting of £282,000.
The work is now up for auction again (on 18 June) and Sotheby's has estimated it could fetch up to £1.2 million.
It comes ahead of the release of a feature film this summer about the artist starring Timothy Spall and Vanessa Redgrave. Mrs Lowry & Son depicts the relationship between Lowry (Spall) and his mother Elizabeth (Redgrave) with whom he lived until her death.
Commenting on the display, Claire Stewart, curator of The Lowry Collection, said: "We're absolutely thrilled to be able to share this work with our visitors. With the release of Mrs Lowry & Son this summer there's a real buzz at the moment about his story and his journey as an artist and it's great to have the chance to display a work few people will have seen before."
Simon Hucker, senior specialist for modern and post-war British art at Sotheby's said: "This exceptional painting is both a 'classic' Lowry, depicting the hard life of the industrial cities at the turn of the 20th century, and also quite rare in its depiction of a cricket match, even though cricket has always been very much part of Manchester life.
"Coinciding with the run-up to the Cricket World Cup in June, this special exhibition in Lowry's beloved Salford is a fantastic opportunity for art lovers and cricket fans alike to see a different element of Lowry's world-view."
The display at The Lowry kick-starts a summer of cricket in Greater Manchester – as neighbouring Emirates Old Trafford gets set to host fixtures as part of the ICC Cricket World Cup in June and July.
The Lowry galleries are named The Andrew and Zoe Law Galleries in recognition of the couple's £1m donation to the arts centre, which is a registered charity.