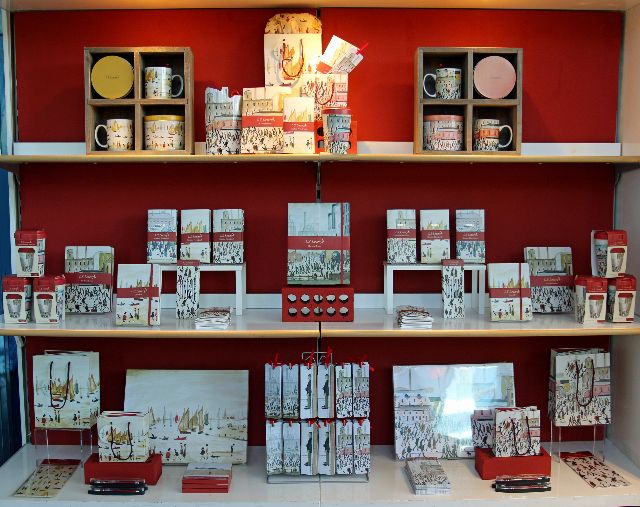 The Lowry expands licensing program ahead of LS Lowry biopic starring Timothy Spall and Vanessa Redgrave
The Lowry arts centre in Salford, Greater Manchester is expanding its licensing program of LS Lowry merchandise to coincide with the release of a feature film about the artist.
Coming to cinemas in July, Mrs Lowry & Son depicts the relationship between Lowry (Spall) and his mother Elizabeth (Redgrave) with whom he lived until her death.
The program, which is managed by DJP Licensing, will see new products available in retailers including John Lewis, Dunelm and Waterstones.
Existing suppliers who have increased their product ranges include Dartington, Flametree Publishing and Fox & Chave. New to the market later this year will be a range of LS Lowry inspired socks from Roye Lowe and Sons.
DJP welcomes further approaches by product manufacturers.
Tony Smith, commercial director at The Lowry said "Roy Lowe and Sons has developed a great range of products and we're delighted to be working with them. LS Lowry is one of Britain's most loved artists and his distinct style is popular around the globe. Mrs Lowry & Son will no doubt add a new legion of fans to that base and as such we expect there to be a significant increase in demand for authorised products in 2019."
David Phillips of DJP Licensing commented "With the film launching, it's an exciting time for LS Lowry, not just here in the UK but also internationally as the film rolls out to other territories. Several of our existing licensees already sell internationally and this should really help grow the global business."
Mrs Lowry & Son follows Lowry in the beginnings of his career, as he yearns for his work to be appreciated in London. However, his mother, Elizabeth actively tries to dissuade her bachelor son from pursuing his artistic ambitions and never fails to voice her opinion at what a disappointment he is to her.
Mrs Lowry & Son is due for release in July 2019.
The Lowry is home to the world's largest public collection of paintings and drawings by LS Lowry. The centre's permanent exhibition (LS Lowry: The Art & The Artist) provides critical and curatorial analysis of his work and seeks to raise his profile as an artist of international stature.